By Aaron Dyer, Aberdeen High School Intern

When you think high school sports, you most likely think of noisy football stadiums packed with enthusiastic fans. But at Aberdeen High School, the boys golf team has blown the competition out of the water and is leading their division with an 11 and 0 perfect record.
On Monday October 6, the golf team wrapped up their regular season with a dominating 11 and 0 perfect record. After outmatching locals such as Montesano and Hoquiam, the golf team went as far as Vancouver and Portland in search of opponents.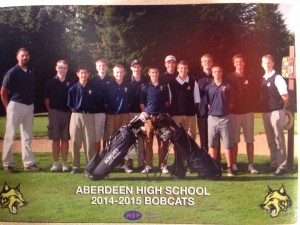 Though the regular season has come to an end, the golf team isn't taking any breaks before their appearance at Districts. Aberdeen High School's top varsity golfer, Eric Hagen, made it to state last year as a sophomore, but an unlucky hole kept him from the score he had hoped for. This year he returns as a junior, with hopes to improve. Also joining him will be the rest of the Aberdeen High School golf team, all hoping to clinch one of the 40 available state positions out of the entire District. After the first day, any golfers who don't make the cut will have to return home, while all who do will continue on to compete for a much sought after position.
"We have been doing our best to represent Aberdeen High School, and all of the guys are always working really hard to get their scores down," said freshman Brendan King before the October 6 match. "We've had an undefeated season so far, and we hope to keep it that way."  King, whose personal goal was a 40 at the Grays Harbor Country Club golf course, has gotten as low as a 41 at the neighboring Highlands Golf Course earlier this season, but hopes to break his personal record while competing at Districts.
While at Districts, the team will face stiff competition says coach and high school math teacher, Harley Revel. "The competition is always tough at the district level, but this year we have a great team. Eric Hagen and Justin Cox have both been consistently near par, and we beat our goal of a 160 for a four-person team." Coach Revel has set his team a new goal for Districts: Less than 200 strokes for a team of five. "We are just going to go out there, play some golf, and hope our score reflects our season so far. If the guys play as well as I know they can, it should be enough to put a good number of them through to state."
With Districts approaching fast, and State on the horizon, the team has been working even harder to lower their scores. At a recent match against Hoquiam, the Bobcat golfers beat their rivals by more than 20 strokes. In their match against Montesano, they won by a full 30 strokes. It is this kind of play that will be the difference when the cuts are made in Districts.
And, while you probably don't think of golf as a particularly physical sport, it requires both strength and endurance to carry a 30 pound bag for 18 holes, a distance that totals a couple of miles. To help increase stamina and endurance as well as skill, the team is out on the golf course daily, and many times on weekends. Good exercise like this will ensure that the golfers play their best at the upcoming District-wide competition.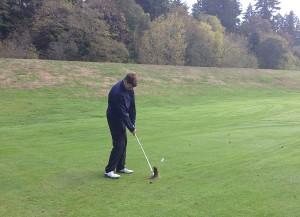 The last Aberdeen High School golf team to place in state was in 1983, with a third place victory. But the prospect of bringing home the first medal in more than 30 years is just another motivation for the golfers. This year's District course will be full of holes that will require extreme consistency and accuracy, as well as the absolute best game from each individual player. Hitting 100 – 150 yard drives as well as short, accurate putts and chips are just some of the many skills that will be essential on match day, but the fantastic season so far, as well as the competition, will hopefully be enough to put Aberdeen's golfers over the edge.
As amazing as this year has been for the Bobcat golfers, the possibility of bringing home the gold for their school ought to be enough to help them play their best in Districts, and score yet another hole-in-one for the Aberdeen High School golf program.