It seems as though nearly everyone in Grays Harbor knows someone with a Sasquatch story. A friend of a friend or maybe even you, we all have seen or known someone that has seen something unexplainable in our forests. From the wilds of Wynoochee to the mysterious Quinault Rainforest, hundreds of locals have sworn they have seen, heard or encountered the creature known as Bigfoot. For years, there has been a stigma over people who have had Bigfoot sightings; but all that is changing, thanks to an event held right here in Grays Harbor.
On the weekend of November 21-22, 2014, the Quinault Beach Resort and Casino will play host to one of the premiere Sasquatch events in the world. With over a dozen guest speakers, each of which has years of experience searching, researching and educating about Sasquatch. The Second Annual Sasquatch Summit is already creating quite a buzz, thanks to last year's strong attendance and solid organization of Johnny Manson.
Johnny Manson, of Aberdeen, is the man behind the Sasquatch Summit, creating the event and working with the Quinault Tribe, who not only host but also bless the event. Stories of Sasquatch, or C'iatqo as numerous local tribes call it, are common in the region, with the Bigfoot Research Organization (BFRO) website having 21 official reports.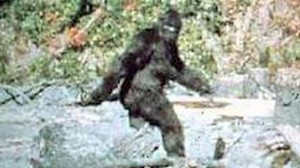 Johnny is passionate about this conference, hoping to create a welcome community for all Sasquatch hunters, something that has been lacking in the world of Bigfoot until the Quinault event. He created the event to be the Mecca of Bigfooting, a summit where everyone is on equal footing, showcasing various methods of searching for the elusive Sasquatch.
Last year's event had nearly 500 people in attendance, with many believers and a handful of skeptics, all of which were more than welcome. In fact, Johnny wants more skeptics to attend, enthusiastically claiming that "If skeptics go, they won't be skeptics anymore."
The Sasquatch Summit starts with a laid back chat with the experts, allowing questions and an opportunity to share your stories and sighting information. Listen to the music stylings of Lenny Green, who Johnny explains, "sounds like Johnny Cash, but with songs about Bigfoot."
Over a dozen special guests headline the event, but many are looking forward to chatting with Bob Gimlin. For those who know their Sasquatch history, this is quite exciting. Bob Gimlin was the other half of the now-famous Patterson-Gimlin video which shows a Sasquatch walking upright along a riverbank.
Johnny Manson has a message for those who attend the Sasquatch Summit in Quinault, "Expect to have your mind blown!"
Like last year's Sasquatch Summit, attendees have direct access to the world's foremost Sasquatch experts, including Dr. Jeff Meldrum, Thom Powell, Ron Morehead of Sierra Sounds, Thom Cantrall, Derek Randles of the Olympic Project, Toby Johnson of the London Trackway, Phil Poling of ParaBreakdown, Barb Shupe of YouTube's Barb & Gabby, and special appearances by Igor Burtsev and Peter Byrne.
Participants will also be able to talk directly with the leading researchers and participate with them in seminars of various topics. From education classes, to learning how to live and communicate with a Sasquatch, and even be shown new evidence on Bigfoot's existence, this event is perfect for Sasquatch searchers of all levels.
One unique aspect of this event will be a guided Sasquatch hike led by Randles of the Olympic Project, an association of dedicated researchers, investigators, biologists and trackers committed to documenting the existence of Sasquatch through science and education. The walk serves as a great educational tool on how to find the always-hidden forest legend and is for all ages and abilities of Sasquatch searchers. Last year, Cliff Barackman of Animal Planet's Finding Bigfoot helped show those who took the hike how to pour plaster casts for footprints. This year, the event promises to hold even better surprises.
Sasquatch sightings and Grays Harbor go together like cheese and wine. Not everyone has the palate for it; but everyone knows that together, they are even better. With events like the Sasquatch Summit occurring annually in Grays Harbor, the area is defining itself as a nature wonder. Home to world-class hiking, amazing beaches, the best salmon fishing and clamming on the coast, events like the Sasquatch Summit help bring yet another reason for millions to come and visit the region each year. It will make a perfect weekend in Grays Harbor, meeting Sasquatch experts.
For additional information, please visit http://sasquatchsummit.com.