By Chelsea Royer

Startling statistics tell us that nearly one in every five women has been a victim of some level of sexual assault. The sad thing is, only a small percentage of these women actually come forward with their experience, and an even smaller percentage of abusers are ever caught. But sexual assault doesn't just effect women, 10 percent of all sexual assault victims are male – and they are far less likely than females to come forward with their story.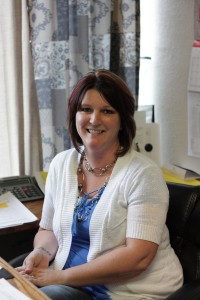 Sandy Greene has been the Director of Beyond Survival Advocacy Center since 2012. Her mission has been to educate the community and focus on prevention work. After all, if sexual abuse wasn't happening, her job would be a whole lot simpler. As it is, she's been working hard to inform the community, making sure awareness is spread within the school districts, and ensuring abuse victims have a voice. Unlike many people assume, Beyond Survival is not a counseling center, it's an advocacy center. From this perspective, the staff at Beyond Survival focuses on support, education and empowerment of abuse victims.
Sandy's path has been a meandering one. She started her career with an education that focused in criminal psychology. Out of this, she began identifying community needs and became fascinated with the sociology of it all – the types of environments abusers were raised in and the common threads shared by victims of abuse. Sandy worked with offenders and abusers for four years, giving her an added perspective. "I have more insight after working with offenders…it was one of the most eye opening work experiences and it helps me look at the whole picture of sexual assault," she explains.
Sandy is excited about new funding and government cooperation with prevention campaigns. "It's a huge change, a huge shift in focus," says Sandy. "There is so much you can do before the fact." These "can do's" involve placing more responsibility on parents, helping individuals develop a healthy sexuality, giving parents needed skills, and empowering kids to say "no."
Sandy says that because of the shame and guilt surrounding sexual abuse, victims are hesitant or even unwilling to come forward with the truth about what happened. Part of her mission has been to make conversations easy and dispel myths surrounding abuse. Many people believe that assault only happens to girls, while many victims are chased by the thought that the abuse was somehow their fault. Perpetrators are very seldom complete strangers. They are instead friends, family members, and mentors who take the time to "groom" their victims, and are also masters at manipulation and guilt-tripping. They want victims to take the blame for their misdeeds and very often will find persons in need of love or validation who are more likely to accept their attention.
Sandy has a strong focus on validating the people she meets who have been made victims. Helping victims realize they have a voice, that it wasn't their fault, and that they can come out of abusive situations is incredibly rewarding for Sandy.
So rewarding, in fact, that Sandy has accepted the position of program management specialist for the Washington Coalition of Sexual Assault Programs. This state-level position will allow Sandy to continue her work on a grander scale. Sandy's last day as Beyond Survival Director was October 15, though she has some mixed feelings about leaving Aberdeen. "It was a hard decision to make and taking the position feels bittersweet," says Sandy. "But I had to ask myself where I would make the most impact."
Though she'll miss her small-town involvement, Sandy leaves Beyond Survival in capable hands. Staff members like Tessica Welch are busy with curriculum like the "Where We Live" program. Tessica explains, "Most of our prevention work has been very focused on addressing and educating children, but the 'Where We Live' curriculum is all about putting responsibility back on parents and the community where it belongs." This curriculum helps complete the circle of education that Beyond Survival is involved in. Thanks to Sandy, their prevention budget has more than quadrupled and Beyond Survival will continue to thrive as the voice of victims and prevention of abusers.
If you or someone you know is in need of assistance dealing with sexual assault crisis, please call the 24-hour Beyond Survival hotline for support at 1-888-626-2640.