By Gail Wood

For Steven Persell, Jr., the Elma Eagle's wall of fame has an added motivational message.
Among all the pictures and plaques of state placers in wrestling that's in the school's wrestling room, is a picture of his father, Steven Persell Sr. He placed second in state in 1989.
"It's pretty awesome," Persell Jr. said, who advanced to state last year as a junior as an alternate.
Whenever Persell gets tired, whenever he doesn't feel like pushing himself at practice, he just glances up at the picture of his dad and he gets an energy boost. He wants to be the second Persell on that wall of fame.
"My dream is to place first and to be put by my dad's picture," said Persell, who also plays football and soccer for Elma High School.
Besides carrying the same name, Persell is also the same weight – 170 pounds – that his dad was in high school. But dad and son don't wrestle at home today to settle the family crown.
"He's big now," Persell said with a smile. "He's big strong and big, big."
It's only fitting that Persell finds inspiration in his father. Elma coach Jason Dick, an Elma grad who placed second at in state, said the program is like one-big family.
"I call the team a family," Dick said. "It's just one big family. There's a lot of tradition here."
And it's a winning tradition. Last year, four Elma wrestlers qualified for state, including Dick's son, Tyson. But all four graduated. The three who qualified for state last year as alternates – Persell, Mario Yanez and Jayden Olson – are back.
"When we look up at the wall, we see all the best in the room up there, we don't want this to be the year that there isn't someone put up there," Olson said. "We want to get someone up on the wall as well."
To improve his chances of placing at state, Olson occasionally wrestles against a friend and former teammate, Tanner Sample, who graduated last spring and placed at state. It's another example of Elma's "family" aspect to the wrestling program.
"He comes in every once in a while and beats on us," Olson said with a smile. "When you're both beating each other up and you're teaching each other moves, you learn how to use them. You get better."
Getting better is always the objective. And James Heppe, a freshman, has an advantage in that. He has a live-in wrestling buddy – his twin brother, Jonas. While they're only freshmen, they both have the potential to reach state in their first year.
"Yeah, we wrestle all the time," Jonas said, looking over at his brother with a smile. "We have our own mat at home."
That mat has probably saved a chair or two in the family room over the years. When they wrestle, they go all out. And James, who plans on wrestling at 132 pounds and is 12 pounds heavier than his brother, usually wins. There's a wrestling tradition in their family.
"Our dad wrestled in high school," James said. "He took in fifth in state in Alaska."
When asked what his favorite move was, James pondered the question like he was thinking what his favorite meal was.
"Cop and grind to a half is my favorite move," James said. "There are a lot of moves."
Even though Persell, Yanez and Olson didn't wrestle at the state tournament last year as alternates, Dick said just the experience of being in the Tacoma Dome and seeing the crowd and the big venue helps.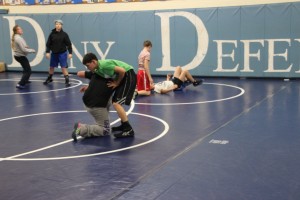 "Some kids get dome shock," Dick said. "Walking into that big dome itself, fear sets in a little bit. They haven't wrestled in the big venue. But basically by  being there before that knocks the butterflies out of them."
Last year as an eighth grader, James Heppe got a chance to wrestle in the Tacoma Dome in USA club freestyle wrestling and advanced to regionals in Pocatello. With a young team, Dick, who placed second in state his senior year in high school at heavyweight despite weighing only 170 pounds,  is counting on his underclassmen to fill in this season.
"We are young puppies this year," Dick said. "We have four seniors on my team, two juniors, and the rest are sophomores and freshmen. We went from being old guys to being young guys all in one year."