By Chelsea Royer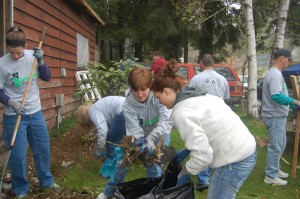 Jacob Henry and Linda McNulty desire to simply make a difference. The two have been steadily involved in Relay for Life , while also intermittently engaged with Habitat for Humanity. Similarly, Carl Jonsson has been a board member with United Way for over fifteen years while Alice King and Shana Case are eager to see the launch of their new community outreach group.
What do all these people have in common outside of a desire to impact their community? They're all Grays Harbor PUD employees. The PUD has a longstanding tradition of its employees making an impact in their community. This year, after a brief absence, the PUD pulled together the Kilowatt Kids Relay for Life team, which began participating in the Grays Harbor Relay in 1988. Collectively, the team ranked in the top five in Grays Harbor based on donations. Similarly, their unofficial involvement with United Way has resulted in thousands of dollars in payroll deductions – the funds then used to support local charities.
Though many PUD employees have volunteered on an unrecognized individual basis, enthusiasm as a group is getting a jumpstart. Some new motivators and a fresh perspective are giving volunteers a new start at making a big impact.
PUD's Reputation as a Community Organization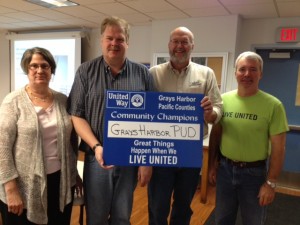 Dave Ward is the new General Manager of the PUD. It's his desire that the reputation of the business be known as a community organization. When a large portion of his employees came forward with a desire to volunteer their time as a group, they had Ward's full support.
Not only have they reformed the Kilowatt Kids Relay for Life team, they have new goals for United Way donations and a brand new community group that has the potential to expand projects and include more hands-on involvement.
Alice King is one of the members of the new "Grays Harbor PUD Transformers." The group is still in its beginning stages, but the members are itching to find a cause or a project to dedicate volunteer efforts. "The Transformers came out of strategic planning. Employees want to be involved together as a group. We wanted to make a presence – the more people the greater the input," explains Alice.
Alice and her group are planning their steps carefully. "Our common theme seems to be a desire to make our community thrive," she adds. "We want the good things our company does to be known and for people to know that we care."
Renewed Relay for Life Commitment
Those volunteering at the PUD aren't just performing out of a sense of duty. People like Linda McNulty have been faithful for much deeper reasons. A participant of Relay for Life since 1996, Linda has been volunteering nearly as long as she's worked for the PUD. She is a cancer survivor and every year she walks, not just for the family and friends affected by the disease, but also for herself. Linda will be retiring from the PUD in 2015, but that won't slow down her Relay work.
Jacob Henry has also been a long-time member of Relay for Life. He and Shana Case co-chair the Kilowatts Kids and have been impressed by how eager PUD members have been to do their part. "We had a pie sale and I was surprised at the success and proud to see so much involvement. We raised $730 from one pie sale," says Jacob.
The Transformers plan to bring a sense of work community to the 160-plus PUD employees. By volunteering their time with the Transformers or contributing to Relay for Life, finding their place of community involvement can be as simple as baking a pie.
The sense of pride within the PUD runs strong. With so many individuals giving of their time outside of work, there seems to be unmatched potential as they band together to make a difference as a group.
The old adage, "many hands make light work" still rings true. If you have community project ideas for the Grays Harbor PUD Transformers, feel free to contact Communications Director Ian Cope.