For many people, it's simply not Christmas without tamales. Little bundles of corn masa stuffed with various chilies, sweet fruits, meats and cheeses. Skip making tamales solo in your own kitchen and keep the age-old tamale tradition alive by purchasing from a tamale vendor or having one delivered to you by a friendly neighbor.
Similar to other ancient foods like Bollo, Corunda, Humita, and nacatamales, the classic Christmas tamale is prepared with love and meant to share. Recipes are passed to the next generation via taste memory, by legendary family members and at tamaladas, a tamale making party. Muy Bueno.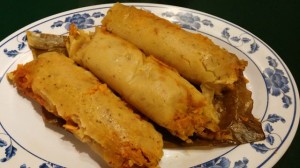 Tamales are also a great portable food, which makes them a perfect food gift. To this day, the legendary tamale is hand-stuffed and shared with family and friends at a festive occasion.  If you want to make tamales at home, there are numerous places to find recipes and step-by-step directions.  In my opinion, the best way to make tamales is to ask someone with a lot of experience to cook with you and show you how her mother made them.
Do you have a favorite type of tamale? Is it wrapped in a corn husk or a plantain leaf? Is it hand-stuffed with tender spicy pork? Is the masa so moist that it crumbles as you bite in to it? Do you find delight in the taste of honey, pineapple or raisins steamed together in a sweet tamale. Consider yourself blessed if you have a family member or friend that works tirelessly to prepare a basket full of hand stuffed tasty morsels for you every holiday season.
It can take an entire day, longer if you include the time to search for the proper ingredients, to make fresh tamales.  If you crave the spicy warmth feeling that comes over you after eating a tamale on a cold winter day, try one of these authentic tamale shops in Aberdeen.
Call ahead for a party size order, or join the locals inside one of these favored establishments.
Menu includes Menudo, Birria, Tacos, Tortas, Quesadillas, Pupusas, Yuca Frita, Tortas and more
122 N H. St in Aberdeen
360-532-8747
Preparing Seafood, Tacos, Burritos, Tortas, Tamales and more including breakfast
Open daily from 7:00 a.m. – 8:00 p.m.
Call in (360-612-3189) orders are always welcome.
212 South L Street in Aberdeen
Serving menudo, tostadas, burritos, seafood, tacos, chile rellenos, carnitas, fajitas and much much more. Specializing in sweet bakery items. This is a great place to order a birthday cake.
307 S. Park Street in Aberdeen
360-533-9902
Operating Hours
Tuesday – Friday 7:30 a.m. – 9:00 p.m.
Saturday 7:30 a.m. – 8:00 p.m.
Sunday 7:30 a.m. – 7:00 p.m.
Mazatlan Mexican Restaurants
With two locations to serve you, Mazatlan is a full service time honored family restaurant. Serving all your favorites.
1155 East Wishkah Street in Aberdeen
Open daily from 11:00 a.m. – 9:30 p.m.
360-533-5808
720 West Wishkah Street in Aberdeen
Sunday-Thursday 11:00 a.m. – 10:00 p.m.
Friday-Saturday 11:00 a.m. – 10:30 p.m.
360-532-0940