Submitted by Washington CoastSavers
This 4th of July weekend, Washington CoastSavers will be joining forces with the Grassroots Garbage Gang, Surfrider Foundation, the cities of Long Beach, Ocean Shores and other partners to tackle the enormous amounts of trash typically left on the beach after the holiday weekend. Join our efforts by volunteering to hand out bags at beach approaches on the afternoon of July 4 and/or help remove filled bags from the high tide line on Sunday morning, July 5. Registration is now open on www.coastsavers.org. We have the freedom to enjoy our beaches and the ability to keep them clean, with your help.
Independence Day is a time for getting together with friends and family to enjoy our freedoms. As citizens of the United States and Washington State, going to the beach is just one of many diverse freedoms we enjoy. Shooting fireworks is an old tradition and a favorite way for many people to celebrate July 4. When done safely, this activity can be both fun and memorable. However, when thousands of people converge on our coast on the 4th of July and shoot fireworks at the beach, the trash left over can be devastating to one of our favorite places to recreate.
This year,  the 4th of July is on a Saturday, meaning there will be more people than ever coming to the towns of Long Beach, Westport, Ocean Shores and others to celebrate at the beach. Experience shows us that as a result, thousands of pounds of debris will cover the beaches on the morning of Sunday, July 5. Fireworks are primarily made out of plastic. These plastics are harmful to wildlife and ugly for those of us who love the natural beauty of the beach. Fortunately, there are things we can do to help. If you enjoy shooting fireworks on the beach, please encourage members of your party to clean up after themselves. Pack it in, Pack it out!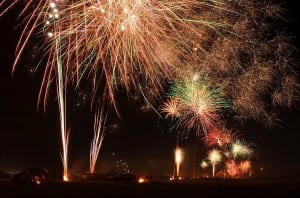 This year's July 5 cleanup is supported by funds provided by the Japanese government following the 2011 Tohuku earthquake and tsunami. "We are very grateful for the opportunity to use this gift from Japan, said Jon Schmidt, Washington CoastSavers Coordinator, "there is still a lot of long range debris coming ashore and we will clean our beaches, regardless of its origin." Volunteers can show up at any major beach approach on the Long Beach Peninsula, Westport area or Ocean Shores area and either fill bags distributed there or help collect the filled bags left at high tide line from the night before.
This huge stewardship effort wouldn't be possible without the support from Washington CoastSavers, Grassroots Garbage Gang, Surfrider Foundation, Washington State Parks, the cities of Long Beach and Ocean Shores, Grays Harbor County and many other partners. Washington CoastSavers online registration at www.coastsavers.org is a helpful tool for learning the logistics of what is needed and where to check-in to participate but volunteers are encouraged to show up whether they register or not. "We'll need all the help we can get that weekend," according to Jon Schmidt.