By Grant Clark

Wayne Ross was thrown a bag of balls, some scuffed up bats and a couple worn-out uniforms and asked if he was interested in forming a slow pitch team.
It's 1969 and Ross is attending Grays Harbor College.
He quickly fires back with a reply, answering the inquiry with a question of his own.
"What's slow pitch?" Ross remembers saying.
Ross wasn't alone in the confusion. Fellow Hoquiam High School graduates Bob Paylor and Larry Lytle were there as well, equally confound.
"We didn't even know what slow pitch was," Lytle said. "He had to explain it to us."
The explanation was obviously to the trio's liking as Ross, Paylor and Lytle have been playing the sport together for the past 46 years, never missing a season and enjoying a tremendous amount of success along the way.
"We've played a lot of games," Ross said. "We've had a lot of players come and go, but the three of us have always found a way to play every year."
While Ross, Paylor and Lytle have been with the squad since the beginning, Mike Hatley, Don Mehlhoff and John Delia – all Aberdeen High School alums – have been along for much of the ride as well.
"Mike's been with us since 1971. Don since 1977," Ross stated. "John's the newer member. He's only been playing on the team for 17 years."
The group has claimed numerous Aberdeen Parks & Recreation League titles, plenty of regional and state crowns and even a pair of Las Vegas World championships. All of which seemed unlikely during their introduction into the sport.
Usually it's a team looking for a sponsor, but for Ross and his teammates it was the other way around.
As the sport began to pick up widespread popularity among the public, Upland Cedar became interested in backing a local slow pitch team in 1969. The company had the desire. It just didn't have any players. This led to a quasi-recruiting trip to nearby Grays Harbor College, looking for virtually anyone to step up to the plate.
Ross, Paylor and Lytle bit, and quickly found themselves tackling a new sport.
"We had a lot of practice games," Lytle said. "And we didn't win any of them."
Not deterred, the team proved to be quick studies, however, as things swayed the other way once league play officially started.
"We go into the season and we played Ocean Shores, the defending state champions, and we beat them, 5-3 or something like that," Lytle said. "Pretty exciting for the first game."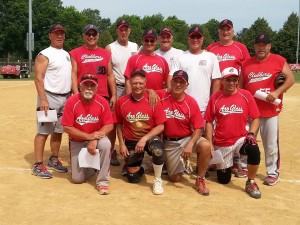 The group was hooked from there on out.
Ross, who retired two years ago as a special education teacher and was a long-time coach at both Hoquiam and Aberdeen High Schools, didn't face the usual dilemma of what to do with all the newly found spare time most retirees experience. He simply headed straight for the softball diamond.
"It's been a lot of fun," Ross said. "It's given me exercise and comradery. The sports been good to me, and I'll play it as long as I can."
Ross, 65, moved to Arizona following his retirement and spends nine months out of the year living in Mesa, Ariz. and the summer in Grays Harbor where he plays on the Aro Glass Clubbers, among other teams, with Paylor and Lytle.
The team followed up the regional championship they won in Portland earlier this summer by winning a state title in Shelton. The championships come on the heels of finishing second overall at a Reno 65-division tournament, which featured teams from around the nation, in June.
In the Reno tournament, Mehlhof batted .667, Paylor hit .600, while Hatley finished with a .577 batting average. Ross, who also pitches, paced the team offensively by smacking six home runs and hitting .844.
Hitting home runs seems rather easy for Ross compared to the complicated process of determining which jersey to wear on which day.
"I play on five teams in Arizona and three teams here," Ross said. "The schedule is pretty full."
A softball enthusiast is what Paylor and Lytle would be labeled. Paylor figures he will play in around 100 games this year. Lytle is good for 50 or so.
Ross is on a completely different level. He estimates he's already played "around 160 games" and expects to be in the line-up for another 100 games.
Despite so many experiences, each is quick to point to 1972 as one of their fondest memories. It was during that season where the team followed up league and district titles by winning the prestigious Aberdeen Invitational.
"Slow pitch used to be huge on the Harbor," Ross said. "We had 72 teams in Grays Harbor alone back then, and the Aberdeen Invitational had all the top teams from around the state."
The group advanced to the title round where they would play a highly-regarded team from Bremerton.
Originally, the game was to take place at Franklin Field.
"They ended up moving it to Olympic Stadium in Hoquiam because there was so much interest in the game," Paylor said. "There was such a demand to watch it they had to move it."
It proved to be the right decision as a packed crowd of 1,500 attended the championship game.
"That was totally amazing," Lytle said. "That's the most people I've ever played in front of. The people just came from nowhere."
What they witnessed was the local team emerging from the tournament victorious.
"We've had a lot of great memories, but that game definitely sticks out," Paylor said.
None of the three plan on calling it quits any time soon.
"The main core have been together for a lot of years and it's just fun being around them," said Lytle, who recently turned 64. "I haven't really thought about stopping. I would like to at least play up until I'm 70."
Ross anticipates a longer go of it, drawing inspiration from an Arizona teammate.
"I have an 83 year old batting lead off on one of my teams," Ross said. "He still gets on base. He's my idol. I still have 17 more years before I get to that point. That's the goal. I hope to be playing at least into my 80s."