By Grant Clark
Mark Gomez will pull double duty at this year's Grayland Open Pro/Am Jetski Freeride Competition.
The world's top-ranked freerider and current point's leaders in the International Freeride Watercraft Association (IFWA) World Championship Tour, will not only attempt to successfully defend his title at the competition, he will also serve as the event's on-site announcer.
"It's going to be insane. I may have bitten off more than I can chew," the 25-year-old Gomez said, "but everyone wants to be a part of it. This event has really picked up momentum over the years. Dan has just done a fantastic job."
Gomez is speaking about Dan Lindgren, the founder and organizer of the Grayland Open, which is now in its seventh year.
"It's pretty amazing how it's grown over the years," said Lindgren, who grew up surfing the waves at Westport. "It's one of only two places in the United States you can see a competition like this. We will have some of the world's best professional and amateur riders here."
The event will take place Friday through Sunday at Grayland Beach and is free to the public.
If you are unfamiliar with Jetski Freeride, think surfing combined with motocross freestyling only on the water.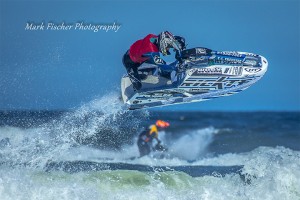 "But without the benefits of ramps," Lindgren added.
That's right, these jetskis don't stay in the water for long. Aerial tricks are the name of the game, and the bigger and more jaw-dropping the stunt is, the more points riders are awarded from the judges.
"We want to see a run that is 50/50 surf and air," Lindgren said. "Everyone is trying to outdo each other. No one wants to do the same tricks. You end up seeing a lot of originality."
Riders will battle head-to-head during 6-minute heats with both trying to string together as many maneuvers as they can. Expect back flips, barrel rolls and re-entry, which is jumping out of the wave and landing back into the same wave, to be showcased in a variety of styles throughout the competition.
The Grayland Open, which will be Round 1 of the Krash Nationals Competition, kicks off on Friday at 10:00 a.m. with a free Freeride clinic put on by the sport's top athletes.
The main competition will take place Saturday with a 10:00 a.m. start. Heats will run until the late afternoon. The day's activities will be followed by live music at the Cranberry Road Winery in Westport.
Finals for amateur, professional and masters class (riders 40 years and up) will be held on Sunday, beginning at 10:00 a.m. The finale will feature the top eight riders – as decided by the judges – each having a single 15-minute heat during a Pro Jam session to get as creative as possible to delight the crowd.
Awards will be given for such categories as "gnarliest wipeout," "broken ski" and "sickest trick."
"This really came about because we wanted to give the weekend warrior, the amateur freerider a place to compete. There just wasn't too many opportunities, especially in this area, for the non-professional riders," Lindgren said. "It really is a unique event if you haven't experienced it before."
Originally a platform for amateurs, the Grayland Open welcomed professional riders for the first time last year with Gomez taking home the prize.
"I think you will find that anything the pros can do to support an event like this, they'll do it," Gomez said. "It can only help build the popularity of the sport."
Lindgren's initial amateur-only plan proved so successful, he had to take on the pros.
"We wanted amateurs to use this event to gain experience and exposure; and they did just that," Lindgren said. "They got so good that they all became professionals."
If you can't make it out to the beach, the Grayland Open will be televised for the first time. Athletes in Motion Television Inc. will be producing a half-hour program highlighting the event. Air dates and times are yet to be determined, but the event will be featured on ESPN International, Comcast Sportsnet and Untamed Sports Network, among other networks.
"We're still very much grassroots. All our help is volunteers," Lindgren said. "We're still evolving this event, but I really believe it's a great showcase for the sport. We're always trying to drive more interest, create new fans. It's just a lot of fun for the spectators to come out and see what we do."
All photos courtesy Grayland Open.