By Christine Vincent

Beautiful Lake Aberdeen beckons weary travelers on their way to the ocean beaches. Many stop for a free tour offered by the Lake Aberdeen Steelhead Hatchery nestled just below the dam. "We welcome visitors at all times," says friendly manager Ken Isaksson. "We enjoy showing off our facility."
The hatchery is run by the Washington Department of Fish and Wildlife. Isaksson's official job title is Fish Hatchery Specialist H4. Full time staff are foreman Keith Burns, FHS H3, and Eric Roos, FHS H2. During the spawning season, the hatchery hires two temporary workers. Volunteers Joe Kalish and Grays Harbor College Instructor Amanda Gunn are currently working on reestablishing the a collaborative hatchery program.
Isaksson grew up in Tenino. He has been working in hatcheries for 33 years. In 1998, he began his current position as manager of the Lake Aberdeen Hatchery. "I began my hatchery career with a high school diploma and a driver's license," he remembers. "Today, I would need a two-year degree in fish hatchery management to be a qualified applicant. I love to be outdoors and work with wildlife but as manager I spend a lot of time at my desk."
Giving tours offers a welcome break in Isaksson's desk routine. He begins tours with a short historical account. In the late 1930s, Van Winkle Creek was dammed, creating Lake Aberdeen. The lake was to provide water for mills in Cosmopolis, Aberdeen and Hoquiam. The hatchery was established as a mitigating hatchery to offset habitat loss for steelhead, Chinook salmon, Coho salmon and rainbow trout.
Today, the Lake Aberdeen Hatchery is one of 95 hatcheries conserving a great variety of fish species in Washington. In early fall, over 300 steelhead are expected at the weir in Van Winkle Creek where they are diverted into the hatchery's adult pond. One hundred and fifty pairs are selected each season. The hatchery also has Chinook and Coho salmon programs and brings in winter run steelhead broodstock from the trap operated by Tacoma Power on the Wynoochee River.
"The females are kill-spawned," explains Isaksson. "The eggs are mixed with the males' sperm." More fish come up Van Winkle Creek than the hatchery needs. The surplus provides food for many species of predators. Otter, mink, king fishers, cormorans, mergansers, blue heron, green heron and the occasional osprey all feed on the fish.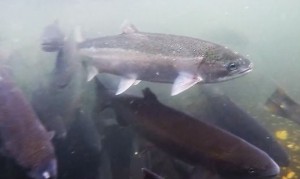 Not only wildlife profits from the hatchery's surplus. Food-quality fish are donated to local food banks. Isaksson is excited about an ADA fishing site which is planned to open in summer 2016 to serve anglers with disabilities.
The fertilized steelhead eggs are placed in egg trays which are stacked in the incubation building where the actual hatching takes place. The eggs are irrigated and undergo 15-minute drip treatments of formalin to prevent fungus. Fifty-five thousand fish eggs develop in each egg tray stack per year. The hatchery incubates and hatches more than one million steelhead and salmon annually.
Isaksson presents a display frame holding vials with specimen of the embryonic developmental stages from egg to alevin to fry. Fry need to feed. They are released into the incubation room's intermediate raceways. Isaksson displays the food the fry are fed during their growth with grains ranging from peppercorn to pea size.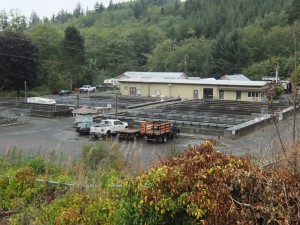 Outside the incubation room, Isaksson grabs a white bucket and scoops some fish out of an open air raceway. They are dark and squiggly, about 8-inches long. "These are steelhead," he explains. "I call them fish once they have survived to this size. Officially, they are called parr."
When the time is ready, the parr are stimulated by biological signals to smolt and begin the transition from freshwater to saltwater fish. At this stage, they are released into the Wynoochee River and Van Winkle Creek from where the fish make their journey back into the ocean to complete their life cycle.
Thanks to hatchery conservation programs, Grays Harbor low land lakes and streams offer unique, almost year-round fishing for anglers. The rivers are only closed in April and May for the protection of hatchery and wild smolt. "I have met anglers from as far as Everett," says Isaksson. The hatchery's work presents a happy marriage of wildlife conservation and service to the community. The Lake Aberdeen Hatchery is estimated to generate $2 million dollars of annual revenue for Grays Harbor. Ken Isaksson and his colleagues have reason to be proud of their work.
The hatchery is open for tours seven days a week from 8:00 a.m. to 4:30 p.m. Just drop by or call 360-533-1663. For more detailed hatchery information, you can also email Ken Isaksson at kenneth.isaksson@dfw.wa.gov. For sport fishing information, consult the Washington Sportfishing Rules.