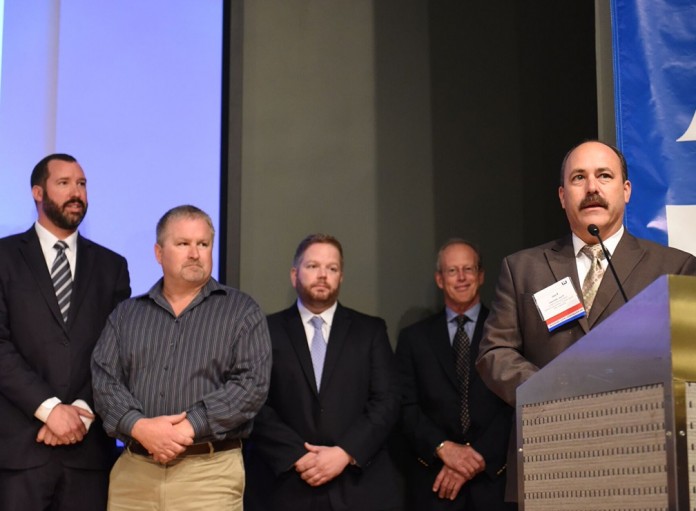 Earlier this month, Grays Harbor Community Hospital President and CEO, Tom Jensen, was recognized by the Washington State Hospital Association with the prestigious Joe Hopkins Memorial Award.
Jensen, who has served as President and CEO of Grays Harbor Community Hospital for five years, said winning an award like this is truly an honor — but he didn't earn it on his own. "The honor doesn't belong just to me," he said. "It belongs to the providers, the staff and the community."
Joe Hopkins Memorial Awards are given to healthcare professionals who have demonstrated outstanding leadership in their field — something Jensen knows about all too well.
In 2014, the then, not for profit hospital was facing financial pressure because of low customer reimbursement from the State. Under the guidance and leadership of Jensen, hospital staff and community members voted in a public hospital district.
Jensen will modestly say it was the community that saved the hospital by voting in a public hospital district, but it was his leadership that helped bring them to that decision.
While saving a hospital from a potential shutdown is reason enough to applaud Jensen's leadership, it's important not to overlook the ways this CEO supports his staff and community day in and day out — taking care of his more than 600 staff members, interacting with all of the hospital's departments, and ensuring that his community has access to quality care, right at home.
But Jensen isn't the only local healthcare professional making an impression. In fact, Jensen shares his home with another Joe Hopkins Memorial Award winner — his wife.
During the Washington State Hospital Association's annual meeting on October 8, where Jensen received his accolade — Jensen's wife, Renée, was also honored with a Joe Hopkins Memorial Award for her achievements as CEO of Summit Pacific Medical Center. The two made history that night, as this was the first time the award has been given to two people in one year.
In a press release that came out earlier this month, Washington State Health Association board chair Gregg Davidson said, "It's always risky to make an exception, but exceptional people deserve to be recognized." The award committee, which is comprised of past Joe Hopkins Memorial Award winners, was unanimous in their decision to honor both Jensen and his wife.
However, just because Jensen and his wife are married, that doesn't mean they always play nice. But Jensen says this is what makes them great CEOs. "We collaborate when it's the best thing for our hospitals, and we compete when it's the right thing for our hospitals," he says.
Newly decorated with his Joe Hopkins Memorial Award, Jensen says he plans to continue leading the hospitals and community on the premise of compassionate, quality care. You can learn more about Tom Jensen online.
For more information about Grays Harbor Community Hospital, visit its website or call 360-532-8330.