It didn't take long for Jordan Spradlin to make the quick transition from volleyball to basketball.
Usually it takes someone at least a couple games to get comfortable when they switch from one sport to the next.
But then again, few high school athletes are like Spradlin.
The Montesano High School junior picked up right where she left off last basketball season by completely dominating the inside during the Bulldogs' season-opening 55-53 road victory over North Thurston.
Spradlin scored a game-high 33 points and pulled down 16 rebounds to kick off her junior campaign in impressive fashion.
The numbers, however, are hardly surprising.
Big things are expected out of Spradlin, who shared Evergreen 2A/1A League MVP honors with teammate Megan Choate last season, and she certainly delivered in her season debut, hitting the game-winning bucket with 9 seconds to play to help Montesano pick up the road victory over the Rams, a member of the 3A Narrows League.
"It felt like an eternity because it kind of rolled around the rim," said the 6-foot-1 Spradlin about the game-winning shot. "I took the pass from my teammate and kind of panicked when I first caught the ball. So, lots of things going through my head in a matter of two seconds."
Nervous, but still very much clutch.
There was little mystery who would get the ball for the Bulldogs' final shot. In fact North Thurston triple teamed Spradlin the moment she touched the ball on the block – a common sight during the game.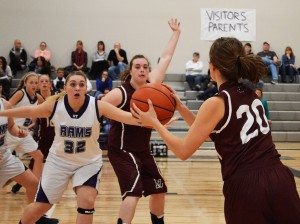 It had little effect. In fact, the Rams probably could have had all five players on the floor, and a couple more players off the bench, surround Spradlin and she would have most likely got her shot off. Her presence down low is that dominating.
Spradlin is coming off a sophomore season where she scored nearly 19 points a game. She was also one of the state's leading rebounders grabbing 12.5 boards a contest as she earned AP all-state first team honors and helped the Bulldogs to the 1A District IV championship.
"She's quick. She has great footwork and knows who to seal," Montesano coach Julie Graves said about her gifted center. "And she knows that if she feels pressure she's really good at kicking it out to her open teammates. We had a good group around her (last year). Teams couldn't just focus on Jordan. We were pretty well-rounded last year."
Last year's squad went 23-4 squad and lost to Lynden Christian (49-33) in the regional round of the state tournament.  Lost to graduation is a trio of seniors in Choate, Myranda Floch and Hannah Jensen.
"This is a whole new group trying to mesh together. For the last two years we had the same group together," Spradlin said about the young Bulldogs. "So this is still all new for us. We are still in the middle of meshing."
With no seniors on this year's roster, Spradlin should do most of the heavy lifting on offense early on for the Bulldogs, but will have help in juniors Cheyann Bartlett, Josie Toyra and Shayla Floch.
"It's nice getting to separate (the leadership role) instead of having it fall on just one person," Spradlin said. "The four of us are kind of trying to keep everyone together and share that leadership role."
Playing on the road against a larger school, Montesano was able to kick off the season with a solid victory.
"It was kind of a new experience because we were playing with each other for the first time," Spradlin said. "We weren't really sure what to expect. We just all decided we would go out and play super hard."
Trailing by one after three quarters, the Bulldogs worked the ball inside to Spradlin and saw their lead grow to nine points before the Rams rallied late to make it a contest.
Spradlin's experience, however, shined through as her play down the stretch was the difference.
"She's pretty level-headed when she's competing. She's out there and wants to do well all the time, but her domineer rarely changes," Graves said.
Surprisingly, basketball may not even be Spradlin's best sport. A three-sport athlete, she was a first-team all-league selectin in volleyball this past season and will be one of the state's premiere track and field athletes this upcoming spring.
While she could most likely play at the next level in all three, Spradlin already knows track and field will most likely be in the collegiate future. At last year's 1A state championships at Eastern Washington University, Spradlin captured both the shot put and discus state titles to help the Bulldogs place sixth overall as a team.