For many small businesses, maintaining financial records, performing payroll and filing taxes can be overwhelming and frustrating. But according to Erin DenAdel, a Certified Public Accountant and partner at Barene DenAdel, it doesn't have to be that way. She points out that one of the primary goals of the firm is to "eliminate the headache of running a business by helping clients take charge of their finances."
Whether you need help filing your corporate taxes or are looking for someone to manage your entire financial operation, Barene DenAdel is here to help.
Accurate Tax Advice & Preparation
Having a firm like Barene DenAdel on your team can make tax preparation fast, easy and convenient. You can be confident you are receiving up-to-date advice that is in compliance with the constantly-changing tax laws and IRS guidelines. DenAdel shares that her firm invests thousands of dollars annually in research, enabling them to provide timely, accurate answers to all your tax questions. Due to their extensive knowledge of tax laws, Barene DenAdel can frequently increase the amount of your tax refund, saving your business money. "Don't let tax season be something you dread," DenAdel said encouragingly. "Find someone who can help make the process easy and stress-free."
Full Financial Services
For business owners who prefer to hand over their accounting and financial responsibilities to a trusted advisor, they can sign up for Barene DenAdel's Back Office Support System (BOSS). This all-inclusive program enables Barene DenAdel to pay your bills, balance your checkbooks, complete payroll and create financial reports that keep you up-to-date on the financial health of your business.
Entrepreneurs needing less-extensive assistance can sign up for monthly accounting support to ensure their operation is running smoothly. Start-up businesses or those who do not have a financial program in place can receive assistance setting up their data on Quickbooks™ Accounting Software. Training opportunities are also available to help businesses better understand how to utilize and operate this program.
Advanced, Up-to-Date Technology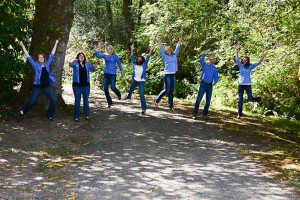 "One of the things that sets us apart from other accounting firms is the fact that we are very into technology," DenAdel said. "Since we use QuickBooks™ online, everything is uploaded, backed-up and stored electronically, giving business owners instant access to all their records." The firm can even help you download apps that enable you to view your financial data on your phone or mobile device. Barene DenAdel utilizes video chat to communicate with clients and secure web portals to help manage accounts. This eliminates the need for constant trips to the offices – an ultimate time saver.
Enabling Businesses to be Successful
"A lot of small businesses are unsure about hiring professional financial help, as they are afraid it will cost too much," DenAdel noted. "Because our staff is highly trained, we can get things done quickly and in a timely manner, which keeps costs down."
One of the most satisfying aspects of working with Barene DenAdel is knowing they truly care about you and your company. "Our purpose is to help small businesses and their owners be successful," DenAdel said. "Success means different things to different people but to us it means to maximize the rewards of being in business for yourself."
A Fun-loving, Professional Team
The dedicated staff at Barene DenAdel is what enables the firm to efficiently meet their client's needs. DenAdel has a Bachelor of Arts in Accounting from Seattle Pacific University and worked as a Certified Public Accountant (CPA) in Seattle for many years. She joined the Aberdeen team in 2007 and became a partner in 2009. Bob Barene has been a shareholder since 1999 and is also a Certified Public Accountant, having earned a Bachelor of Arts in Businesses Administration and Accounting from the University of Washington. Kate Thomson has worked at Barene DenAdel for five years and recently earned her CPA title. DenAdel points out that she is "super smart," and the firm is very proud of her accomplishments. Connie Gadwa, a senior accountant has been with the firm for nearly two decades. DenAdel describes her as being "extremely detailed" and a great asset to the team.
While the topic of finances can be dry and boring, the staff at Barene DenAdel makes the process upbeat and enjoyable. "We've had clients tell us that we are actually fun and exciting to work with" DenAdel laughed. "We have great team spirit."
For more information about Barene DenAdel, visit their website or like their Facebook page.
Sponsored