Have you ever purchased a bottle of 'Float' Wine from Westport Winery and wondered who made the beautiful float shaped bottle? Or perhaps you admired the stunning glass décor while dining at the Ocean Crest Resort Restaurant in Moclips. These and many other wondrous glass objects were hand blown at Opal Art Glass in Cosmopolis, a studio and gallery run by artisans Johnny and Darlene Camp.

Johnny, an Onalaska native, came to glass blowing the roundabout way. He worked in a number of jobs before he came into contact with glass art. The electronic, mechanic and welding skills he has acquired all benefit the Camps' business today. Darlene and Johnny not only built their own glass blowing equipment but are able to make their own repairs saving them the considerable expense of having to fly in a specialist.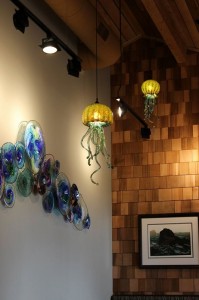 "I learned glass blowing from the bottom up," Johnny says. "I worked at Mount St. Helens Glass in Centralia for three years. That's where I started to blow glass. When I was offered a job at the famous Nourot Glass Studio in Bernicia, California, I accepted and stayed there for six years."
The late Micheal Nourot was one of the few Americans privileged to study at the prestigious Venini Furnace in Italy. When he became ill, he made Johnny the manager of his business. Johnny also attended glass blowing courses at Public Glass in San Francisco, Chico State University and the Las Vegas Glass Conference.
Darlene and Johnny have always worked together, even before they began their career in glass. While Johnny was working at Nourot's, they began building the equipment for a studio of their own. They started to blow glass in the evenings. After Darlene had heated up the glass during the day, they would work for six hours every night. Soon they began to attend arts and craft festivals and tradeshows. Darlene would attend international and national wholesale events targeting gallery owners while Johnny presented their work at retail events. They attended approximately 25 smaller shows and a couple of big events annually.
Considering their hard work and the quality of their glass, it is not surprising that the Camps' business took off. Darlene and Johnny moved their equipment to their current location in Cosmopolis and Opal Art Glass was born. Their gallery showroom displays an amazing variety of colorful glass objects from small beads and earrings to large wall sculptures and lamps. Currently their glass is not only commissioned by faithful local customers but is also sold in 25 galleries across the USA.
Today Darlene and Johnny are working in their studio, filling an order for 20 starfish. A furnace is melting glass at the enormous temperature of 2100? Fahrenheit. It takes 24 hours to liquefy the glass enough to be worked. "This furnace has been running for many years," Johnny remarks. "It takes eight days to heat up or cool down, so we just keep it going even when we take some time off." This large furnace holds three vats of glass, crucibles in glass blowing jargon. Two smaller furnaces hold one crucible each, allowing the Camps to melt five batches of glass simultaneously. With this rare set up, they are able to produce multi-colored pieces in a comparatively short time period.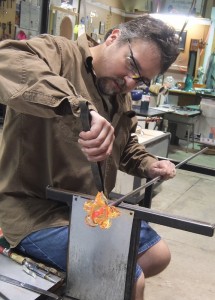 "Heated glass is like honey," Johnny explains as he scoops a glob of golden colored glass called a gather out of the crucible with a long metal pipe and begins to work it into a starfish. As the piece takes shape, it cools down and needs to be reheated frequently in another furnace called a glory hole. The Camps' studio contains two glory holds. One has a small opening just big enough for the starfish; the second one has a bigger opening for larger pieces. Each starfish requires about 20 trips to the glory hole.
Once the starfish has acquired its shape, Johnny dips it into a bowl with silver grains. "This is real silver," he points out, "glass is colored with heavy metals." He reheats the silver speckled starfish once more in the glory hole. The reduced atmosphere in the oven pulls out the silver grains to give the glass a characteristically rough starfish surface. For a finishing touch, Johnny sprays the piece with sugar water creating a beautiful patina. He hands the completed piece to Darlene who receives it in a thick Kevlar glove. She carefully transfers the starfish to one of the studio's three annealing ovens which cool the glass pieces down very slowly overnight to prevent cracking.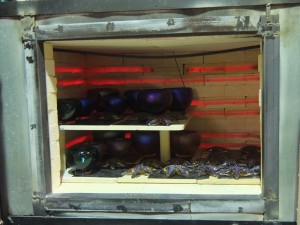 It is fascinating to watch a husband and wife artisan team creating beautiful glass in much the same way it has been done since the first century. The Camps' joy in their work is obvious. Visitors are welcome to browse their store gallery.
Opal Art Glass
1232 1st Street in Cosmopolis
360-532-9268
Hours: 10:00 a.m. – 5:00 p.m. Monday through Friday
Saturday from 10:00 a.m. – 4:00 p.m.