Things always start off as a normal, affectionate hug, but for Jason Dick and his family, it's not too long before that wrestler's mentality slips in.
"It happens every time. We go in to give each other hugs and then will battle for inside control," said Jason Dick, Elma High School's head wrestling coach. "We're fighting for position. It ticks my wife off. She always yells at us, 'This is not a wrestling match. It's a hug.' But we all do it. It always turns into a wrestling match."
Chalk it up to instinct because if there's one thing the Dick family knows, its wrestling.
There have been plenty of fathers who have coached their sons during the latter's high school career. Jason is actually one of them, coaching son Tyson, a 2014 Elma graduate who was a four-time state participant and two-time state placer, during his four years as an Eagle.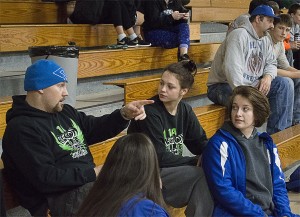 There is a lengthy list of those who have coached their daughter, but how many can say they coached their son and multiple daughters in high school?
Jason can.
Jason is the Eagles head coach, wife Jenny is a volunteer assistant on the girls side, while daughters Anna, a junior, and Taylor, a sophomore, are two of the Eagles' top wrestlers this season.
"It's the family thing," Anna said. "You know how some people get blue eyes from their parents? I got wrestling."
They were destined to end up on the mat as neither sister can remember a time when they weren't surrounded by sports.
"I used to be a football coach at Mary M. Knight and there's a picture of my wife holding Anna when she was 10 months old, and she was pregnant with Taylor at the time," Jason said. "I told Jen when we got married that she was marrying into coaching. I don't think she realized exactly what that meant at the time."
It's likely the magnitude of that statement is fully understood nearly two decades later.
Four years after he was born, Tyson began wrestling with pop serving as coach. The family wrestling tree was beginning to take shape as Anna and Taylor would tag along to every practice, rolling around in the gym while drills took place.
"We used to play in the (Elma High School) wrestling room," Anna said. "We started doing that when I was 4 or 5. I view it as just another part of my house."
Despite being around the sport her entire life, Anna showed little interest in actually competing in it throughout elementary school and junior high.
That changed, however, once she hit high school.
"Tyson and I used to wrestle a lot when we were younger," Anna said. "I like keeping myself busy. If I'm not doing something, I'm bored. My brain is constantly running a thousand miles a minute. So, I might as well do something. Trying out for wrestling just made sense."
As a freshman Anna came to her father and informed him she was going to try out for the wrestling team – a bit unexpected for Jason, but pleasing nonetheless.
"Anna is really a quiet person. She was in band. She can play like five different instruments. She's a painter. She's an artist," Jason said. "She tries out for wrestling and she finds out she's really strong. She's just a beast. She ends up beating up on the boys in there."
With Tyson already onboard, Jason now had two of his offspring under his tutelage with a third not far behind as Taylor's involved in the sport probably made the most sense among the two daughters.
"Taylor was always the athletic one," Jason said. "When Anna started wrestling and doing well, I think she decided she didn't want to just take stats anymore. I brought (Taylor) to camp with us as an incoming seventh grader. She had never wrestled a girl before. It was always against the boys. She goes to camp and faces girls for the first time and she basically beat them all."
Last year was the first season where both daughters were members of the Elma team, and while they share the same last name and bloodline, their approach to the sport is completely different.
"They are night and day, dawn and dusk, polar opposite kids – same father, same wrestling room and two completing different styles of wrestling," Jason said. "Anna is more like your Greco-Roman style. She's physical. Anna is a great teacher. She's going to teach because she had to learn everything. Things came naturally for Taylor. She is about skill. She's about speed and technique."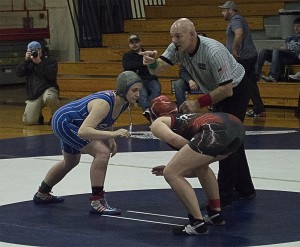 Both styles have proven to be successful. Last year, both Anna and Taylor came one win away from advancing to the state tournament – which remains their top goal this season.
"I don't really know anything else," Taylor said. "Other kids are out doing stuff. I'm always in the wrestling room. I just live and breathe wrestling."
A statement which would be fitting for the family crest.
"Wrestling is addictive. Outsiders think it's the weirdest thing, but once you get into it, you're hooked," Jason said. "This is our wrestling family, but not just my family. It's everyone. From the kids that are involved in the program to the parents. It's our family. People ask me if I will quit once Anna and Taylor graduate, but I'm not coaching for my kids. I'm coaching because I love the sport."