Cyndi, Darren, Aydan, and Willem Shattler run a family business. The food and atmosphere are just like home – because for them, Luna Rana Coffee and Tea House is their home.

Boasting a full deli with nothing fried, no processed food, and eschewing the use of a food service provider, the fare is some of the freshest in the Harbor. They feature gluten-free options, organic produce, and home-recipe soups. Breads are baked fresh and shipped in weekly from Seattle. Luna Rana has earned the highest-rated Harbor restaurant on Yelp for sandwiches; their TripAdvisor ratings are exemplary as well.
Menu Choices at Luna Rana
The Luna Rana menu brings to mind the phrase, "spoiled for choice." Try the Turkey Lurkey Lou – sliced turkey, swiss cheese, cranberry relish, lettuce, mayo, and mustard on a roll. The Chehalis Salmon Bagel – bagel and smoked salmon with cream cheese and a slice of tomato – is also divine. And, I recommend the Veggie Heaven – swiss, cheddar, provolone, mixed greens, avocado, tomato and cucumber, and mayo on wheat. The Over the Moon Salad features mixed greens, dried cranberries, feta, sliced almonds, tomatoes, and diced beets.
Luna Rana also carries hummus as well as vegan versions of cream cheese and mayonnaise (the best vegan mayo, Hampton Creek) to augment a plant-based sandwich. Their veggies are wonderful, especially their tomatoes, because the Shattlers pick them out by hand at Safeway each week. Even the sides, like the pickle spear, the soups, and the fresh pasta salad, are special in their own right. In addition to taking care with the food, they care about their carbon footprint. They use post-recycled materials and compostable dinner wear, including the forks.
The Beginnings of Luna Rana
When Cyndi and Darren met in 1993 they talked about a restaurant from the beginning of their relationship. As important as the menu and the business plan, has been the desire to create a unique venue. "The idea was that we wanted more of a community involvement center," Darren tells me as we sit down after a late-afternoon rush. My kids are in the dining area drinking copious amounts of Mexican hot chocolate, and I'm sitting with the Shattlers in the adjacent room along with shelves stuffed with felted wool faerie houses, New Age books, and a variety of lovely artisan crafts. "We're at our five years and the business is self-supporting. It's panned out."
And the restaurant is unique, beginning with the edifice. The family bought the City of Cosmopolis building in July 2011, and opened for business in November. Locals will know the building as being the spot – for the City Court, jail, police station, City Clerk, and fire department. The family converted the space into a dining area, small kitchen and espresso bar, separate from their living quarters further back from street-side.
"Originally we wanted to open a coffee and tea house and have a holistic medical center, but the citizens wanted food," Darren continues. Even so, the restaurant is hardly food-only, and their goal of community center seems to be going well.
On the last Friday of each month at 6:00 p.m. they host Stone Soup, an open mic event helmed by local Will Roussel. To date, Luna Rana is the only family-friendly (read: not a bar) venue in the rotation. They are also registered with Warm Showers, a reciprocal hospitality group for traveling cyclists. They have opened up a new coffee vendor service using the ingenious FilterLid technology – "coffee alchemy" as Cyndi calls it – and are now serving at local events like Westport's Pirate Daze andAberdeen Art Walk.
They family is also very active and creative. Their sons both pitch in with all aspects of the business. The family enjoys traveling to art festivals (as either vendors or fancy-free participants) including MythicWorlds in Seattle and FaerieWorlds in Eugene, Oregon. Cyndi practices needle felting and wool felting and teaches classes in arts at the restaurant, and Darren creates wooden stands and whirligigs. They are planning on teaching more craft classes, and hope to host vegetable and herbal starts next year. A permaculture roof garden is in the planning stages.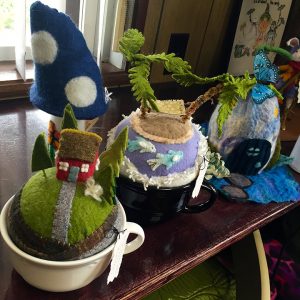 All this of course, leads me to ask, "When do you get your downtime?" The Shattlers both laugh. Breaktime over, they are up and ready to clean up from the lunch rush.
"We're not in it for the money," Darren has mentioned. And after talking with the family for this hour it seems true; they simply enjoy themselves too much doing what they do. Five minutes later, as I'm ready to leave, Darren waves away payment for the turkey wrap I've commissioned for a photo op. I take it home to my mother and let her know: complimentary of the fabulous deli and coffee shop in Cosi.
Luna Rana Coffee & Tea House
1101 1st Street in Cosmopolis
360-612-4217