Hugging the beautiful Pacific coastline is the Chateau Westport – a perfect marriage between a classy beach resort and a home away from home.
Chateau Westport was originally built in 1968, and there are bits of its history still present today. Since taking over management two years ago, Gabrielle Wolcott and her staff have worked thoroughly and diligently to bring the resort into the 21st century with comfort and luxurious style.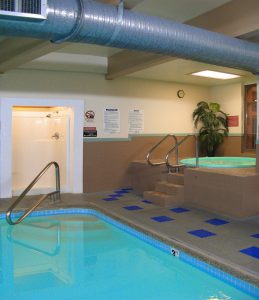 Floor to ceiling upgrades have made Chateau Westport truly beautiful. The attention to detail and incorporation of local art and décor is top notch. A wooden staircase, personally installed by staff, and ceiling alcoves create an atmosphere of grandness, while custom carved wooden benches, sculptures, and Westport wall art give you a sense of place. From the moment you walk through the doors, you know to anticipate a special vacation.
Chateau Westport offers your standard hotel amenities, including a continental breakfast, pool, hot tub, and fitness room. But particular care has been taken in the details. Each room is outfitted with a Keurig coffee machine, and each bathroom equipped with high quality Rusk hair products. They even offer complimentary fresh popcorn in the evenings, and sell s'more making packages at the front desk.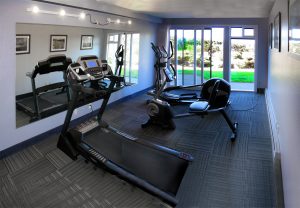 While you can enjoy the comfort of home indoors, the grounds surrounding the resort have everything you need to enjoy the beach. There are fire pits, picnic tables, horseshoe pits, volleyball and basketball courts, and a playground. Directly from the grounds is a well-marked walking trail through the dunes to the beach. Additionally, Chateau Westport is working on incorporating a second outdoor walking trail through the grounds. The ease of having everything you need to enjoy a beach vacation in one place cannot be overstated. Chateau Westport offers everything you need to unwind and relax.
Soon they will be updating their banquet room to accommodate family gatherings. They also hope to establish an outdoor venue for weddings.
The staff at Chateau Westport works hard to deliver a homey, family environment, and is proud of what their resort can offer. They are not only family friendly, they are dog friendly as well, so be sure to ask for details if you are traveling with furry family.
Chateau Westport
710 Hancock in Westport
360-268-9101
Sponsored