Coffee is my lifeblood. It starts my day, sees me through the afternoon and sometimes finishes a delicious dinner. Do I have a coffee problem? Depends on how you define problem. Helping support my habit is the consistent, high quality coffee created by the friendly baristas at South Bay Coffee Company.
Owner Stephanie Childers and I are kind of kindred spirits.  She also loves good coffee and has placed consistency and quality at the top of the priority list for her thriving coffee stand.
Located at 1019 E. Wishkah Street in Aberdeen, right on the main drag between Dairy Queen and McDonald's, South Bay Coffee Company is Childers's second stand. Just over five years ago, she and her husband opened their first coffee stand on South Bay Road in their hometown, Olympia. "I wasn't happy with what I was doing for work and prayed something that I was passionate about would cross my path," says Childers, a South Bay native and mother of three.
A nearby coffee stand had recently closed but the location just wasn't ideal. However, it got Childers wheels spinning and when she heard of a fully operational stand for sale, and that was able to be moved, she snapped it up and relocated it to bustling South Bay Road. After refining their product and honing their craft, Childers and her staff opened a second location in Aberdeen two years ago. "It's tricky with a busy drive-thru coffee business to get a quality, consistent product. But I knew it could be done and that's what we strive for with every single cup. I want to serve the very best coffee you can get anywhere and want people to want to come back."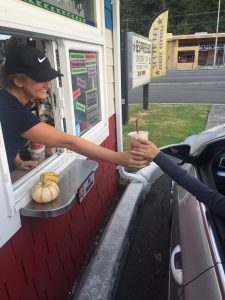 In order to achieve her goals, Childers began with the most important part of the drink – the coffee beans. "Using the best coffee beans is the number one priority," she says. "We use a local roaster – Firefly Coffee Roasters – who we have worked with from nearly the beginning." Firefly is a dedicated roaster with no retail space of their own and head roaster Andy Cronin has been honing his craft for nearly a decade.
Together, Cronin and Childers worked to come up with the perfect signature roast for the stands. "Five or so of our customers, aka our coffee connoisseurs, helped us decide on the premium roast we serve today," Childers explains. "Each week we tweaked the roast for them and had them try each one until we settled on our favorite."  Now, South Bay Blend is used exclusively at the Olympia and Aberdeen stands and is one of the reasons customers are so very loyal to South Bay Coffee Company's product.
"We have a product that is exquisite," says Childers with a smile.
Beyond the roast, Childers sources local ingredients and treats whenever possible and opts to use higher quality syrups and add-ins than many other stands. "It makes a difference in the final product and we are all about making the very best coffee, so using top-shelf ingredients just makes sense."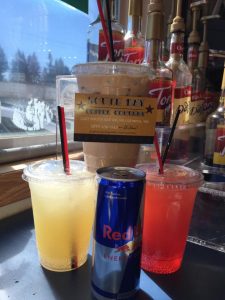 Quality ingredients plus a custom premium roast are great, but without flawless execution by talented baristas, the drinks wouldn't live up to Childers high standards. "Part of what we are known for is excellence in our method and our recipes," she explains. Each barista completes a four-week training program to learn step-by-step how to craft a "South Bay" cup of coffee. "I want my team to make each coffee just like I would make it so that no matter who is working, my customers get that perfect cup every time," she says.
And Childers holds herself to that high standard, too. "I had the stand in my driveway for six months before we opened and I would perfect my coffee skills every morning making coffee for my husband's crew [at Wild Plum Landscaping]," Childers recalls.
Her creativity in baking and crafts is reflected in her unique specials and delicious drinks. Some of the customer favorites are:
Blackberry Pie Chai: for chai lovers with a fruity twist (try it iced).
Nutter Butter: like your favorite childhood dessert blended in a cup. With coffee. Yum.
The Meltdown: a unique method of pouring shots, caramel drizzle, and half and half in a cup of ice. Yes please.
Pumpkin Spice Latte: a seasonal must, hand-crafted with local, fresh pumpkin pie sauce.
Along with excellent drinks, Childers stocks her stand with locally baked treats, including her very own frosted sugar cookie from Gotti Sweets.  Don't forget the biscuits and gravy served all day. Yes, all day.  Red Bull concoctions such as the White Walker and the Red Barron are other customer favorites crafted by her team. Italian sodas, real-fruit smoothies, protein shakes and their famous bacon-cheddar-chive scones round out the decaffeinated options.
South Bay Coffee Company's location on the eastern edge of Aberdeen makes it a perfect pit -stop when heading to and from the beach for clam digging or beach play and a convenient stop when shopping at the many stores just behind the stand.
"My absolute favorite thing is when customers return happily from afar and say, "Your coffee is the very best coffee I've ever had." And this, Childers humbly admits, happens frequently.
Try masterfully crafted coffee for yourself at their Wishkah Avenue stand or, if you are venturing to Olympia for work, errands or play, seek out the original South Bay Coffee Company stand at their namesake location.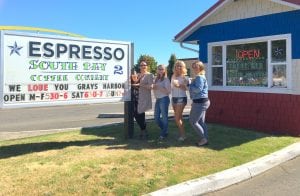 South Bay Coffee Company 2
1019 E. Wishkah Street, Aberdeen
360-459-1345
Monday through Thursday – 5:30 a.m. – 6:00 p.m.
Friday – 5:30 a.m. – 7:00 p.m.
Saturday – 6:30 a.m. – 7:00 p.m.
Sunday – 7:00 a.m. – 5:30 p.m.
South Bay Coffee Company
3427 South Bay Road NE, Olympia
Monday through Friday – 6:00 a.m. – 6:00 p.m
Saturday – 6:30 a.m. – 5:00 p.m.
Sunday – 7:00 a.m. – 5:00 p.m.