We all strive to create a safe home for our families. For some, this means latches on your cupboards and covers on your outlets, keeping your toddlers safe. For others, it could mean adding grab bars in bathrooms to avoid falls and aid independence. No matter your age and stage in life, keeping yourself and your loved ones safe is always a top priority.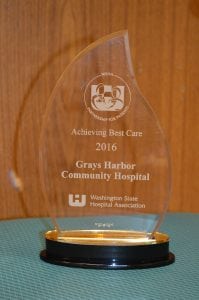 At Grays Harbor Community Hospital (GHCH), safety is a top priority as well. All of the doctors, nurses, technicians and staff know that creating a safe hospital environment promotes healing and a healthier community for all Grays Harbor residents. They work tirelessly to create, and maintain, systems and procedures that ensure patient safety goes hand in hand with providing the best patient care.
And, the Washington State Hospital Association (WSHA) has noticed.
In September 2016, WSHA awarded Grays Harbor Community Hospital the Achieving Best Care Award. This award recognizes success in a broad variety of patient safety measure and reflects the strong commitment of the GHCH staff to provide top notch care without exception throughout all departments at the hospital.
"When it comes to our hospitals' achievements in patient safety, Washington State has so much to be proud of," said WSHA Senior vice president for Patient Safety Carol Wagner. "We're working on the biggest challenges of health care delivery, and our hospitals and health systems are consistently pushing for higher achievements on more measures. We're glad to be able to give them the recognition they deserve."
And this recognition isn't given lightly. The hospital must qualify for excellence in a wide range of categories related to patient safety. These areas include:
Infections
Falls
Early Elective Deliveries
Sepsis
Pressure Ulcers
All of these areas are important to patients, families and physicians and staff. By identifying and implementing best practices throughout the wide variety of care settings in the hospital, GHCH strives to get incidences in these areas to zero.
Rosemary Chapman, Director of Infection Control at Grays Harbor Community Hospital shares, "At GHCH we work together to build a strong culture of safety so that our patients have the best chance for an excellent outcome." That culture includes practices as simple as consistent and proper hand-washing, shown to be the number one most effective method of preventing the spread of infection in the hospital setting.
Chapman continues, sharing other top measures used at GHCH to prevent the spread of infection. "High-quality environmental cleaning by the certified housekeeping staff, exceptional sterilization and disinfection practices in all departments and a high level of knowledge regarding the control of hospital acquired infections by all staff, are all important components of infection control."
To ensure these practices are carried out consistently, Chapman is on the floors and in the units daily. "I talk with nurses and see who is on existing isolation and make sure there are no extra people on the list. I post who is on isolation in nine units throughout the hospital and ensure everyone is aware of any pending issues."
This hands-on approach provides loads of data to Chapman who counts use of hard data among her top tools to create safe care environments for patients, families and staff. In addition to data and her accompanying analysis, Chapman believes strongly in the power of ongoing staff education on best practices and clinical observation to aid her in her quest for the safest hospital possible.
With the receipt of the WSHA Achieving Best Care Award, GHCH is more dedicated than ever to proactively seeking to create the best, and safest, care facilities they can. WSHA's Patient Safety program supports and assists Washington hospitals in achieving these goals through collaborative trainings and interactive sessions sharing training, cutting edge research and evidence based clinical-practices.
As a member of WSHA, Grays Harbor Community Hospital collaborates with other area hospitals, learning from their successes and working together to improve communities by providing safe, effective care options for its members.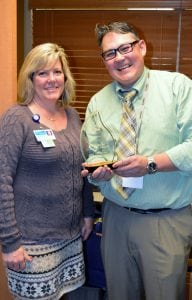 Looking to the future, GHCH has no intention of slowing down or letting up. Their commitment is stronger than ever. "Looking to the future, antibiotic stewardship is one of our areas of focus, working with the pharmacy and physicians to review antibiotics and regulate overuse vs. appropriate use."
Grays Harbor residents can join together with their community, and their community hospital, to celebrate the WSHA award. A safe hospital means safe patients. And safe patients mean they return home to you, their families, sooner and healthier.
Visit the Washington State Hospital Association online to learn more about their quality and safety programs. Learn more about Grays Harbor Community Hospital's services and programs here.