Few programs this season welcome back virtually their entire roster, including the reigning league MVP, from a 20-win team that placed at the previous year's state tournament.

The Hoquiam High School boys' basketball team, however, is one such squad.
But as the new season begins do lofty expectations create added pressure?
Not according to Jack Adams III, last year's 1A Evergreen League's most valuable player.
"It would be different if we were playing with a bunch of strangers, but the nerves go away when you're playing with your brothers," said the 6-foot-1 guard. "We're just so used to playing with each other."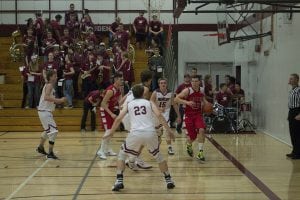 The Grizzlies, fresh off last season's deep postseason run which ended with them exiting Yakima with the sixth-place state trophy in tow, is once again loaded with talent.
Not only do they bring back the league's top star in Adams, a player capable of beating you in a variety of ways, Hoquiam returns fellow seniors Jace Varner, a first-team all-league post during his junior campaign, and Jerod Steen, a second-team selection at guard a season ago, giving the team three players who each have four years of varsity ball under their belt.
That alone makes the Grizzlies the clear-cut favorite to once again reign over the Evergreen League.
But as gifted a group as they are individually, they may benefit more this season from their familiarity than their skill set as the trio has been playing together since elementary school.
"Growing up we played a lot of basketball together at the Central (Elementary) gym," Adams said. "Our chemistry is great. We just seem to know where each other is on the court at all times."
It was during those pre-high school pick-up games that they laid out what they wanted to accomplish once they became Grizzlies.
"We all had goals when we were younger. We talked about it then. We wanted to go to state and do something special," Adams said "It's just kind of the mentality we've always had. Our friendships are the main thing that holds that together. We can go out there and have fun without any pressure."
However, should any stress surface, having a player the quality of Adams will certainly help eliminate any potential on-the-court anxiety.
"It's hard to say when you have a kid that was MVP of the league last year that he's came back and is even better player this year, but Jack has done that," said Hoquiam coach Curtis Eccles, who was named the league's co-coach of the year last season. "He has improved his ball-handling skills, his strength. He's just done a tremendous job getting ready for his senior year."
Adams and his teammates will be tested early as Eccles has rounded up a daunting non-league slate, which includes defending 2A District IV champion Tumwater, 3A schools Kennewick and Shelton and Cascade Christian, a 1A state participant last year, in an attempt to prep his team for a long season.
"Those games will really help us come tournament time," Adams said. "This year we're going to be a lot more prepared especially with this non-league schedule we have. We're playing a lot of bigger schools. We honestly believe we're going to get it done during the playoffs."
The Grizzlies push to the Yakima SunDome and the state playoffs last year should also prove to be invaluable this time around
"The experience these kids gained from the run last year is just going to be a tremendous advantage for them," Eccles said. "Once they go through the same route, barring any injuries, they are going to know what to expect. They have been there before. The experience is huge."
Hoquiam will definitely be one of the more battle-tested teams once the playoffs begin. Last year they survived a pair of loser-out games at the district tournament, won an elimination game against Seattle Christian in the state regional round and knocked off Cashmere at state to secure a trophy for the first time since 2006.
"I remember a very similar (Hoquiam) team in 2003 that finished fifth in state and came back the next year and won the state championship," Eccles said. "Obviously, that's our goal and it's our goal every year, but I really feel it's reachable with this team."
Also returning this year for the Grizzlies are seniors Anthony Nash, Zach Spradlin and Ryan Espedal, providing Hoquiam with one of deeper teams in the classification.
"We have high expectations for ourselves, but we're ready for it," Adams said. "I think we still have something to prove. I have no doubts we will do that."