Douglas Orr was born in 1959, the same year that the new Grays Harbor Community Hospital opened atop Schweitzer Hill, was, according to his mom, dropped to the floor on his head by the doctor. The purple noggin eventually healed and, whether from the fall or not, he discovered art at an early age. His first art teacher was the girl he sat next to in first grade. She was drawing a horse and he tried, too. She told him he was doing it all wrong.

When Orr moved from Ocosta to Hoquiam after junior high he "felt I'd died and gone to heaven" in the larger community.
It was then his pursuit of art began to take off. "When I was fourteen, my mother gave me an oil painting set and from there I was self-taught," he says. After graduating from Hoquiam High School in 1977, and serving in the National Guard, he got an apartment in Aberdeen and began working downtown at J.C. Penny—a company he'd work for during much of the next quarter century. He earned an AA from Grays Harbor College before transferring to California State University, Long Beach in 1983 to study graphic design.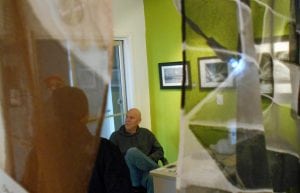 Orr recalls that, at times, he was frustrated at Cal. State. Some of his art work garnered C's because instructors were, he felt, too subjective. One instructor drove him to madly mount a toilet seat to a chunk of metal and give it all a coat of lacquer. It was the first A he received from that professor.
"I always wanted to make a name for myself as an artist," shares Orr. So, just out of college in 1989, he opened his own design firm in Long Beach, California. It was there, in 1993, that he met his life partner, David Rodriguez. In 2002 they opened Four Olives Cafe which they ran until 2008. During that time, Orr also designed and helped open a theater space for a local Shakespearian company as part of an economic development project and worked at EXPO Arts Center in a building saved from the wrecking ball. In 2014, he left Long Beach to return to Aberdeen and worked for two years at the Ocean Shores Chamber of Commerce before he and Rodriguez opened Aberdeen Arts Center.
Having grown up on the Harbor, Orr had watched the changes throughout downtown Aberdeen. He's always loved the historic architecture of the area and his first choice for the arts center was the Selmer Building, which he was told was slated to be torn down for the new Gateway Center. Orr then chose the original Eagles building at 200 West Market Street, built in 1909. He's spent significant time remodeling and restoring the building—a project still in process. Orr believes strongly in preserving the history and beauty of the city and hopes the Aberdeen Arts Center can help do just that.
"Once you destroy [the historical buildings] of a downtown, you can never get it back," he explains. He's currently working on a campaign to save at least part of the Selmer Building façade, having it incorporated into the design for the Gateway Center (more information here). As a local artist, he also desires to preserve the many murals that grace the buildings of the area. Orr himself painted the Hands mural located at South K Street and West Heron Street and has begun work on Aberdeen's newest mural Bubbles on the D and R Theater, to be continued as the weather improves.
Meanwhile, Orr is hard at work in his primary profession and passion as an artist. Many of his works are on display throughout the area. Some can be found alongside other artist's work in "phantom galleries" about town. Phantom galleries, says Orr, are all about gracing the windows of and bringing life back to empty store fronts. His own art involves drawing, painting and assemblage art.
"Assemblage art," Orr says, "is where you get a pile [of stuff] and look at it—it goes back to my mom's cooking when she'd take a look in the fridge—and discover what to make."
A classroom/conference space, available to local arts groups, was recently opened in the Aberdeen Arts Center as well. A large expansion is planned for the future as they continue to improve the space. Orr is on the boards of the Aberdeen Revitalization Movement (ARM), the Aberdeen Museum of History, and the Harbor Arts Guild.
Orr shares how many artists who once left the Harbor have returned because it's an inspirational place to work, but they struggle due to a lack of local outlets for them to display and show their work That's why Orr is back home in the Harbor. And, it's why he hopes people will support the Aberdeen Arts Center, and other downtown businesses.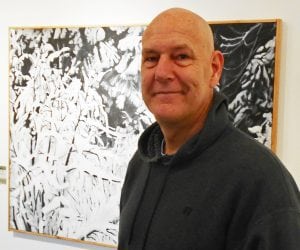 "All of life is art," says Orr. "Whatever I see can be inspiring. Again, it goes back to my mom. She did everything. She knew how to do anything. She told me I could do anything."
And so he does.
Aberdeen Arts Center
200 W Market St
562-208-4226
Thursday – Monday, Noon – 6:00 p.m.
Follow the Aberdeen Arts Center on Facebook.