It took extra innings, a clutch game-tying home run from Kylee Bagwell and a game-winning hit from Paige Folkers, but the Hoquiam High School fastpitch team is headed back to the Class 1A state tournament.

The Grizzlies, sporting a 10-7 record, secured the third and final state playoff slot out of the Southwest District 4 by knocking off rival Elma, 5-4, in nine innings at Fort Borst Park in Centralia.
Hoquiam will face Deer Park (12-6) in the first round of state on May 26 at Columbia Playfield in Richland. The game is slated for a 12 p.m. start with the winner playing the winner of Bellevue Christian (17-2) and Warden (16-4) in the quarterfinals.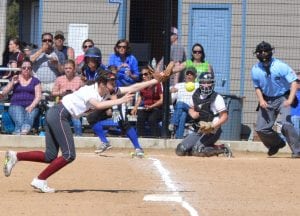 The Grizzlies last advanced to state two years ago, where they defeated Deer Park (3-0) in the first round before eventually losing to Montesano, 7-1, in the championship game.
Hoquiam, which saw its streak of six straight state tournament trips end in 2016, found itself in the very same winner-to-state, loser-out game at last year's district tournament and fell 6-1 to Montesano.
This time around it was the Grizzlies' turn to end a league rival's season as they bested the Eagles for the first time this year. Elma had won the two regular season meetings, defeating Hoquiam 6-4 on April 11 and 4-2 on April 27.
A third Eagles' triumph looked very likely after Peyton Elliott scored in the top half of the ninth to reclaim the lead at 4-3 for Elma (10-5).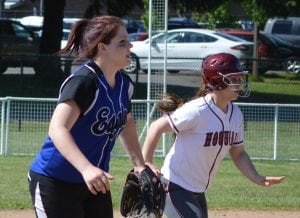 Hoquiam, however, would get an RBI single from ReyLynn Dunn to tie the contest before winning it on a Folkers bunt which scored Dunn.
It was the second time the Grizzlies rallied to overcome a deficit.
Elma enjoyed a 3-1 advantage in the eighth, but Bagwell's two-run shot once again tied up the contest, sending into a ninth inning.
Behind stellar pitching efforts from Hoquiam junior English Hyde and Eagles freshman Quin Mikel, the two teams played to a 1-1 tie through the first seven innings.
After losing to Montesano, 8-1, in the semifinals, the Grizzlies defeated Forks, 14-7, in a loser-out contest to advance to the seeding round.
Trailing 7-4, Hoquiam received a three-run home run from Bagwell and a two-run blast from freshman Maddie German to put away the Spartans.
Both Hyde, who also chipped in 11 strikeouts, and Bagwell drove in three runs against Forks, while teammates Folkers, Dunn and Abbi Spradlin each had an RBI.
Elma dropped to the consolation bracket after being shutout 4-0 by La Center in the other semifinal game.
The Eagles defeated Castle Rock, 7-4, in a loser-out game, getting a fourth inning grand slam from Elliott to overcome an early 2-0 hole.
Over in the 2B classification Ocosta High School made history by advancing to the state tournament for the first time ever after securing the No. 4 seed out of the 2B Southwest District 4 tournament.
The Wildcats will take a 22-3 record into the Gateway Sports Complex at Kiwanis Park in Yakima where they will face Dayton (16-9) in the first round on May 26.
Ocosta, which features no seniors, secured its first state appearance after defeating Adna, last year's state runner-up, in a seeding game, 6-2. The Wildcats jumped out to a quick 5-0 lead against the Pirates, getting a home run from Kristi Raffelson and a two-run triple from fellow sophomore Kaylee Barnum.
The Wildcats followed up the win by losing, 7-4, to defending state champion Toutle Lake in a game for the third/fourth seed.
After defeating Winlock, 13-3, in the first round of the district tournament, Ocosta lost in the semifinals, 1-0, to Napavine, then needed to win a loser-out game, which they did 13-2 over Toledo, before beating Adna to guarantee its first state berth.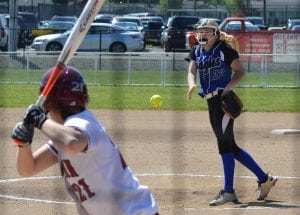 The postseason first comes just one year after the Wildcats won their first district playoff game ever. It has been quite the turnaround for a program which went 0-6 and were outscored a combined 110 to 18 in district games between 2013 and 2015.
State tournament play will be held May 26 and 27 with Ocosta playing in the 2B tournament in Yakima and Hoquiam travelling to Richland for the 1A tournament.