Q: When is a bus ride not just a bus ride?
A: When you take a ride on the latest innovative transit vehicles in Grays Harbor.
According to Patti Carlin, Grays Harbor Transit Operations Manager, GHT has got your commute—and the county for that matter—covered. They can take you pretty much anywhere from Westport, Grayland and Tokeland, to Aberdeen and Hoquiam, Ocean Shores, Seabrook and Taholah. How about Quinault Lake, or Cosmopolis, Montesano, Elma, or McCleary? You betcha! They can even get you all the way to Olympia or Centralia in style and comfort.
The price of a seat can't be beat because taking the bus cuts down on greenhouse gas emissions and saves you some green as well. Just a buck or two will take you there—even if it's from Lake Quinault all the way to Olympia, a distance of nearly 100 miles for just $3.
"Children can use their library card in the summer to go to the library," Patti adds. Disabled persons ride free on any mainline route. And, if you're a card carrying veteran your rides are also free on any fixed route. For a full understanding of fare and pass pricing visit the GHT website.
But wait! There's more.
The Wave: Come on and take a free ride
Your ride just keeps getting better and better. The downtown WAVE is also FREE for anyone. The bus travels from the Aberdeen Transit Station east on Market to N. Park St., then west on Heron all the way to Walmart in the Olympic Gateway Mall and back.
ADA Services, Dial-A-Ride and Vanpool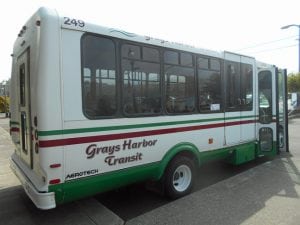 All vehicles are ADA compliant and equipped. Every bus kneels and has a wheelchair lift. All have wheelchair docks and the newer buses all have easy-to-use passive restraints.
According to GHT General Manager, Ken Mehin, the new restraints, "are very safe, fast and provide a greater sense of freedom," as the driver is not needed to assist in securing the chair.
There is also a special ADA van service and four local area Dial-A-Ride centers for the general public (Elma, Montesano, Ocean Shores and Westport) for same day service in areas where bus stops are unavailable. Riders can use this service to get transportation to various locations in their town or to bus stops/stations for transfer to a mainline bus for transportation outside the service area.
Specialized Van Service (SVS) is a public transportation service designed especially for people who are unable to use the regular fixed route bus service due to a disability or condition. SVS is a shared-ride service that provides trips on a reservation basis to areas where Grays Harbor Transit operates regularly scheduled local bus service in the county. SVS service provides door-to-door service, or, in some instances, transportation to transit centers or bus stops to connect with fixed route bus service. More detail can be found on the Grays Harbor Transit website.
Commuter vanpool vehicles are also available. A vanpool is a group of five to fifteen people who commute together in a GHT van. GHT owns, maintains, manages, insures and licenses a fleet of passenger vans which can be assigned to commuter groups. Details can be found on the GHT website.
All Grays Harbor Transit vehicles are equipped with bike racks. Each bus can accommodate up to two bikes at a time. Finally, GHT manages six Park-n-Ride lots in the county.
Innovations and Technology
Perhaps some of the most interesting news of all is the transit authority's introduction of new, innovative services and technologies.
"We're working to maintain what we have," says Ken, "[but we also] look at everything in case little tweaks are needed."
"We want to have a service that can be counted upon," adds Ken. He says that every program and change is scrutinized, tested and evaluated before permanent initiation. Rider surveys are taken every quarter. After a trial period, beginning in May this year, where "people came to rely on [the] service…we made our Sunday service permanent." Also recently added is an Elma to Centralia commuter route (#45) that runs five days a week.
In May 2017, the transit service added a real time GPS tracking system. There are two parts to the system. One is a monitoring system for the GHT offices that tracks every vehicle's location and speed. The other is a mobile device app called GPS Quick Link that may be accessed by riders using WiFi or data services from their cell providers. It shows each bus in relation to the rider's location. The app may be accessed here.
"We just put cellphone chargers on all the buses," says Patti. There are currently two on each bus. "If we see there's more need, we'll add more."
Riding into the Future
According to Patti a bus must have a twelve year service life before it can be replaced. The policy is dictated by the Washington Department of Transportation which subsidizes transit authorities state-wide. A couple of buses have been recently replaced and others will soon join their ranks. Eight of the GHT buses currently have air conditioning and five more will get the feature within two years.
The #40 bus from Aberdeen to Olympia currently runs seven days a week through every small town on the way. An express service to Olympia via highways 8 and 12 with an additional Park-n-Ride is in the works.
"Another thing we're working on is pass purchases on [rider's] cell phones," says Ken. The pass would be purchased electronically and then downloaded to the device which can be shown to the driver on the bus.
Schedules and maps, routes, fare, pass and other information can be accessed at the Grays Harbor Transit website or in the GHT Bus Book available at the transit offices, 705 30th St. in Hoquiam, all Timberline Regional library branches, buses and outlets throughout Grays Harbor County.
Sponsored