As winter approaches, days become damp and dark. We find ourselves growly and unshaven, strewing leaves and mud in our wake. Before holidays force us into our starched Thanksgiving best or finest ugly Christmas sweater, conquer seasonal brain-drain by studying our hairy northwest cousin, Bigfoot.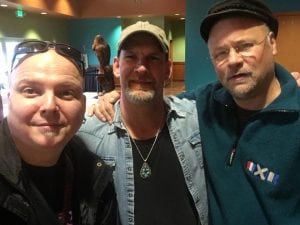 Research shows that learning something new can combat Seasonal Affective Disorder, a lethargic wintertime depression effecting almost 10% of Americans. Some doctors believe that "the onset of low energy levels as temperatures dip and mornings darken might be a vestige of a more primitive past."
Conquer the urge to hibernate by attending the 2017 Sasquatch Summit November 17-19. Held at Quinault Beach Resort and Casino in Ocean Shores, this year's ever-popular event features the best and brightest in the field of research, tracking and more. From witness townhalls to casual meet-and-greets, everyone from the curious to the experienced is welcome.
"Events like the Sasquatch Summit are important because they provide a venue for Bigfoot researchers and enthusiasts to discuss the subject in a fun and friendly atmosphere. Researchers are given a unique platform where they're able to share findings and ideas on the Bigfoot phenomena. It's truly an extraordinary experience." Shane Corson of the Olympic Project.
Festival organizer Johnny Manson estimates that attendance has doubled since 2013. In 2016 alone, it was "over 600—we ran out of chairs," he says. Returning this year will be fan-favorite small group workshops, a popular Sunday option. These are capped at 15 attendees per session and allow for several hours of themed study. "Every returning presenter shares new research," explains Manson.
The weekend opens with vendors and a meet-and-greet in the Quinault Beach Great Hall at 6:00 p.m. There will be a lecture on audio analysis that evening and witness townhall until 10:00 p.m. Saturday begins with a tribal blessing at 8:45 a.m. kicking off a day full of study, Q&A sessions, and more. Sunday offers rotating research workshops that wrap up the Summit at noon.
Speakers include Thomas Sewid, a Native American commercial fisherman and lifelong researcher, and Scott Taylor, an investigator for the Bigfoot Field Researchers Organization. Cindy Dosen addresses hair analysis while David Ellis specializes in audio analyzation.
Local specialist and Olympic Project founder Derek Randles will present, as will Mike Paterson of Sasquatch Ontario and Dr. Jeffrey Meldrum from Idaho State University. Through one-on-one or round-table discussions, topics ranging from habitat, photos, footprint casts, tracking, and hoaxes will be studied. There will also be time for photos and autograph sessions with researchers and personalities.
"Some folks have said it's the biggest such event in the world," says Manson. "Some say it's the biggest in the West. All have said it is the best they've attended. I just hope folks and speakers are glad they participated, learned something, got to share their experience and want to come back next year."
Tickets to the Summit are available through online pre-sale or at the door. Through November 17, pre-sold tickets are $35 for the weekend and include a commemorative keychain and field guide. At the door, it's $40 for all three days.
Book early to include Sunday's workshops, which are led by three speakers in hour-long intervals and limited to 15 guests, as they often sell out in advance. Sessions rotate so enrollees can participate all morning long without missing a thing.
Turn your stay into a staycation at the Resort's hotel, on-site RV Park, or nearby Quinault Sweet Grass Hotel. Book online or by calling 888-461-2214 using Room Code SASQ for a Summit discount while accomodations last. An easy 90 minutes from Olympia, it's the perfect escape no matter the weather.
Interested in becoming a vendor or presenting your research at next year's Summit? Fill out the Presenter Request form or contact event organizers at info@sasquatchsummit.com.
Find more about the Summit on their Facebook page where event specifics, photos, and reviews meet Bigfoot news from across the nation. There you'll see news reports, videos, and more about the hunt for the Skunk Ape, Wendigo, Grassman, Yeti, or Yeren. No matter what you call him, our primitive wild cousin is as fascinating as he is mysterious.
Sponsored