Each year, when summer ends and the clouds once again cover Grays Harbor, a number of locals and visitors start getting excited for the return of inclement weather. Like clockwork, fall and winter storms stack up over the Pacific Ocean, making a beeline straight for the sandy shores of our region. While some stay home, the hearty and adventurous head out directly into the storm. For those that don't know, Grays Harbor is one of the best places to watch coastal storms, giving you a unique opportunity to experience the awesome power of the sea. Usually starting in October and going through April, these storms are yet another way to enjoy the wild beauty of our county. If you haven't witnessed first-hand the power of a storm along the coast, make plans to do it next time the wind and rain return. Whether you come for a day or ride out the whole storm, the beaches of Grays Harbor can give you the ultimate experience.
Safety First
Storms can be dangerous. Trees may fall, landslides could occur and the giant waves will toss logs around along the beach. That being said, there are a few things you can do during storm watching along the coast, to stay safe while witnessing the strength of nature.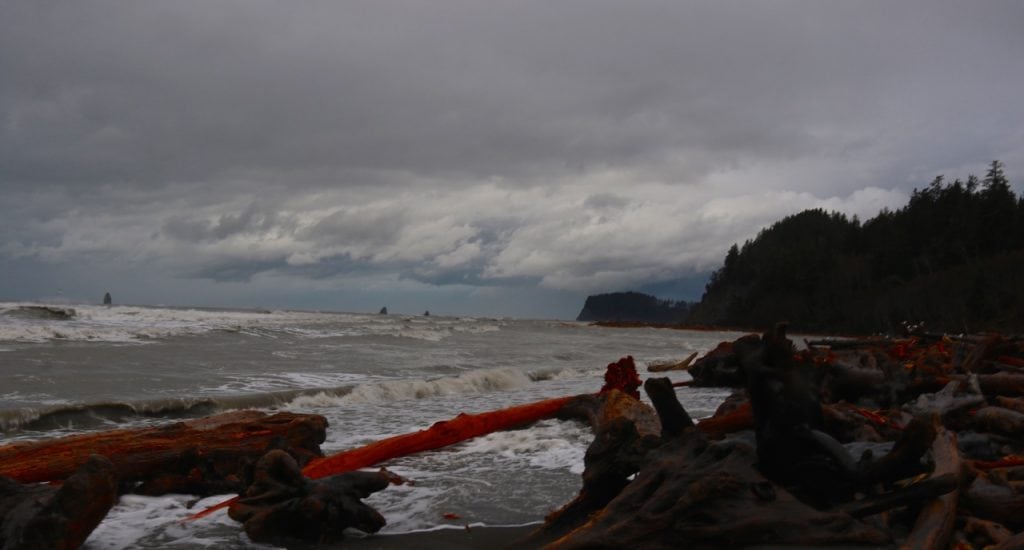 During a storm, make sure you park farther away from the water than you think you need to. The reason is that a storm surge can often push the tides higher than expected. Because of this, do not park on the beach itself. Instead, park at a designated parking area near the dunes or on a bluff. If you park too close to the water, your car can, and probably will, become stuck. It happens every year.
Once you do find a place to park, please remember to be extremely cautious if you get out of your car. During storms, avoid standing or walking along driftwood and stay out of the water at all times. Sneaker waves can come at any time, easily sweeping you off your feet and pulling you into the extremely cold and turbulent waters. The waves from the storm surge also toss logs and large pieces of wood easily, so maintain as much distance from the water as possible.
Remember that you don't have to get out of your car to watch the power of storms. All around Grays Harbor there are numerous scenic overlooks that allow you to watch the churning seas from a safe distance. Whether you go to the jetties at Ocean Shores or Westport, park on the bluffs around Pacific Beach or even head up to Olympic National Park's Kalaloch area, you can feel the wind rock your vehicle without having to get out of it.
What to Wear to Stay Warm and Dry
To have the best day at the coast during a storm, it is best to dress in layers, with a waterproof jacket and waterproof pants covering your other clothes. Waterproof shoes or rain boots are a must. Remember to also bring a pair of extra clothes, shoes and a few towels with you to leave in the car. Even if you only leave the car for a few minutes, having a warm pair of socks to put on can make even the wettest day more enjoyable.
Where to Go Watch
Throughout Grays Harbor, there are a myriad of destinations to go storm watching. While nearly any stretch of beach is a great place to get blasted by wind, experience heavy rains and see breaking waves, there are some local favorites. Your best timeframe to watch the storms is to start about an hour before high tide, when the storm surge will be the greatest.
Grayland Beach State Park
South of Westport, where dunes and sand lead up to the breakers of the Pacific, storms show off their full might at Grayland Beach State Park. Without trees and bluffs, winds will batter your car in a seemingly endless onslaught of power. While the park boasts nearly 8,000 feet of coast to explore, storm watchers can experience everything they desire by parking at the parking lot along Cranberry Beach Road. This requires a bit of a walk to see the waves, but is well worth braving the elements to experience.
Copalis Beach
Often overlooked, Griffith-Priday State Park gives a unique experience to storm watchers. You can park at the parking lot and experience the wind and rain, but the true awesomeness is found by walking the trail toward the Copalis River. Along this stretch of coast, you can watch the waves back up into a neighboring stream and river, turning the waters into a murky mess of salt and fresh water. The winds here will be intense and direct.
Seabrook Area
If you don't want to get out of your car, but still want to see the waves and storm surge, head toward Seabrook and park along the pullout near Yellow Bluff. Offering a sweeping view of the ocean and beach, you'll get the full brunt of the wind while seeing the huge breakers crash against the shores. Farther north, a trip to Pacific Beach State Park will give you even more access to unblocked views of the ocean and a chance to walk closer to the beach without serious risk. To best enjoy the entire storm, we suggest staying at one of the Seabrook Cottages.
Moclips Beach
All around Moclips, you'll have chances to look out from roadside pullouts or even hit the beach. One of the local favorite spots to see the power of a storm, aside from beach access points found in Moclips, is just 3.6 miles north of town. Here, you can park along a roadside pull off near a small bridge and get a serious gauge for how powerful the storm you are watching is. Indoor storm watching, including incredible lodging and dining, can be found Ocean Crest Resort.
Kalaloch
Finally, no storm watching list for this region is complete without mentioning the beaches and bluffs found at Kalaloch. Just a few miles north of the Grays Harbor boundary, Kalaloch is a world renowned storm watching destination. Whether you sit and watch the storms from the comforts of the Kalaloch Lodge or head down and witness it firsthand at Ruby Beach, the region is beautiful, unforgettable and a wet and windy rollercoaster during a storm.
Make it a Getaway
If your idea of storm chasing goes hand in hand with staying indoors, the coast of Grays Harbor has numerous destinations perfect for you. Listening to the wind howl while cozying up with a glass of wine in front of a fire with that special someone; a handful of hotels get you up close and personal with the raw power rolling in from the Pacific. Along the South Beach, the Ocean Spray Beach Resort offers quaint New England-style cottages with electric fireplaces, just a three minute walk from the breaking waves. Farther north, the Iron Springs Resort has cabins with private decks, wood burning fireplaces and direct beach access. Close by, the houses and cottages at Seabrook will provide you with stunning amenities and access to the coast just a short walk west. While these are great, many will argue there is no better setting to watch a storm roll in than the historic and gorgeous Ocean Crest Resort. Offering rooms right on a bluff overlooking the ocean, they might just be the best storm watching destination in the Pacific Northwest, especially if you get a room with a standalone fireplace and even balconies. Next time you hear a storm is coming, book a room and head to the beach. You won't be disappointed.
Sponsored