Dean and Wan Lock moved to Aberdeen in the summer of 1981 with their two sons, Raymond in Patrick in tow. Fifteen-year-old Raymond, the oldest, was not so excited about the move. He begged them to drive him back to his old school in Olympia. He missed the friends he'd grown up with. Despite his best efforts, the Locks didn't budge. They were in Aberdeen to stay.
The couple had just purchased a restaurant from Wan's uncle Bill. Dean had spent years working at different Chinese American restaurants throughout Western Washington and had been part owner of China Town in Olympia before deciding to make a move out on their own. Wan had given up her job with the State Employment Security Department to follow this dream.
Though the restaurant business is never easy, times were good for the Locks. They had renamed the restaurant Chinese Village and had switched up the menu, adding almond chicken, sweet and sour chicken and other crowd favorites. "We got some new recipes from other restaurants Dean had worked at; they shared their menus with us," says Wan. Their dining room was full every night.
At the time, their stretch of Simpson Avenue was highly residential. The nearest business, Harbor Pacific Bottling (where Harbor Saw now resides), was a few blocks down. Harbor Pacific provided beverage service for the restaurant and became a lifeline for the Locks. "I call them and say, 'This is your best friend!' and they know it is me," Wan says. Harbor Pacific helped the small restaurant with refrigeration units, ice machines, beverages and recently a new sign.
Their son Raymond – the one who wanted to move back to Olympia – had always worked in their other restaurants and Chinese Village was no exception. He did dishes, bussed tables and learned how to cook. It was just a few hours a week, enough to make himself some money for a car and other things he wanted. His siblings did the same. "It was hard for him," Wan remembers, "He was in high school!"
Raymond still lives in Aberdeen. So do his siblings as well as most of Dean's and Wan's grandchildren and great-grandchildren. "It is wonderful to have them close," Wan shares. "They help me in the restaurant all the time. Even if it's their day off, if I need help, they come in."
Raymond and his wife Theresa work at the family restaurant every day. Raymond works in the kitchen alongside his father, Dean, and Theresa is mostly in the dining room. "I've worked here 30 years," he smiles proudly stepping out from the kitchen for a few minutes. He has perhaps heard his mother talking about him. "He just likes to tease me," says Wan as Raymond swoops over and pokes her on the shoulder. They both laugh.
Wan is proud of her family. It's one of her favorite things about owning a restaurant, they can work together. Her children and the grandkids have all bussed tables and washed dishes after school. Their pictures line the wall behind the register right next to the Pepsi sign. One of them, Shawn, a former marine who recently came back home, still comes in to help though his real job is sales at Five Star Motors. He is the baby and Wan is very proud of him. They even have a dish named after him, Shawn's special. It is beef, chicken, shrimp and bean sprouts with pan fried noodles. "It is very popular," says Wan.
Other local favorites include the almond chicken, sweet and sour chicken, and fried rice. They also serve American food like steaks and hamburgers, and have both a senior menu and a children's menu to suit the tastes of all their customers. They serve lunch and dinner and have a lot of regulars. "People come in and say 'Hi mama! Hi papa!' that's what they call us," Wan says. "They say 'Hi' to the kids too, and we know what their order is before asking. We have good customers."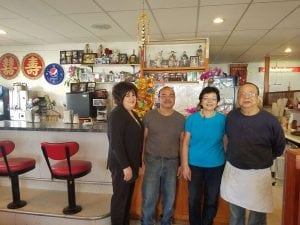 Though she loves her work Wan admits to sneaking out to do some shopping occasionally. "The kids do a great job with the restaurant," she says. "They don't always need me." She adds that Theresa and Raymond know everything about the business and she hopes they will take over some day, but for now she is quite happy having him in the kitchen with his dad. And, after 30 years cooking in the Chinese Village kitchen, I think it's safe to say Raymond is happy here too.
Chinese Village Restaurant
Chinese Village Facebook page
2409 Simpson Ave.
Aberdeen
360-533-1485
Monday: Closed
Tuesday-Saturday: 11:00 a.m. – 10:00 p.m.
Sunday: 12:00 p.m.- 9:00 p.m.
Sponsored