Mention the word "homesteading," and most Americans remember Little House on the Prairie or the movie Far and Away. Picture a land rush or the backbreaking labor of clearing the soil and surviving harsh winters on the prairie.
Alternatively, envision a modern couple raising their young family in a cozy yurt not far from town. For Jared and Audrey Neibaur, this is the reality of modern homesteading. "It's all about simplicity, building your life around working with the land," says Jared.
The Neibaurs began homesteading five years ago in Idaho. Living close to the land is Jared's family legacy. "For most people, that's four generations away," he explains. "For me, that's my grandma. Even my mother still rode to school on a horse."
It took a while for Jared to learn to appreciate farming. But once he graduated from college and experienced the corporate mainstream, he began to feel the draw of a life not controlled by material possessions. Together, the Neibaurs made the decision to step back and embrace a life of simplicity.
For Jared, that involves a passion for working the land. "I love digging for a purpose," he grins. "I love living the way we live out here, being able to grow my own food."
For Audrey, homesteading means family. "My passion is my family and finding a happy place where we can work on projects together," she says. "As weird as it sounds, I love being with Jared 24/7! Homesteading is a way to do that."
So the Neibaurs stepped out of the mainstream and began homesteading, first in Idaho and now here in Grays Harbor County. The family spent the first rainy season in a camper while they cleared land and built their home, a wooden yurt with a beautiful wrap-around porch.
Spending a winter in the camper with young children proved a significant challenge, and the tests keep coming, But Audrey is quick to point out that's not necessarily a bad thing. "Part of loving your life is learning from the challenges," she explains.
Navigating building codes brought its own share of learning opportunities. However, despite the regulations that many homesteaders try to avoid, in many ways the Harbor is an ideal place to homestead. Land is comparatively inexpensive here, and it produces abundantly. Simplicity feels accessible.
"We're discovering that you can do a lot more with less up here, space-wise," explains Audrey.
Back in Idaho, Jared's family ran 150 head of cattle on 3600 acres. Here, in just 33 acres, the land offers a variety of options for small-scale farming, as well as gathering herbs and other useful plants that grow naturally.
The difference in terrain and climate has resulted in adapting plans to fit the environment. For instance, instead of running a tractor on large, flat plots of land, the Neibaurs plan to grow vegetables in smaller gardens they cleared last year by hand. In addition, Jared envisions terrace farming on the hillside not far from their home.
Adjusting plans and dreams is part of the adventure. For example, living off grid was not the family's original intention. "I had dreams of living on the power grid and experimenting with solar just in case," explains Jared.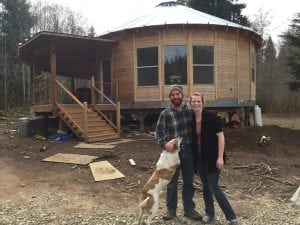 However, extending public utilities to their land proved cost-prohibitive, and the back-up plan became the reality. After substantial research, Jared built an impressive solar system that provides the bulk of the family's electrical needs on sunny days. A generator supplies power when sunshine is in short supply.
Projects like the solar system, beekeeping and especially building a permanent home kept the Neibaurs busy for their first year in the Harbor. This year, they look forward to building gardens and fences, cutting pathways and harvesting the wild edibles that abound on their property.
With each new project, those of us on the outside can watch their progress on the Neibaurs' YouTube channel, Simple Ground. Through social media, Jared hopes to bring the world a little bit closer to the joy of living on the land, hand in hand with nature. After all, he explains, the world makes so much more sense if you understand how things grow.
Mahatma Ghandi said once that "to forget how to dig the earth and to tend the soil is to forget ourselves." That philosophy resonates deeply with the Neibaurs, and it is a concept they hope others will discover.
While these modern homesteaders love their life off grid, they are quick to point out that there are other meaningful ways to connect with the earth. Pick up a shovel, plant a window garden, grow a strawberry. You will never forget that first bite of food that you grow yourself.
"Find the joy in growing something, in the simplicity of nature," Audrey suggests. "The more you are out in nature and enjoying working with it, the more you come to love it."