Claire Hollenbaugh creator of Fancy Accent Teas is helping to bring the experience of fine tea drinking to Western Washington. As you might guess, Claire is British. "Washington State taught the world about good coffee," she reasons, "so why not do the same thing for tea? There's an awful lot of interest here."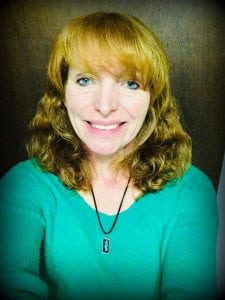 She spends most of her weekends at fairs and festivals in her traveling tea shop. During the week she is busy preparing up to 200 tea bags and restocking area stores and markets that carry her teas. You can always find her complete selection of teas and tea-drinking accessories at her booth in the Grays Harbor Farmers Market.
Claire started out selling six varieties of hand-selected quality loose leaf teas at a fledgling market on the Westport seafront in 2016.  Now she sells 22 different varieties all over southwest Washington.
"Often when someone says they don't like tea," Claire shares, "that's likely because they've only had the equivalent of gas station coffee." To show potential customers what they were missing, Claire began brewing tea and sharing samples at her traveling tea shop booth. She's gained many converts.
"Some people know they're never going to use loose leaf tea, and there's no shame in that," assures Claire. So she started hand-filling cotton tea bags. The bags sold well, but people often had a hard time choosing which variety to buy. Ever responding to customer questions and requests, and searching for a fun twist to highlight her English heritage, she has come up with several themed variety packs. Each comes with a tea "menu."
The Hobbit Tea Taster Pack comes with 13 varieties and tells which to drink for first breakfast and second breakfast, and on through to suppertime and midnight snack.
For Harry Potter fans there's the Saucerer's Selection.
For people who are more familiar with British TV programs than popular literature, she has the "As Seen on British TeaV" selection, with suggestions on which tea is best to drink while watching various favorite television shows from Downton Abbey to Doctor Who.
Something many people new to fine tea drinking might not know is that tea leaves can be used more than once. Each tea bag or teaspoon of loose tea from Fancy Accent can be infused three times. Another thing is that tea can be very therapeutic. Claire has suggestions on teas to drink for various ailments like insomnia, anxiety, nausea, or high blood pressure and has even come up with another themed variety pack to highlight the medicinal values of tea with her "Mad Hatter Medicinal Thirst Aid Kit."
Claire's creativity doesn't end with her packaging. She invented the "Tea Boat" made of a seashell, beads, and bent wire. The boat hangs off the side of your cup to hold the tea bag in place while it brews. When the tea is finished brewing, the boat holds the bag until you're ready to use it again.
Claire used to live in a thatched cottage in England and would wake up on Sunday mornings to hear church bells ringing. She has a tea collection with a picture of her old thatch-roofed cottage called "Clarie's Cottage Collection." It features a selection of caffeine free drinks to commemorate her former garden.  Now she lives in Westport and enjoys the wide open spaces, fresh sea air, and the glorious scenery of the Pacific Northwest. She gets to see a lot of nature when she packs up her car, which she has named "Ernestine the travelling tea pot," and drives to fairs and festivals. "It's a lovely way to see the state," Claire says. She enjoys meeting all sorts of people and sharing her knowledge of teas and British traditions. "I get to see people when they are having a good time," she says. Each week offers a new experience in a different place.
She's met and made friends with other vendors. One is Blake Miner, who inspired yet another tea. It's called Cascadian Prince and is a mix of green tea and popped brown rice, a Japanese traditional tea he used to drink while learning to be a potter from his grandmother. Blake makes cups perfect for drinking hot or cold tea. Claire sells Blake Miner Ceramics at her Gray's Harbor Farmers Market stand and at her travelling tea shop.
Local libraries have hosted Claire's Tea Talks where she shares British tea traditions, a little British history, and of course a cup of tea.
Several stores carry a selection of her teas if you happen to miss her at a local event. Check her website for a current list. You can always check The Fancy Accent Facebook page to find out where her travelling tea shop will be next. And don't forget her corner shop at the Grays Harbor Farmers Market, which is open year-round.