Just south of Pacific Beach, where seals and eagles outnumber people, the community of Seabrook is undergoing a transformation that will turn the region into the mountain biking destination of the Washington Coast. Seabrook, which has changed the dynamic of the region, is continuing to inject a boost of energy and excitement to the North Beach of Grays Harbor. Known for amazing lodging, breathtaking beaches and outdoor recreation, the small coastal community is getting even better, thanks to the vision and drive of Buck Giles of Buck's Bikes. With Buck's vision, Seabrook's support and the skills of the Evergreen Mountain Bike Alliance (Evergreen MTB Alliance), new mountain bike trails are being built, and you can help!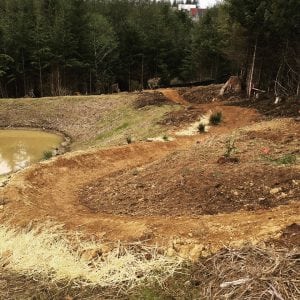 Buck Giles is a local guy, growing up in the region and returning after college to build a business that shares his love of the great outdoors of Grays Harbor. Buck's Bikes, located in Seabrook, is your best bet for fantastic outdoor adventures, be it biking, paddling, local tours or even tips on hiking trails. This spring, Buck has yet another incredible opportunity for you, this time helping to build the trails of the future for mountain bikers of Seabrook and the Washington Coast.
Every Tuesday evening, from 5:30 to 7:30, Buck hosts Trail Tuesdays, which are open to all. During this weekly event you'll have a chance to get to know Buck.  Explore the mountain bike trails of Seabrook and be part of the development of the trails by putting in a few hours of work to help build them.
"On Trail Tuesday, we continue to improve our trails in and around Seabrook," Buck shares. "No matter your age and experience we can use you! We will meet at the bike shop at 5:30 to discuss projects before heading out at 6:00 to work. We have a handful of tools available for you to use, but feel free to bring your own. Tools such as pruning shears, pulaski axe, gravel rake, and shovels are more than welcome! There will always be some form of food at the end to all who participate in the work."
Seabrook is already the mecca for mountain bikers along the Washington Coast, as it hosts the only trails on the coast that overlook the breaking waves of the Pacific Ocean. With seven miles of trails (3.5 miles singletrack, 3.5 miles gravel, pavement, access roads) already bike-able, the new additions raise the bar even higher, making it a "can't miss" biking destination of Washington State.
The endeavor to build even more mountain bike trails at Seabrook has transpired because of a great working relationship between Buck's Bikes and Seabrook. Two years ago, the Mike-o-Rama trail was built as an experiment to see if mountain biking would be a feasible recreation opportunity for both guests and locals. The gamble paid off, resulting in a desire and a demand for even more biking opportunities around Seabrook.
"After the Mike-o-Rama trail was built, people loved the trail and were begging for more," Buck says. "Seabrook is expanding, and found us open areas to place new mountain bike trails. Seabrook also set aside some of their budget to build new trails, because they benefit the entire community. At Seabrook, everything except the pool, is public use. Anyone can come ride the trails or play at the playgrounds."
With the funds set aside by Seabrook, Buck reached out to the Evergreen MTB Alliance, Washington State's largest mountain bike organization. They are extremely well-respected and full of awesome people who are dedicated to trail building and maintenance, advocacy and education, who aim to make Washington a better place to ride. By working with Buck and Seabrook, they truly are making the biking trails in Washington even better.
Working with the Seabrook town planner to create long lasting trails, Buck and the Evergreen MTB Alliance helped to find routes for trails that won't be moved due to growth of Seabrook. No matter how Seabrook grows, these trails will not be disturbed, ensuring generations of fun for mountain bike riders of all ages.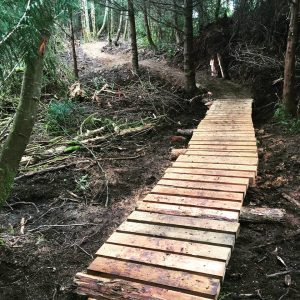 Evergreen MTB Alliance worked for six weeks, within Seabrook and built two new trails totaling about a half mile. One of the new sections is a progressive flow trail aimed at giving you a taste of berms, rollers, and even table tops! These trails are built for mountain bikers of all ages, designed with the goal to have as many people as possible be able to get out and enjoy trails. Working with the county to protect wetlands and forests, the trails built by Buck's Bikes, Seabrook and Evergreen MTB Alliance ensure that the trail is a part of the landscape. When finished, these professional trails will be enjoyed for years to come.
On Memorial Day weekend, the new mountain bike trails around Seabrook are expected to open, with rental bikes for all ages and abilities available from Buck's Bikes. While you come to the coast to ride the new trails, consider giving back and helping out on the Trail Tuesdays. Helping to build and maintain these rad trails will give you a deeper connection to them and the region, making riding them with friends and family that much more special.
Sponsored