When Ellie Winkelman, 14, sets her mind to do something, she puts her all into achieving it. The smiley and energetic Hoquiam teen is currently an open contestant carrying the title Miss Olympic Peninsula's Outstanding Teen where she will be competing to become Miss Washington's Outstanding Teen on May 26 and 27 at the Highline Performing Arts Center in Burien against 20 other contestants.
Her platform is reducing the use of plastic bags and she has been actively pursuing ways to do so in Grays Harbor. From collecting plastic bags to recycling to organizing beach clean ups, Ellie has been working on plans to increase awareness about the harm of plastic bags and encourage environmentally friendly alternatives.
When it came to choosing her platform, a lesson in school is what spurred the idea.
"In history class, we watched a video about the garbage patch in the ocean," Ellie says. "It's basically all made of plastic and garbage that found its way to the ocean and the animals were eating it. It was mainly plastic bottles and plastic bags, but there were more plastic bags than plastic bottles so I decided to make my platform on plastic bags."
Right now, her parents, Ben Winkelman, an attorney, and Jennifer Winkelman, a school counselor, are her directors for the pageant.
"We help her identify areas and ideas where we might be able to promote her platform, help her with social media posts and whatever kind of comes up," says Ben. "During the actual pageant there's a lot of work and making sure the dresses are in the right place at the right time and making sure they're prepared for their pageant."
Ellie was born and raised in Grays Harbor and is the oldest of three girls in the family with younger sisters, Maci, 12, and Josie, 7. On top of being actively involved in dance and several sports, Ellie lives each day being environmentally conscientious. She even carries a tote bag made solely of recycled plastic bags. She encourages others to find small or big ways they can help like this, too.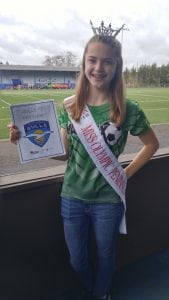 "Your impact makes a difference," Ellie says. "Even if just one person stops using plastic, it makes a difference."
Though entering this pageant has boosted Ellie's media presence as a public figure, she is no stranger to having an online presence. Many locals may recognize Ellie as the outgoing and entertaining host of EllBell Reports on her YouTube Channel and in videos that have been featured on the Grays Harbor Scanner Facebook page since 2014. Ellie has also been featured in several local commercials.
Ellie does plan to continue with the EllBell Reports, time permitting.
"We're trying to do it more," Ellie says.
"She's got a little studio and she wants to do more videos," Ben adds. "But right now, as a pageant contestant, she'll have that title for year. Whether she moves on in the pageant or not, she will be working on her platform all year."
Ellie was seven years old when she first became interested in pageantry, participating in her first local pageant at age 13 and winning a couple of scholarships for academic excellence and living her platform. There are opportunities for scholarships at the upcoming pageant, as well. She says that she enjoys being involved with pageants and will likely continue doing them.
"I would encourage other people to get involved with pageants," Ellie says. "I've gotten better at public speaking and it sort of makes you more confident, in a way."
Her family is right behind her and sees the positive impacts of her pageantry involvements.
"Where else can you be 14 and be thrown on a stage in front of a bunch of people and judged?" Ben says. "It's a pretty good confidence builder no matter how big the event is. After that, everything seems easier."
If Ellie gains the title of Miss Washington's Outstanding Teen, she will be under the guidance of the Miss Washington's Outstanding Teen organization. She has big plans of her own if she wins, too.
"Freak out, first of all," Ellie says. "That would be insane. I'd try to go to different places and talk about reducing the use of plastic bags because I don't think people know about it, that it's such a big problem."
If Ellie does win, her family will also plan a trip to Hawaii to work on her platform, as there is an active culture and many organizations involved in helping the environment and reducing harmful waste there.
For more information on what Ellie is up to and to keep an eye out for ways to participate in her platform goals, people are encouraged to follow her Facebook page. Those looking to recycle plastic bags of their own locally can do so at Walmart or Safeway in Aberdeen or find other locations nearby to recycle them here.