Grays Harbor is known for stunning wilderness, amazing outdoor recreation and wonderful trails leading through pristine forests. It should come as little surprise that with these adventures found around every corner, the region is also home a handful of breathtaking campsites, perfect for your weekend getaway. While many know of the campgrounds found in Olympic National Park, we decided to find a few in Olympic National Forest, each of which will have you surrounded by the most impressive forests in the country. Providing you with the perfect basecamp for excursions to the rainforest and coast, as well as giving you a great chance to introduce your family to camping, the campgrounds listed below are ideal for all. Keep in mind that during the summer weekends and holidays, most campsites around the state of Washington fill completely up, so plan ahead and get reservations when possible.
Campbell Tree Grove Campground
We start with the most remote established campground we can. The Campbell Tree Grove Campground, tucked up against the Humptulips River, is far from anywhere and is wilder than any other car-accessible campground on the peninsula. Located 22 miles off of Highway 101, the moderately used Campbell Tree Grove rests in an impressive stand of old growth. Open year round, the small campground is a favorite for those hoping to get away from it all. Reservations are not possible for this campground. Staying a few nights here, especially during the off season, will give you a taste of just how wild and removed you can get with just a short drive into the Olympic Peninsula.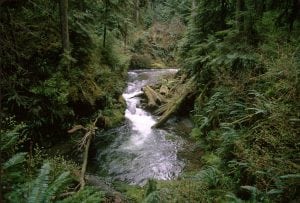 Coho Campground
Also far from the highway, the Coho Campground is another local favorite, as it gives access to amazing waterfalls, majestic views of old growth forests and access to a 16-mile-long lakeshore. The campground along Wynoochee Lake is typically open from May to November, and reservations are needed for busy weekends. Known for fishing, hiking, waterfalls and reported Sasquatch sightings, visitors who stay here probably won't be alone. With towering cedar, fir and hemlocks as far as the eye can see, campers at Coho are staying in one of the regions that made the Olympic Peninsula rich with timber dollars. There is a dam nearby, as well as a salmon hatchery, but staying here in the wilds of the Wynoochee means that there are no gas stations, stores or restaurants around. If you want a remote, wooded campground on the southern end of the Olympic Peninsula, this is perfect for you. Campers here can reserve a campsite or a yurt, if desired.
Willaby Campground
Next up is a much more popular, but equally gorgeous campground along Lake Quinault. Located in the Quinault Rainforest, the Willaby Campground gives visitors access to incredible hiking, great views and experiences on Lake Quinault. Surrounded by towering old growth forests, shoulder-high ferns and one of the most beautiful settings in the region, this campground is perfect for those needing a rainforest experience. With the Quinault Rainforest entrance to Olympic National Park a few miles away, staying here will let you explore waterfalls, forests and the mountains of the Quinault Region. Hiking highlights are the Pony Bridge Trail, Colonel Bob Peak and Quinault Rainforest Trail System, near the campground. Open from May to September, you'll need reservations to stay here.
Falls Creek Campground
Also near Lake Quinault, the Falls Creek Campground is very similar to the Willaby Campground a mile away. Offering the unique experience to camp in the gorgeously green Quinault Rainforest, Falls Creek puts you within walking distance of some of the more gorgeous regions of Olympic National Park. Near the Lake Quinault Lodge, campers here are able to have numerous amenities while still getting up close and personal with one of the most beautiful rainforests in the world. Surrounded by cedar, fir and moss-draped maple trees, those who stay at Falls Creek will fall in love with the natural wonders of the area. The campground is typically open from May to September and reservations should be obtained to stay here, as it is popular and close to the main road.
Gatton Creek Campground
We round out our list with the Gatton Creek Campground, the third campground along South Shore Road in the Quinault Rainforest. Only offering a few camping spots, this small campground is ideal for anyone wanting relative solitude in the rainforest while still being close to more well-developed regions along Lake Quinault. With boating, fishing and hiking opportunities all around, staying here is ideal if you seek a quick and easy basecamp before exploring the wilderness of the Quinault Rainforest region of Olympic National Park. Open from May to September, this campground does not allow reservations, so get here early if you want a spot.