It's called the Farmer's Walk.

One of the longest standing events at strongman competitions, the Farmer's Walk tests an athlete's endurance and strength as they carry a set amount of weight in each hand over an extended distance. You need a strong grip, along with strong shoulders, legs, and core to be successful at it.
Chris Henry, who serves as Elma High School's powerlifting coach, has chosen the Farmer's Walk to kick off the school's inaugural strongman competition – an event Henry hopes becomes a tradition with the Eagles.
Summer break is less than a week old. No one is required to be there, but two dozen or so members of the team have shown up to participate. Credit Henry's enthusiasm with the strong turnout.
"This is the first year putting this on so we really didn't know what to expect," Henry said. "Really my goal here is to try and kick this summer off with a bang and get everyone excited about training."
Henry is the ring leader during the competition, directing traffic and giving all involved a rundown of how to do each event correctly. He is also playing the role of cheerleader whenever one of the athletes falters, offering words of encouragement to help them power through and reach the finish line.
It was needed on more than one occasion during this particular Farmer's Walk.
"I want them to be excited about training. They are all putting in the work. This is extra time we are asking them to come in," Henry said about athletes, all of which play at least one other sport at the school. "It's hard. We're asking a lot out of them. You have to make it like a scene. You want this to be the place to be. We ask them to train really hard, but we want them having a good time doing it. So you have to get them excited."
Henry has appeared to accomplish that through his strongman event. Grinning athletes talk it up on the sideline as each teammate goes through the grueling event. Off in the bleachers, a small handful of fans, bundled up in blankets, cheer on the competitors.
"This is our first year doing this," Henry said. "Hopefully, it grows."
It wasn't too long ago that the Eagles didn't even have a powerlifting team. Henry and Ron Clark, who is also Elma's head football coach, changed all of that. Henry, a 2004 Elma High School graduate, was a student teacher at his alma mater five years ago. It didn't take him long before he connected with Clark.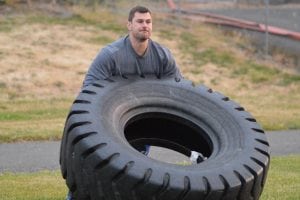 "My first day as a student teacher Coach Clark spotted me in the hallway," said Henry, who also served in the United States Marine Corp from 2004 until 2009. "He didn't know me, but beelined right to me and said, 'What is it you do?'"
The topic quickly turned to powerlifting, a sport Henry first became involved with as a 14-year-old. From there, it shifted to how Elma lacked a powerlifting team.
"When I met him a couple years ago, we started talking and I realized he's the next generation of trainers. He knows far more than I do," Clark said. "Not too long into talking I go, 'We ought to start a power lifting team here.' And that's kind of how it started. He's been a great addition to the school and the district."
From June 13 through the end of summer, Henry volunteers his time overseeing the Eagles' summer lifting program. It is offered five days a week, two sessions a day with one running from 9:00 a.m. until 1:00 p.m. and a night program starting at 5:00 p.m. and going to 7:30 p.m.
"I honestly want us to win, but what I really care about is, 'Are you improving? Did you execute well? Did you show good technique or overcome fatigue?' When it comes to weights, the winning part is secondary to me. Every time you saddle up to the bar it's a real test of who you are today. You're just battling yourself. You're going to war with yourself and the weights are really just testing you," Henry said. "I'm really paranoid about sounding corny, but the truth is I really believe all of that to my core."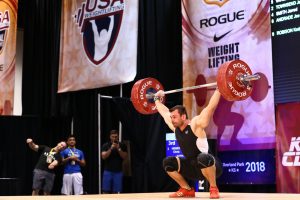 Henry doesn't just coach, however, as he also actively competes in power lifting, strongman competitions and Olympic weight lifting, the latter of which he has exclusively focused on for the last two and a half years with his primary goal to compete at the national level.
In late May, Henry accomplished that feat as he was a participant at the 2018 USA Weightlifting National Championships in Overland Park, Kansas.
Despite it being is first national event, Henry shined, finishing 11th in the 94 kilogram division. His top marks came in a 365-pound clean and jerk and a 285-pound snatch as he finished just one point outside the top 10.
"I love training. I love weights. I love strength and conditioning," Henry said. "I couldn't be more passionate about it. I love coaching people and seeing them get better. When they are excited about it that gets me more excited about it. This is what I love doing."