In 2011, Comcast introduced the Internet Essentials program, bringing high-speed, low-cost Internet to low-income Americans. In the past eight years, the program has brought Internet connectivity to more than six million people, including 260,000 residents of Washington State. It is the most comprehensive broadband adoption program in the United States.
While 93 percent of households with an income greater than $75,000 have Internet connectivity, that percentage drops to 53 percent for households with an income less than $30,000. In fact, one in four American households has no Internet connection.
Breaking Down Barriers
Internet Essentials seeks to bridge the digital divide by addressing the three main barriers to connectivity. These barriers include the need for a computer, prohibitively high monthly Internet fees, and a lack of digital literacy.
To break down those barriers, the program provides:
The option to purchase an Internet-ready computer for $150
Internet service for just $9.95 per month, plus tax
Free digital literacy training available in print, online or in person
At its inception, Internet Essentials was directed toward families with school-aged children who qualified for the free lunch program. In fact, all students who attend schools where at least 40 percent of the students qualify for free lunch qualify for Internet Essentials. As of 2017, more than half of the elementary schools in Grays Harbor and Pacific Counties meet that qualification.
Since 2011, program eligibility has extended to all individuals living in HUD-assisted housing. Comcast has made a number of additional enhancements to increase speed and availability. For instance, Internet Essentials customers now enjoy free in-home WiFi, as well as 40 hours of free out-of-home WiFi via the network of 19 million Xfinity WiFi hotspots.
More than 90 percent of participants in the Internet Essentials program report being highly satisfied with the service. Ninety-eight percent of customers use the service for schoolwork, and nearly all report that it has had a positive impact on student grades. In addition, 62 percent report that the service has helped someone in the household obtain employment.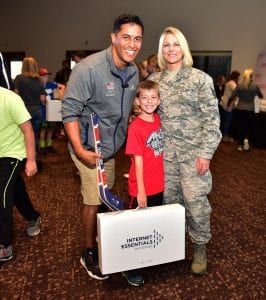 Services for Low-Income Veterans
Comcast announced an important new expansion of Internet Essentials to include low-income veterans.
"We're excited to extend this opportunity to veterans," states David Cohen, senior executive vice president and chief diversity officer at Comcast. "They have stood up for our country; now it's time for us to stand up for them by providing access to life-changing digital tools and resources."
Comcast estimates that the program will benefit one million veterans nationally and nearly 60,000 in the state of Washington. According to the United States Census Bureau, less than 60 percent of low-income veterans own a computer, and nearly one-third lack Internet access. These limitations inhibit their ability to pursue education and expand their employment.
For U.S. Navy veteran Josh Delano, Internet Essentials has facilitated his dream of pursuing a career in electrical engineering while raising his children. "Having Internet Essentials does make my life a lot better and more possible," explains Delano. "If I didn't have Internet in the home, I would have to give up more time with my kids, which is the main reason I left the military."
Cohen credits much of the success of the Internet Essentials program to on-the-ground partnerships between Comcast and community organizations. Some of the most active partnerships are programs that serve veterans.
Eligibility
The application process for Internet Essentials is quick and available in multiple languages. To qualify for the program, households must meet one of the following criteria:
Include at least one child who is eligible for the National School Lunch program (or who attends a school in which at least 40 percent of the children are eligible for free lunch)
Receive HUD housing assistance
Include a veteran receiving state and/or federal assistance
In addition, households must live in an area where Comcast service is available. They cannot have subscribed to Comcast Internet within the last 90 days, and they must not have outstanding debt to Comcast that is less than one year old.
Sponsored