When people see those eye-catching hanging baskets of flowers around Grays Harbor, there's a good chance that they came from the local Garden Starts Nursery tucked away in Elma. The owner, Gerry Whitney, was a millwright and electrician before he retired, but ever since childhood he had always had a gardening hobby. His hobby first started expanding when he and his wife, Melanie Whitney, began selling seeds online and Gerry would also sell plants to his coworkers.
"I grew tomato plants in some little greenhouses," Gerry says. "And I was selling them to guys at the mill for a dollar when I worked there. And it just kind of grew from there."
"He's always had a green thumb," Melanie says.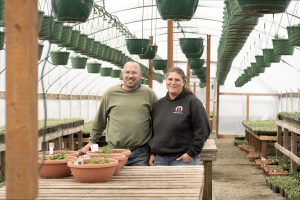 Over time, a business flourished as word got out of their plant starts and flowers. The greenhouse portion of the Garden Starts Nursery has been going strong for many years now, offering various types of flowers, vegetables, trees, shrubs and more on their property that now has 5,000 square feet of greenhouse space for shoppers to peruse. This is a huge expansion from the sole greenhouse that was 12 feet by 12 feet when they first began.
"We started it from nothing," Gerry says, adding that their website offers 1,800 varieties of seeds to customers with orders being shipped worldwide.
Before the Whitneys had even started their business, they would get people stopping by their home asking if they could purchase their hanging flower baskets they had out. Naturally, some of the most popular items at the nursery are the hanging flower baskets.
In 2018, they sold over 500 baskets by Mother's Day and they have upped their stock because it's important for them to have their customers walk away happy.
Something that makes the nursery unique is that they do not heat their greenhouses to excess and this not only helps them keep the costs of the plants affordable for customers, but has an added benefit for the plants, too.
"One thing we don't do is heat our greenhouses where they are super hot. That way when you pull the plants out, they're already acclimatized," Gerry says. "So they'll actually grow longer for people. We've had a lot of people tell us that their hanging baskets are still going in October."
The Whitneys have lifelong roots in Grays Harbor with Gerry being raised in the Wynoochee Valley and Melanie being raised in Hoquiam and together they are now raising their three children in Elma where they intend to stay. They enjoy the small community feel and how easy it is to get to know people well. A favorite part of their work is interacting with all kinds of customers and they have collected countless heartwarming or funny stories to tell over the years. One story that still makes them laugh is when they used to sell tumbling tom baskets and a gentleman had hung it on a hook at home thinking that it would be sturdy, but it fell and broke. Once the gentleman's wife got home and saw it, they rushed to the nursery and alarmingly asked if they could do a transplant. With the help of the Whitneys, the plant did end up surviving the ordeal and got the gentleman out of "trouble."
"I prefer working with the customers," Melanie says. "Just getting to know people, helping them out. I enjoy seeing their faces, especially when they see something they like."
Gerry and Melanie agree that a growing business comes with its challenges and often with a learning curve involved. It has taken time to perfect things like heating and watering and making sure everything is operating smoothly, especially during the busy season.
Though the Garden Starts Nursery is not all organic, they do not use chemicals on the vegetables, but use praying mantises to control the pests.
"It works really well," Gerry says.
Melanie says that hunting for praying mantises is something that children love to come and do while their parents go shopping.
Garden Starts Nursery is located at 20 Rosemary Lane S in Elma. They also sell a small amount of pots and soil that they have mixed. To stay posted, visit the official Garden Starts Nursery Facebook page. For more information on the seed sales, visit the Garden Starts Nursery website.