All hospitals are required to maintain a specific level of standards when it comes to patient care and safety. Summit Pacific Medical Center in Elma not only meets the requirements, they went above and beyond by building an all new Quality Ambassador Program to ensure that any issues identified, are addressed.
This unique program, now in its second year, began as a vision. Director of Quality at Summit Pacific, Cecelia Tapp, was assigned to take on the project. After finding almost no information on other programs that ensure the highest quality of care throughout the entire facility, Cecelia had to think outside of the box. "I was asked to put together a program that enhances patient safety, regulatory preparedness, patient experience, infection prevention as well as teaches the best practices in LEAN techniques," says Cecelia.
The final product in place today is the Quality Ambassador Program. This program combines a group of committed individuals within Summit Pacific who are high achievers and are well-known within the organization. The group of individuals first began with less than a dozen and has grown to over 30 ambassadors. Included in this group are executives, directors, managers, supervisors, coordinators and staff, all who can be counted on to participate fully.
In 2018, the first year of the program, the Quality Ambassador Team collectively contributed close to 300 hours to program activities. During these hundreds of hours of work, the group reviewed 945 elements of performance. Out of the 945 items reviewed, they discovered 97 items that required adjustments or changes and were effectively able to correct 57 of them on the spot. All remaining required additional leader collaboration and are addressed in a timely manner.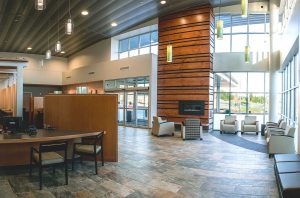 Each month the ambassadors kick off their meeting with a carefully chosen five-minute video, or a brief educational presentation, followed by discussion to set the tone and provide focus on the healthcare topic of the day. Once the team is armed with knowledge, they set out in groups of four to five, to implement their knowledge and expertise.
Taking along a checklist, each small group heads out to different areas of the 40,000-square-foot hospital with a specific task in mind. One group may search for any opportunity to improve and meet expected regulatory standards. Some groups talk with patients in the hallways and waiting rooms to verify that they're being well taken care of and know what their next steps are. All groups are collecting hand hygiene observations, a true cornerstone of safe and effective patient care. Other groups may step into a patient's room, to ask if the patient needs anything, and check the room to assure it meets specific safety and quality standards.
Another area of focus is in lean process improvement. The lean process is a method for creating more effective workflows by eliminating wasteful practices and improving efficiency. Manager Business Analytics and Logistics, Matthew Palcich, leads the ambassadors through recognizing, examining and eliminating wasteful practices in various areas and workspaces. One lean process improvement at SPMC resulted in enhanced patient throughput and lower wait times. Through identification and reduction of underutilized inventory, the team was able to free up additional treatment areas for patients, and by moving specific supplies closer to the bedside the team was able to decrease transportation involved in gathering supplies for patient care. "Small changes often lead to big results," said Palcich.
The quality ambassadors have corrected many items on the spot including: disposing of outdated items, checking that patient belongings are labeled and stored in the correct place, assuring the emptying of any sharps containers near the fill line, removing fire hazards such as doorstops, removing corrugated cardboard shipping boxes from patient care areas, identifying and addressing waste in underutilized space or overstocked supplies and much more.
One thing that has been very helpful is verifying that employees know what to do in case of an emergency. "Checking that employees know what our internal codes mean and how to page overhead is extremely important," explains Bonnie Mollett, one of the Quality Ambassadors. "We all know how nerve wracking emergencies can be. It's easy to forget the proper steps that need to be taken in different scenarios." Having staff practice these steps teaches them exactly what to do and helps them feel empowered in the event of an emergency.
After 45 minutes in the field, documenting results, the ambassador teams gather to discuss their findings, if and how they resolved situations, and discuss potential solutions for items that were not immediately resolved. Having skilled individuals in the group who can make the changes on the spot takes several steps out of the process. "It takes a very special group of committed individuals with widely varied expertise and perspectives to focus on so many different items with the goal to resolve them appropriately and timely," states Cecelia.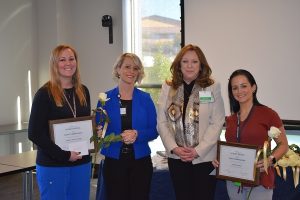 At the end of 2018, the ambassadors voted to identify the most valuable Quality Ambassador. The vote resulted in a tie for first place. "These two individuals are highly valued members of the team," says Cecelia. In addition to the recognition that they received from being chosen by their Quality Ambassador peers, there is now a dedicated parking space, close to the building that celebrates their actions. "Lourdes Schoch, an acute care registered nurse, and Daunell Barnes, a diagnostic imaging technician, are the two action-oriented, exceptional individuals who received the honor," says Cecelia. The group also chooses a monthly Quality Ambassador who goes above and beyond the call of duty.
In the future, the program hopes to recruit more members to broaden its scope and cover all of Summit Pacific's locations. Although the program has a serious tone and helps solve important programs within the facility, team members have a great time and are learning a great deal along the way. "People can work in an office in a healthcare building but not fully understand other departments until they're part of a program such as this," expresses Cecelia. "Building a culture of transparency where employees feel empowered and valued for the work that they perform is invaluable."
Visit Summit Pacific's website to learn more about the facilities and the many programs they offer.
Sponsored