For Narn and Janae Chhith, the opening of their restaurant Narn's Rice and Noodle in Hoquiam is not only a dream come true, but feels like it was destined to be for the Aberdeen couple.


"Everything came together at the right time," Narn says.
"It was meant to be, we were meant to be in Hoquiam," Janae adds. "The nicest people in the whole world live in Hoquiam."
Narn and Janae make a great team with Narn's background in cooking Cambodian dishes since childhood and a desire to be his own boss, alongside Janae's background in banking and volunteering and a knack for business development. Together through hard work, they've brought their vision for the restaurant to life.
"He has always really had a passion for cooking and the fact that we have family members that live with us has really given him the opportunity to cook authentic food," Janae says, adding that big family gatherings where a lot of food prep is required are commonplace for the Chhiths, too.
At first, the couple had hopes to have the business on a food truck or in south side in Aberdeen, but for one reason or another, the plans kept falling through. The location on Simpson Avenue where they have settled has worked out perfectly.
The dishes at the restaurant stay true to traditional ways of making Cambodian food, bringing a fresh and savory menu for patrons to enjoy. The menu items pack all of the punch in the robust flavors, but are not spicy, making all of the food options friendly for any palette. But there is hot sauce or chili sauce available for those who prefer to spice up their dishes.
"We have savory with just a little bit of sweetness," Narn says. "Some food can be savory-sweet, some can be savory, sweet and sour. It just depends on the dish."
"I would say it's all very savory foods," Janae says. "Even the doughnut."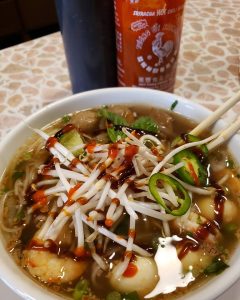 They plan to keep expanding their menu, adding new dishes every couple of weeks so far. One of the new things they added by popular demand was num pang sach, which is a Cambodian sandwich that is made with chicken or beef, pickled carrots and roots, cilantro, and jalapeños on French bread. Something that they are hoping to add in the future are beef skewers that are made with an herb paste of lemongrass, lime leaves, and other ingredients that are marinated and then barbecued with a papaya salad on the side.
"We plan to expand on more items that people might not be familiar with, but they're delicious," Janae says. "We just really want to make sure that before we're throwing items out there that we're really perfecting what we're doing now."
The Chhiths have been in awe of how welcoming the community and the customers have been, saying that it has been fun to see people try new food and drinks and to hear the positive feedback. When they first opened, they were not quite expecting the huge turnout and response.
"The first three weeks, we ran out of food at least once a week," Janae says. "And now we have not. That was a big accomplishment."
"I did not expect for people to be this excited," Narn adds.
"And receptive to it," Janae says.
The Chhiths are already making more community bonds and they enjoy getting to know the customers and their stories.
"It's fun when we get customers in here that are about to go to Cambodia," Janae says. "It's fun for them to say 'I want to try your food first and then compare.' It's neat."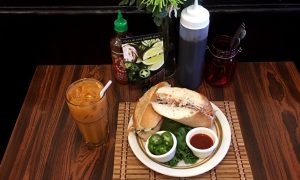 At the restaurant, everything is made fresh to order and the owners intend to keep the menu fresh as they utilize similar ingredients in different dishes. Right now, they offer shrimp, steak, or chicken as their meat options with the possibility of adding pork in the future.
"Instead of pressed meats, we do all fresh meats right now," Janae says, adding that they're flavored with honey sriracha.
Janae says that now that they have an excellent team of workers together, it will continue to make menu expansions easier.
"We've got a solid foundation in the kitchen now and so that will make a huge difference in expanding the menu," Janae says. "I'm super thankful for everyone who has hopped on."
The restaurant is located at 710 Simpson Avenue in Hoquiam and can accommodate nearly 100 people. The business hours are 11:30 p.m. to 2:30 p.m. and 5:00 p.m. to 8:00 p.m. on Tuesday through Saturday. There is a possibility of the business hours extending, so be sure to check the Narn's Rice and Noodle Facebook page for updates. There is also a banquet hall available for reservations. To reach the restaurant, call 360-637-8493.