The weather is heating up and that means it's time to plan on more outdoor destinations around Grays Harbor and beyond. Grays Harbor Transit is on the ball with inexpensive riding options that will make any destination a breeze. Whether a day trip to the beach or a quick ride across town, riders can count on Grays Harbor Transit.
Summer Youth Pass
For youth ages 18-years-old and under, Grays Harbor Transit offers a summer-long pass from Memorial Day through Labor day for only $20 per person. These passes are valid not only within Grays Harbor, but also within four other transit agencies including Intercity Transit, Mason Transit, Jefferson Transit and Clallam Transit.
Check this out:
• New digital signage at the Aberdeen and Hoquiam bus stations! Enjoy viewing departure times, alerts, weather, and much more.
• Want to see where the buses are? View live bus locations on Grays Harbor Transit's GPS Quick Link.
• Catch a free ride on the WAVE route through downtown Aberdeen that leaves every 20 minutes every week day from 9:00 a.m. to 7:00 p.m.
"Basically, it's the whole Olympic loop," says Tami Dragoo, Grays Harbor Transit clerk of the board. "It's a great resource for day trips. It gives them opportunities to get out in the communities and have fun this summer."
The Summer Youth Pass program has been in place for a number of years but last year, Intercity Transit also joined the program, making the travel loop completely accessible using a single pass. Passes can be purchased at the Aberdeen and Hoquiam bus stations, any Grays Harbor Timberland Regional Library location, or requesting a pass by mail.
Day Trips for a Dollar
Get the most bang for a buck and plan a local adventure for only a dollar. With Grays Harbor Transit bus fare for adults being only one dollar per ride, there are endless ways to enjoy the summer without breaking the bank.
"With the weather being nice, you don't have to make a lot of plans, you can pretty much spur of the moment pack a picnic and hop on the bus," Dragoo says.
Grays Harbor is full of natural, beautiful destinations that harborites and visitors can enjoy. Take a day to spend time in Westport or Ocean Shores or head out toward Quinault to adventure in the Olympic National Park. "We go all throughout the county, so now is the time to see places you haven't gone before," Dragoo says. Grays Harbor Transit has compiled an exciting list of summer adventure ideas located in Grays Harbor. Snag one of the summer bus books for a full list of ideas from whale watching in Westport to summer concerts in Seabrook.
For those wanting to venture further, there are plenty of fun destinations to see outside of Grays Harbor, too, like Olympia and Centralia and it's only an additional two dollars for the bus fare.
Join a Local Vanpool and Save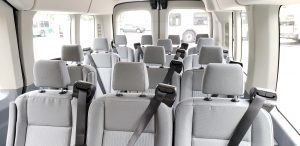 From routine maintenance to insurance premiums, owning a vehicle can cost a pretty penny and especially so during the summer months when fuel prices jump up at alarming rates. Grays Harbor Transit is ready to go for those considering joining a vanpool group to offset those expensive commutes and give riders a chance to pay a stress free low monthly fare.
Grays Harbor Transit is currently welcoming new vanpool groups with some vanpoolers already enjoying the perks of the new vans that have been put into use. "We've got some new vans," Dragoo says. "You get in them and they are just so nice."
Dragoo says that another benefit to using the vanpools is saving personal vehicles from wear and tear and that often times auto insurance companies will give their clients better rates if they are not using their personal vehicles as a work vehicle. For more information, visit the Grays Harbor Transit vanpool website or call 360-532-2770 extension 100.
Catch a Summer Ride Using Token Transit App
It's easier than ever to get a bus pass with the use of the Token Transit App that is free to download. Riders can use either a debit card or credit card to purchase a ticket and then they simply show the screen to the bus driver.
"The driver doesn't have to touch your phone at all," Dragoo says. "It's going to show a picture, a time, and a code word and all you have to do is show your phone to the driver. It has to meet certain criteria."
It's even possible to purchase a bus pass online and then send it to someone else, too. Search for the app in the mobile app store to download it or visit the Transit App website for more information or to purchase a bus pass.
For more information on bus schedules, maps, programs, fares or passes, visit the official Grays Harbor Transit website or call 360-532-2770 with any questions.
Sponsored