For 60 years the McCleary Bear Festival has treated locals and visitors from around the world to a true taste of the Pacific Northwest. Mark your calendars for July 12- 14, 2019, as this will be a festival to remember –  the Bear Festival Committee has pulled out all the stops to make sure your entire family has a beary good time.
The 60th year will include the comeback of some old traditions, as well as new ones. "We are bringing back the Teen Street Dance on Friday night, which was a tradition for many years," says Karen Waddington, co-chair for the Festival Committee, and Tanya Beavers, chair. "This year for the first time we have a Junior Royalty Court that consists of five girls ages 10- 12 years from Elma and McCleary and we will crown a Junior Queen in addition to our traditional Bear Festival Queen. We are also inviting all past Bear Festival Royalty to join us for Coronation on Friday night and also invite them to participate in the Grand Parade on Saturday."
This year's court includes Junior Princesses Kinsleigh Morris, fifth grader at McCleary School, Samantha Blakenship, fourth grader, Taryn Ferrier, sixth grader, Gabriela Heath-von Cleave, fourth grade, and Cheyann Marie Parker, fourth grade. Reigning Queen Emma Peters, a freshmand at Elma High School, willl hand the crown off to Koral Young, an eigth grader. She is looking forward to fulfilling a promise she made to her grandma of becoming Bear Festival Queen.
New this year, the committee also decided to hold a logo contest at the school. "Anyone K-8 could participate by drawing a bear," they explain. "We got 12 entries and chose one drawn by seventh grader David Hooper. Our graphic designer took his drawing and created this year's logo."
McCleary Bear Festival 2019 Schedule Highlights
Friday, July 12
The McCleary Bear Festival kicks off with a ton of family-friendly fun with Kids Day in the Park. There will be old fashioned field games like sack races, tug of war and more. There will also be a lip sync contest for kids on the park stage. The Pacific Science Center will be at the VFW Hall with their planetarium show. The planetarium will present three shows starting at 1:00 pm, but space is limited to 24 people per show, so get there early!
If watching America's favorite pastime is your idea of a good time, don't miss the start of the three-day softball tournament, with the first game starting at 6:30 p.m. "registration is popular because it is one of very few wooden bat tournaments around and fills up quickly," Waddington and Beavers share. The registration is already full with teams on the wait list. See which of the 12 teams will come out on top!
At 5:30 p.m., see the coronation of the new Queen and the past royalty reception, also taking place in the VFW Hall. Finish off your fun filled day at the magic show with John London at 6:30 p.m.
Saturday, July 13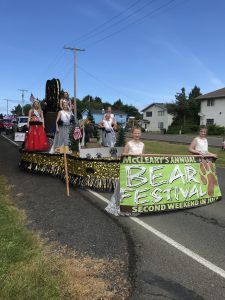 The fun starts early on July 13 with the Bears Fun Run with registration beginning at 8:00 a.m. Choose from one mile, 5k and 10k. Sign up today using the downloadable form on the McCleary Bear Festival website.
Then, get ready to cheer for the McCleary Bear Festival Grand Parade starting at 12:00 p.m., followed by the Fabulous Murphtones at 1:30 p.m. and The Olson Band at 5:00 p.m. in Beerbower Park.
McCleary Museum will be hosting a Silent Auction on Saturday afternoon at the VFW Hall and the VFW chapter is hosting a beer garden.
There is plenty of time for the kids to check out the Kids' Zone, which will have a petting zoo and numerous inflatable toys including giant hamster balls, a 21-foot slide, a 40-foot obstacle course, a combo bounce house with slide, and a toddler bounce house.
Sunday, July 14
On Sunday July 14, it's all about the hot rods at they come roarin' into town for the McCleary Bear Festival Royals Rumble Car Show. Head to Simpson Door from 10:00 a.m. to 3:00 p.m. to drool over. Have a car you'd like to show off? See the McCleary Bear Festival Car Show registration form on the website.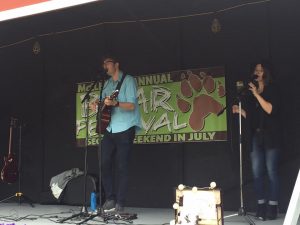 Sunday also has more music, with Kynan Shane, Humor and Heart on the Beerbower Park stage and the kids can spend even more time in the Kids' Zone.
In addition to all the fun activities, there will be over 50 vendors all weekend with an assortment of tasting food for you to eat, including burgers, hot dogs, crepes, donut holes, sandwiches, Dippin' Dogs, corn on the cob, elephant ears, snow cones, sausages, Indian tacos and more, including vegan options. Of course, the famous "bear stew" will be available this year, with one small change. "This year due to litigation going on in Washington regarding bear hunting, we are unable to get bear meat for the stew," explains Waddington and Beavers. "We will still have the same delicious stew with our special recipe, but it will include beef this year." This world-famous stew is not to be missed, even without the bear.
To make a weekend of it, book a stay at the GuestHouse Inn and Suites in Elma or Little Creek Casino Resort in Shelton and have a beary great gateway for the whole family. For more information, visit the McCleary Bear Festival website or follow them on the McCleary Bear Festival Facebook page.
Sponsored