Camping is a Pacific Northwest rite of passage. No matter the weather, be it sun or rain, the great outdoors calls to us, hoping to help us rekindle our relationship with the natural beauty of the regions we live and visit. The experiences we find while camping in the Evergreen State are amazing, but there is something truly special about Grays Harbor. Offering access into incredible state parks, the wilds of Olympic National Forest and adventures along the waterways of the region, we invite you to camp in and around the town of Montesano in Grays Harbor County. Full of towering trees and pristine lakes and rivers, camping here is a great taste of the wilderness that awaits you as you tour the region. If you haven't camped in Grays Harbor, or are looking to explore this region a little more, the Montesano region has you covered!
Friends Landing
Scenic, family-friendly and perfect for your camping needs, Friends Landing near Montesano is a great choice. Sporting 18 RV sites and 10 tent sites, this is a great camping experience right along the Chehalis River. Open from March to November, Friends Landing is unique to many campgrounds in eastern Grays Harbor as it is on the river and includes lake and river access. For tent campers, don't worry about hearing the noises of generators and doors slamming all night. The tent camping area is separate from the RV area, so you'll only hear the frogs and crickets. Reservations are available for campsites, helping guarantee a spot for your perfect weekend trip. This dog-friendly, kid-friendly campground also has numerous picnic tables as well as two large covered picnic shelters for your next family reunion or company picnic. The shelters can be reserved at no cost, simply call and reserve your spot.  In addition, Friends Landing offers free Wi-Fi for those visiting the park, letting you share your experience online with friends and family. With an easy 1.7-mile trail, as well as water access, you'll be able to explore the lands here with ease! Friends Landing also has great ADA accessible areas, helping to bring everyone into the outdoors.
Coho Campground
The Coho Campground in the Olympic National Forest near Montesano is the perfect camping spot for everyone looking for something a little more wild. Located just 35 miles north of Montesano, this remote campground on the Wynoochee Lake feels like a lifetime from civilization. Whether you are traveling solo, looking for a family spot to explore the wilderness or hoping to enjoy the night away from town, Coho has you covered. Open in mid-May until the fall, this dog-friendly, kid-friendly campground has numerous options on where you can stay. There are 46 campsites for tents and RVs and 8 walk-in campsites. There are also 3 yurts, 16 feet in diameter, that are able to be reserved, but are not dog-friendly. Each yurt is built on an elevated platform that has a deck that overlooks the lake. You'll have heat, electric lights, a futon couch, a bunk bed, and a table and chairs—just be sure to bring your own bedding. Picnic tables and fire rings are located at all the campsites, including the yurts. Once you have a site, you'll find access to miles of trails for all levels, leading around the huge lake, or to stunning waterfalls a short drive from the campground. A full list of hikes, bike trails and more can be found on the Olympic National Forest website.
Lake Sylvia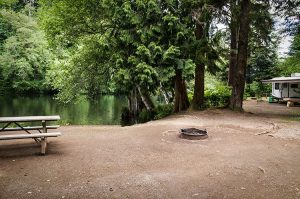 Few places in Washington can compete with the camping found at Lake Sylvia State Park near Montesano. Found just a few miles from the town of Montesano, you'll feel miles from anywhere when staying at this scenic destination. The camping here is great, as it is fun for those with kids, dogs or people looking for a romantic getaway. To enjoy the park, fish here and camp, you'll need a Discover Pass for Washington State Parks. You can buy them online, or double check that the office at Lake Sylvia is open. Open all year, camping at Lake Sylvia is your typical state park experience. You'll find 31 standard campsites with picnic tables and fire pits, 4 partial-hookup sites, a dump station, 3 restrooms, and 6 showers. There are also four primitive, walk-in sites and two more primitive sites reserved just for hikers and bicyclers. Once you have a site, miles upon miles of trails await hikers, runners and bikers. There are five miles of trails inside the park, but dozens more found just north, accessed from the park trails. As if that isn't enough reason to come and camp here, Lake Sylvia is also a great place to fish year round, or even swim or kayak.
Artic RV Park
Just southwest of Montesano, Artic RV Park is another gorgeous place to pull in and have a night or two of camping bliss. Surrounded by towering trees, blooming rhododendrons and tasty blackberries, this is not a parking lot style campground. Here, bordering the Little North River, you'll find the feeling of solitude you have been searching for. You'll even be right next to the Artic Pub, where delicious food and drink can be found. With trails leading to huge Sitka spruce, through a temperate rainforest and along the river, you'll see ducks, eagles, deer and maybe even elk. Sites at this rustic and friendly camping area have a place for a campfire, a picnic table and access to restrooms and hot showers, making it perfect for all ages. You can even bring your dog here, as long as it is leashed and you clean up after it.
Sponsored