If you are like most parents, you're always looking for fun ways to help your children learn. In response to two successful Build-Off Events in Thurston County, the Child Care Action Council (CCAC) is excited to bring their Build Off: Early Learning Fun Fair to Grays Harbor. The Build-Off is a fun, free, family-friendly event with learning activities for children, as well as information for parents and caregivers about the useful programs offered by the CCAC and other community organizations. The event will be held on October 12 at the Shoppes at Riverside in Aberdeen.
Children who attend the fun fair can participate in the Build-Off Challenge, a competition where each team will attempt to build the tallest structure with KEVA planks. Building with blocks is an essential skill for children. It strengthens their gross and fine motor skills, encourages problem-solving and supports many foundational STEM skills. Not to mention, it's fun! The challenge will be divided into two age brackets, children 1- to 5-years-old and children 6- to 12-years-old. Each team will have 500 KEVA planks and 20 minutes to build the tallest structure they can within the time limit. The winners of the competition will receive a special prize. And every child will get a yummy treat.
In addition to the Build-Off Challenge, there will be other fun games, arts and crafts, and activities provided by sponsors and activity partners. "One of the most popular activities is Molina Healthcare's smoothie bicycle," says Melanie Kincaid, development and communications manager for the CCAC. "Kids can hop on a bike and peddle away, blending healthy ingredients into a delicious smoothie," she adds. Westport Aquarium will bring out a microscope with specimens and a touch tank. The Hands-On Children's Museum will set up a wind tunnel, which was a hit at the Thurston County Build Off. "Also, we are bringing our entire BlockFest," says Kincaid. BlockFest is a CCAC program that includes thousands of blocks of all different types from foam to wood, big and small, each type of block is perfect for different ages and stages of growth and development.
The Grays Harbor Community Foundation is one of two presenting sponsors. "The future of Grays Harbor is with our children," says Jessica Hoover, senior program officer for Grays Harbor Community Foundation.  "We believe in creating exposure to quality early learning opportunities for them to know that anything is possible. Our children should know their community is behind them, and supporting them every step of the way is critical to the success of our community and our people."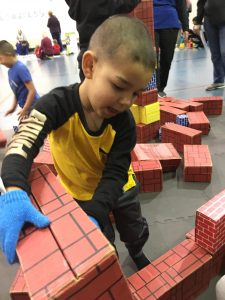 "With the support of sponsors and activity partners, we can bring this event to the community at no-cost," says Kincaid. Sponsors include presenting sponsors: Grays Harbor Community Foundation and the Quinault Indian Nation, community sponsors: Molina Healthcare and The Shoppes at Riverside, and team builder sponsors: Great Northwest Federal Credit Union, Vaughan Company, and GraysHarborTalk. Activity partners include Molina Healthcare, Habitat for Humanity of Grays Harbor, Hands-on Children's Museum, Westport Aquarium, South Sound Reading Foundation, South Sound Parent to Parent, the Timberland Regional Library, 2020 Census, the YMCA as well as CCAC programs: Kaleidoscope Play & Learn Group, Raising A Reader, and BlockFest.
The CCAC serves Grays Harbor, Thurston, Mason, Jefferson, Clallam, and Kitsap counties with a variety of services that help families, especially when it comes to child care needs and early learning. Not only does the fun fair provide an opportunity for children to participate in fun early-learning activities, but it helps families get to know programs available from the CCAC and the Grays Harbor community.
"Not everyone knows that we have free one and a half hour playgroups every Wednesday, available right there at the Shoppes at Riverside," says Kincaid about the CCAC's Kaleidoscope Play & Learn Group. "It's available for anyone with children ages birth to five, and we just ask that they register so that we can have snacks and materials ready for everyone," she adds.  The CCAC also has over 160 children in Grays Harbor County involved in their Raising a Reader program, and there's always room for more.
So, if you are a family looking for fun enriching activities for your children, or you would like to know more about the different programs offered by the Child Care Action Council, plan to attend the Build Off: Early Learning Fun Fair on Saturday, October 12, from 10:00 a.m. to 1:00 p.m. at the Shoppes at Riverside, 1017 S Boone Street in Aberdeen.
Sponsored