'Tis the season for fuzzy socks, hot cocoa and marshmallows, and lots of fun holiday activities in Grays Harbor County. There is enough going on during the next two months that even our often-gloomy weather won't dampen your spirits. From breakfast with Santa to tree lightings, and enough holiday bazaars to overflow your stockings, your entire family will enjoy the holiday activities in Grays Harbor County.
Trinkets & Treasure Holiday Bazaar
November 2: 10:00 a.m. – 4:30 p.m.
Hoquiam Elks Lodge #1082
624 K Street, Hoquiam
The Trinkets & Treasure Holiday Bazaar is a holiday shopping event the entire family will love. Not only can you find great gifts for everyone on your list, but you can get a photo with Santa and Mrs. Claus ($5, goes to two local charities), and free coffee and hot chocolate!
Channel Point Holiday Bazaar
November 9: 10:00 a.m. – 3:0 p.m.
Village Concepts of Hoquiam – Channel Point
907 K Street, Hoquiam
Head to Village Concepts of Hoquiam for their Channel Point Holiday Bazaar! You will find unique gifts, handmade items, baked good and much more from both local and national vendors.
Elma Grange Holiday Bazaar
November 22-23: 9:00 a.m. – 4:30 p.m.
Elma Grange
401 W Waldrip Street, Elma
Browse many vendors full of great holiday gifts while enjoying food and the ambiance of a small-town Christmas. The Elma Grange Holiday Bazaar will have everything you need, including decorations for your own home.
41th Annual Country Christmas Bazaar
November 23: 9:00 a.m. – 5:00 p.m.
November 24: 10:00 a.m. – 3:00 p.m.
Grays Harbor Fairgrounds
32 Elma McCleary Rd, Elma
Start crossing off your shopping list at the Country Christmas Bazaar at the Grays Harbor Fairgrounds. Shop four rooms filled to the brim with everything you could ask for from local, Pacific Northwest vendors. Over 250 booths will have handcrafted items for everyone on your list including jewelry, pottery, baked goods, furniture, clothing, baby items, metal works, candles and more! And, don't forget to deck your halls with holiday decorations and fresh wreaths. Food will be available for purchase.
The Great Tree Lighting
November 29, 5:00 p.m
Meriweather Square, Seabrook
Head out to the cute seaside town of Seabrook and celebrate with the season with their Great Tree Lighting ceremony. After the lighting, stay for photos with Santa, holiday-themed cookies, hot chocolate and more. Get there early to find your spot to watch the ceremony.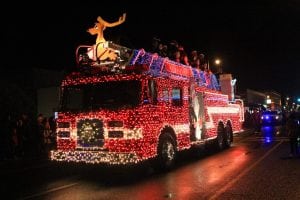 Classic Holiday Movies
7th Street Theatre
313 7th Street, Hoqiaum
Nothing will put you in the holiday spirit better than going to watch a Christmas classic on the big screen with your entire family. This year's holiday classic movies at the 7th Street Theatre include "Deck the Halls" on November 29-30, "Elf" on December 7, and "White Christmas" on December 21-22. Enjoy a bit of popcorn and relaxation during the hectic holiday season.
Winter Fanta-Sea Craft Show
November 29-December 1
Ocean Shores Convention Center
120 W Chance A La Mer Avenue, Ocean Shores
Head to the Winter Fanta-Sea craft show, grab some cool stocking stuffers and gifts, and support local artists. Over 70 vendors will have all kinds of handmade crafts and arts. This family-friendly event will have Santa visiting, so bring the kids!
Central Park PTO Holiday Craft Night and Bazaar
December 5: 5:00 p.m. – 8:00 p.m.
601 School Rd, Aberdeen
Central Park Elementary PTO's Holiday Craft Night and Bazaar combines two of the season's best pastimes: shopping and crafting! Bring the kids and do some crafts and then shop for your holiday gifts. There will also be raffle tickets with some incredible prizes and don't forget their famous wooden snowmen too. Wreaths must be pre-ordered. Contact Terri at tarebare68@yahoo.com. They cost $22 and decorations will be supplied ta the craft night. Food will also be available for purchase.
WinterFest 2019
December 7
Aberdeen
Aberdeen's WinterFest is back and full of all the fun things you know and love about the holiday! Breakfast with Santa, gingerbread contest, holiday market, crafts, and lots of businesses with giveaways and raffles. Be sure to write a letter to Santa if you miss him at the breakfast! The WinterFest South Pole (Seaport) will open in the afternoon for an evening full of family-friendly holiday activities in Aberdeen. Don't miss it! More information will be available as the event draws near on the WinterFest website.
Santa Breakfast and Tree Auction
McCleary VFW
December 7: 8:30 a.m. – 11:00 a.m.
The McCleary Bear Festival Santa Breakfast and Tree Auction is happening once again and your whole family will enjoy it! It all starts with breakfast including pancakes, ham, eggs and a drink. Then it's time for photos with Santa. Be sure to explore the beautiful trees and bid on your favorite(s) during the silent auction. For more information visit the McCleary Bear Festival website.
Santa by the Sea
Westport
December 7, 10:30 a.m. – 3:00 p.m.
Welcome Santa as he comes to town aboard a US Coast Guard vessel during Santa by the Sea! He will then be escorted to the Destruction Island Lighthouse Lens Exhibit Hall at the Westport Maritime Museum by the Westport Fire Department. Tell Santa your wish list, then party with the pirates. There will be fun activities, prizes and free refreshments.
Festival of Lights
December 13-14
Montesano
The Montesano Festival of Lights is a great activity for the entire family to enjoy. This year's activities include a craft fair (in two locations!), pancake breakfast and auction, a street dance on Friday night with live music, food, bus tours of Christmas lights and of course the Grand Parade! Don't forget cookies with Santa and live music to make your spirits bright. Follow the Festival of Lights on Facebook for updated information at becomes available.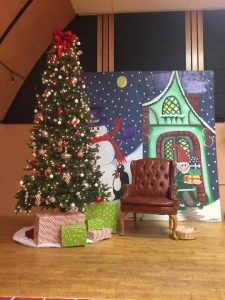 3rd Annual One Stop Christmas Shop
December 14: 10:00 a.m. – 4:00 p.m.
McClearly VFW
158 N Summit Rd., McCleary
The One Stop Christmas Shop has over 20 vendors with unique gifts for everyone on your list, even yourself! They will also have a raffle and lunch available. Money goes to the McCleary VFW. Proceeds will help them fix their plumbing and add an outdoor barbecue area.
Breakfast with Santa
December 15: 9:00 a.m.
Town Hall, Seabrook
Have Breakfast with Santa in Seabrook and tell him all your last-minute wishes! Breakfast will include bacon, sausage, eggs, pancakes and fruit. After you eat, Juniper Tree Photography will be there to take photos with Santa. Get tickets in advanced by visiting the Seabrook website. 
Raising Awareness Jingle All The Way
December 21: 12:00 p.m. – 2:00 p.m.
Shoppes at Riverside
1017 S Boone Street, Aberdeen
This free family-friendly holiday event is all about raising awareness about different abilities and the agencies and activities people with different abilities can enjoy. There will Christmas cookies to take home with you, arts, crafts, games and a raffle (drawing at 1:30 p.m.). Mr. and Mrs. Santa Claus will both be on hand to visit with and there will be other special guests (Snow White has already confirmed!) every 30 minutes.