Many people will tell you that the best way to find the spirit and soul of a city is to have a beer with the locals. It is hard to disagree with this. In Aberdeen, Washington, a city best known for its rough and tumble logging days that took place decades ago, the bars and drinking establishments are still the best place to get to know the community. The town had a reputation for being rough in the early 1900s, as it was home to dozens of saloons, brothels and gambling establishments. Aberdeen is now known as the basecamp for outdoor recreation, serving as a gateway town to adventures along the coast and in the Olympic National Park. It is also an incredible place to grab a beer and to get to know the personalities who make up the largest town in Grays Harbor. Not sure where to start? Here is a list of where to get a beer in Aberdeen.
Mount Olympus Brewing
Location: 105 W. Heron Street, Aberdeen
Mount Olympus Brewing is a must-stop for those hoping to connect to the culture of Aberdeen. The brewery is relaxed and welcoming, serving up incredible beers from friendly staff. What makes this even better is that it is kid-friendly, with a play area, giving families a perfect place to relax. While you won't find dining options, you are more than welcome to bring food in, adding to the allure of this stop. If you love incredibly brewed beers, this is the place for you.
Duffy's
Location: 1605 Simpson Ave, Aberdeen
Phone: 360-532-3842
Since it opened in 1945, Duffy's Restaurant has been an Aberdeen favorite. During the logging days of the 50s and 60s, Duffy's was known as a great place for both men and women to come have a drink, something that wasn't common during that era. The inclusive and welcoming vibe has continued today, making this restaurant and lounge a fantastic place to grab a bite and drink. The beer here is always cold and refreshing, while the food—especially the razor clams—is known all over the Pacific Northwest. If you are looking for something low-key and dependable, you'll find it at Duffy's.
Steam Donkey Brewing Company
Location: 101 E. Wishkah Street, Aberdeen
Phone: 360-637-9431
Steam Donkey Brewing is Aberdeen's first brewery to open in over 70 years, and they quickly picked up where previous generations left off. Created by beer enthusiasts, the brews and ciders found here are delicious and refreshing, while the atmosphere is instantly comfortable. Steam Donkey offers outdoor seating and both alcoholic and non-alcoholic drinks. They do not serve food, but visitors are more than welcome to bring in outside food to enjoy with their drinks.
Parkway Tavern
Location: 417 N. Park Street, Aberdeen
Phone: 360-637-8642
The Parkway Tavern is a great dive bar, offering drinks, pool and pull tabs in a timelessly decorated interior. The Parkway is a local hangout, giving visitors live entertainment, friendly conversation and a chance to really get to know Aberdeen. This is also a great place to watch football games on a Sunday, or to just sit back and enjoy the beers on tap. Sure, you won't find a lot of frills, but you will find smiling faces and a good time as you drink a beer and take in the scene.
Billy's Bar and Grill
Location: 322 E. Heron Street, Aberdeen
Phone: 360-533-7144
Styled to look like a bar back in the old days of Aberdeen's history, Billy's Bar and Grill is a great place to grab a drink and a bite to eat. This family-friendly establishment sits in a building that was built in 1904 and is best known for delicious American fare, well-made cocktails and 12 handles of microbrews from around the Pacific Northwest. Grabbing a drink here lets you connect with the history of the region, as well as the locals and visitors.
Mac's Tavern and Cardroom
Location: 210 E. Heron Street, Aberdeen
Phone: 360-533-3932
Advertising food, pool, cocktails and gaming on their sign, Mac's Tavern and Cardroom is a classic place in Aberdeen to get a pint or two while staying in or passing through town. Mac's is another local hangout, and a place to get to know the people who live, work and play in the area. Serving up beers and mixed drinks, a stop here will serve you the refreshing drink you are craving while you relax in a fun bar. With karaoke nights, friendly staff and customers, and even pool tournaments, you might just find yourself coming back trip after trip.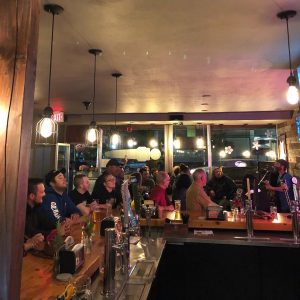 The Tap Room
Location: 103 E. Wishkah Street, Aberdeen
Phone: 360-637-8224
Laidback and serving quenching brews with a friendly smile, the Tap Room in Aberdeen is a perfect place to stop. Clean, cozy and offering both incredible beers and delicious meals, this simple looking destination will surely become a favorite. At the Tap House, you'll find the atmosphere as hopping as the beer. Serving sodas, hard ciders, wine and a rotating selection of Northwest and international beers, even the pickiest of palates will find the drink they crave.
West First Street Pub
Location: 823 W. 1st Street, Aberdeen
Phone: 360-637-8780
Located in an unassuming building in a residential neighborhood, the West First Street Pub is hidden gem and a must-stop. It is everything you are searching for, if you enjoy the feel of a friendly and welcoming dive bar. You'll enjoy numerous beer options, as well as drink specials every day. West First Street does have limited food options, ranging from pizzas to sandwiches, but you may be too engaged in conversations, karaoke or pool to want to eat.
Sponsored