Beachcombers are always looking for that special item, the one that makes up for all the days when all they find for their time are broken sand dollars and the remains of crabs. Authentic glass floats are one such item, prized for being a piece of history that has made its way from who knows how far, to get washed up on our beach. Searching for glass floats in Grays Harbor is a fun adventure for anyone of any age. And whether you are looking for the real deal or ornate replicas, you can find them all on our shores.
A Brief Glass Floats History
Although often called Japanese glass fishing floats, glass floats can be traced back to the mid-1700s in Scandinavia. The first ones found were tiny, egg shaped floats from Norway and surrounding countries, where the hollow glass globes floated along the ocean's surface with a fishing line attached to them. As fisherman started to use nets, the glass floats grew in size and the Japanese began to manufacture them, mostly out of recycled sake bottles, creating the common green color we see in so many authentic floats today. Throughout the decades, glass floats were made all the world, including in the U.S.A.
Glass floats are often marked with a maker's mark, making them a fun historical find as you try and trace where your float came from. And of course, some makers and colors are rarer, making them more valuable. For example, red ones from Japan often used real gold to make the hue, making them worth a small fortune, whereas the common green, round ones sell for very reasonable amounts on Ebay and other places.
Finding Glass Floats in Grays Harbor County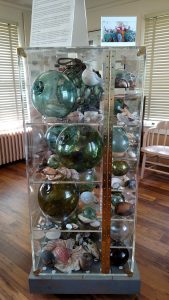 If you are thinking that all the glass floats must be destroyed or found by now, you would be wrong. It's estimated that there are still millions of floats in the ocean, and Grays Harbor beaches certainly have gotten their fair share over the years.  "To my knowledge not too many are washing up right now, but it goes in cycles," says Julie Smith, operations manager/education coordinator at the Westport Maritime Museum.  "More debris washes in when there are storms, it comes in at high tide. When the tide goes out is the best time to find stuff on the beach because it leaves it behind."
Though they can appear at any beach, both Grayland Beach and Ocean Shores have been deemed "best spots" when it comes to finding floats. Ocean Shores has strong currents that often help deposit the glass floats on the beach. But really, it's just plain luck when it comes to where they will wash up and if you happen to be there when they do! "A note on the floats," adds Smith, "you'll often find them up on the grass line because the tide washes them in and they get hung up on the grass or in the driftwood higher on the beach. Most people look for them down by the water, but that's usually not where they're found."
Yvonne Thorpe donated a large collection of sea glass floats to the Westport Maritime Museum in 2017. The collection includes some rare floats in many colors, sizes and shapes, and every single one of them was found on Grayland beach in Grays Harbor between 1941 and 1952 by Thorpe herself. You can see these floats for yourself (perhaps the easiest way to "find" glass floats in Grays Harbor!) on the first floor in the Day Room as one of their permanent exhibits. The exhibit has over 50 floats on display, all found on south beaches.
The Westport Maritime Museum also holds a wild float release at the beginning of each year, where they take authentic floats and put them back in the ocean in strategically locations so they will wash up on our south beaches where people can find them. "We have worked with our expert 'float wranglers' on strategies to get the bulk of the floats to land across a short window on the South Beach's," Smith says. "The floats will have small diamond engraved set of initials as well as the year, WSBHS 2020. There's no way for us to guarantee where the floats will wash up, because it's nature… but we try to have them wash up on the weekends on the south beaches. Most of them find their way to the beach by the condos and the lighthouse."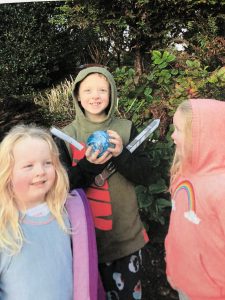 The quaint town of Seabrook has another way you can find glass sea floats in Grays Harbor. Each year they hold Seabook Float Finds, where they hide replica glass floats for people to find and keep. The replicas are made by Opal Glass Art in Cosmopolis and are stunning in beauty. "I started the float find a few years back," explains Jaclyn Stenson, retail property manager for Seabrook, "the idea came to us because Town Founder Laura Roloff is obsessed with finding floats on the beach during storms."
For the last six years the float find was held annually for a couple weeks in late November and Early December. In 2019, they expanded the float finds to run after Thanksgiving through News Year's Day. "With the Float Finds being so outrageously popular we decided to add some additional dates," shares Janet Willis, director of events for Seabrook. "We will be offering two floats find locations daily, and a few special holiday commemorative floats as well will be hidden during holiday events."
Clues for the Seabrook Float Finds are posted daily at 9:00 a.m. on the door of the pottery building next to Buck's Bikes. Lucky finders are asked to post their find and location on the finder's sheet. Clues are also posted daily on the Seabrook Facebook page, so it's a good place to check if you are already out on the beach.
The Museum of the North Beach does an annual raffle for an authentic sea glass float, with proceeds going toward the nonprofit's operating expenses.
If you want more information on glass floats, check out Grays Harbor resident Alan Rammer's book,  "Glass Fishing Floats of the World," co-authored by Stu Farnsworth.