Plastic has become so much a part of our lives that we can hardly imagine living without it. Native Harborite Ashlee Mitchell uses her sewing skills to create beautiful and innovative, reusable items to replace plastic in our kitchens and our everyday lives. Her company Creative Ginger offers a range of plastic substitutes from snack bags to beeswax food wraps. Ashlee create her products from remnant or repurposed, biodegradable materials.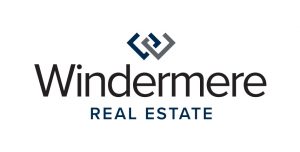 Ashlee's mission to reduce plastic waste was shaped by a variety of factors that eventually led to the founding of Creative Ginger. She always loved hiking and developed a desire to protect nature. At the age of 17, she jumped onboard the tall ship Lady Washington, hitching a ride to San Diego where she embarked on a program of marine biology at the University of San Diego. Walking on the beach, she was appalled by the amount of plastic trash washed up by the waves. A research paper on the trash gyre in the Pacific Ocean deepened her desire to help reduce plastic waste.
When she learned how to sew, Ashlee found her personal small way to use less plastic in her life. She had already begun to purchase reusable items whenever possible. Now she was able to design and create them herself. She enjoyed making beautiful, up-cycled items for herself and as gifts for family and friends. Her creations became popular and soon she was able to make some extra cash.
From Hobby to Business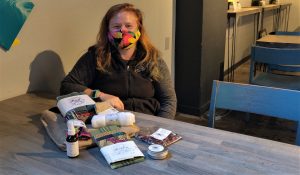 Ashlee went formally into business in Idaho, in 2016, where she worked at a fish tagging job. She obtained a business license and offered her wares for sale at events. Starting with reusable food bags, she soon extended her inventory to include more everyday items. "I wanted to make fun stuff in nice patterns, "she says. "I met a beekeepers couple who gave me the idea to make beeswax food wraps."  She still sources her wax from Salmon Valley Honey.
Creative Ginger products are mostly made from remnant or repurposed fabric. Ashlee's vendor table at events looks like a quilting shop with its multitude of colors and patterns. Each Creative Ginger item is attractive and unique.
Currently popular items include reusable fold over snack bags made from long-lasting PUL laminate cloth. "This is the material used for baby diaper covers," Ashlee explains. "It is waterproof, breathable and can go into the washer or the dishwasher." PUL comes in a great variety of pattern and colors. Ashlee's Bee Wraps are another wonderful food-storage solution. These cotton squares in three sizes are dipped in a blend of beeswax, jojoba oil and pine sap. They are pliable enough to wrap a sandwich in or to be scrunched around the top of a bowl in place of plastic wrap. Ashlee experimented to achieve the perfect wax blend which will last for a year. When the wax begins to get crumbly, the cloth can be composted. It is fully biodegradable. After acquiring a serger, Ashlee added Unpaper Towels to her selection. These are super-absorbent, double-layer flannel cloths to replace paper towels.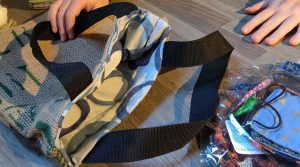 Beautiful Creative Ginger Coffee Tote Bags make plastic grocery bags unnecessary. These very sturdy bags are made from up-cycled burlap coffee sacks. The rough burlap outsides with their bold stenciled lettering are complemented perfectly by large-patterned upholstery-fabric linings. These bags can easily carry a load of heavy cans or bottles. For a totally plastic-free shopping trip, be sure to take a set of Ashlee's very light PUL mesh produce bags.
"I try to use every scrap of fabric, "Ashlee says. "I devise smaller items to use up leftovers from larger projects. My new dish scrubbers are made from burlap scraps leftover from the tote bags." These cute compostable sponges are burlap on the scrubber side and bright-patterned cotton on the other. A small strap to slide your fingers under allows for a better hold. "I enjoy decorating my items,"says Ashlee. "I sew zig-zag patterns on the straps, just for fun."  Other small items include pretty, buttoned coffee cozies and a new product, PUL feminine pads with bamboo linings.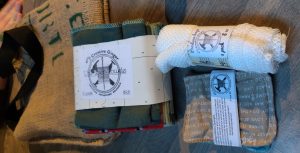 Beautiful reusable utensil sets filled with bamboo flatware can be rolled up and taken to restaurants or picnics to replace plastic utensils. And, of course, Ashlee sells the cutest face masks for your pandemic needs. She has sewn a whopping 2,500 so far. They come in women's and men's styles.
Ashlee is always developing new items. She welcomes ideas as well as custom orders.
Creative Ginger products are available at The Market Place and the Tinder Box Coffee Roasters in Aberdeen and at the Organics 101 Market in Montesano. Ashlee also takes her wares to farmers markets where she talks to people about reducing waste. Her current events are listed on her website.
Contact Creative Ginger at 360-500-6090 and at thecreativeginger1@gmail.com. Visit Creative Ginger on Facebook or the Creative Ginger website.