At Grays Harbor Community Hospital (GHCH), their Ambulatory Infusion Services (AIS) department works hard to make your visits as stress-free as possible. Some illnesses, especially chronic illnesses, require ongoing treatment. You or a loved one may require frequent visits to receive transfusions, intravenous medication, monitor your health status through blood draws, or receive specialized injections. You can get the help you need right here on the Harbor with the AIS team at GHCH.
"We see patients for a variety of treatments including intravenous infusions, blood transfusions, blood draws, injections, and management of vascular access devices such as mediports and PICC lines," explains AIS Charge Nurse Erin Swint. "Medications we infuse include antibiotics and therapeutics to treat chronic illnesses like rheumatoid arthritis and Crohn's disease."
Not all visits to the AIS address chronic conditions but the majority are. The National Health Council reports that "Generally incurable and ongoing, chronic diseases affect approximately 133 million Americans, representing more than 40% of the total population of this country…that number is projected to grow to an estimated 157 million, with 81 million having multiple conditions."
"Our patients see us routinely for treatments and we may see them daily, weekly, or monthly," says Swint. "We provide anywhere from 100 to 200 treatments per month and sometimes more."
Their staff works with a patient's primary care physician, hospital team, or nursing home caregivers on this outpatient process. "The care we provide is highly specialized and requires skilled nursing," she continues. "Our expertise lies in giving medications and treatments that are usually given in the hospital, while allowing people to live at home and even continue working. Some people need short-term care that bridges the gap from hospital admission to full recovery at home, while others need specific management of severe chronic illness."
Appointments vary from 30 minutes to 6 hours, depending on the medication used, but patients can read or use the site's wi-fi from the comfort of a chair or bed. All care is uniquely tailored to the individual. The department staffs two nurses per shift and are always happy to answer questions.
"A lot of people are surprised we are here and offering the services we do," admits Swint "If it has to do with special medications or vascular access, we likely have the capability to accommodate the needs of the patient. For instance, people may receive cancer treatments in Seattle but live in Ocean Shores. For those people, we can maintain their mediports and PICC lines at AIS to reduce the need for folks to travel more often than necessary."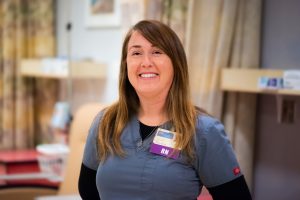 If you or someone you love could benefit from this type of service, staff advises potential new patients to have your primary doctor reach out. They can talk through your treatment needs and make sure you receive the best, most stress-free care.
Frequently asked questions run the gamut, says Swint. Do they offer chemotherapy or dialysis? No. Can I eat or use my phone during treatment? Sure, as long as it's not disruptive. "We like to promote a friendly atmosphere that puts people at ease," she says. "We develop strong relationships with our patients and become invested in their lives, and they also become invested in ours. We pride ourselves in being a niche that bridges the gap that many people face when dealing with chronic illness. In a community with remote access to healthcare, having AIS makes a big difference in many people's lives. We're fortunate to have this service in our community."
Persistent health issues can be stressful and disheartening. Thanks to the kind, caring, skillful nurses of GHCH's Ambulatory Infusion Services department, you can receive treatment in a peaceful environment and be home the same day.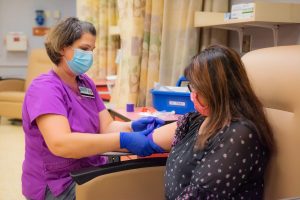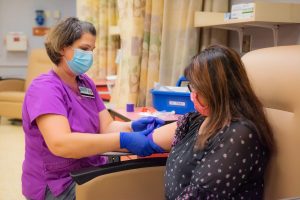 "Everyone is susceptible to the effects of stress," say Healthline researchers. "However, living with a long-term condition can make you particularly vulnerable. In addition to the everyday challenges that most people face, chronic illness adds new layers of stressors." They suggest incorporating such peaceful habits as listening to music, meditating, reading and finding ways to spend quality time with loved ones. Thanks to the AIS department, you can even do those while receiving vital treatment.
To read more about what type of infusions are offered, visit the Grays Harbor Community Hospital website or call 360-532-8330.
Sponsored