Easter is early this year, so while you may still be eating left over corned beef and cabbage, it's time to think about bunnies! Last year we did not have much choice when it came to entertaining the kiddos with Easter egg hunts and bunny visits. Thankfully, this year, our creative neighbors have come up with ways to let the kids have fun while being safe. Be sure to check in with each organizer as dates approach in case mandates change. All are following safety protocols and require masks. Here are the 2021 Easter egg hunts in Grays Harbor.

Personal Easter Baskets Delivered
Kiah Marie will coordinate to deliver Easter to your door! She is currently taking orders for filled Easter Baskets that will be dropped off at your house just in time for Easter. "Each basket will be slightly different due to supply demand, but overall perfect for the kiddos," she says. "I am also selling filled eggs for Easter hunts!" Easter baskets are just $15 and deluxe filled eggs are $1 each. She delivers to most areas of Thurston, Lewis and Grays counties. You can contact her via email PnwBunny@outlook.com or 360.688.9005 (call or text) to order.
City of Hoquiam Drive Thru Easter Egg Hunt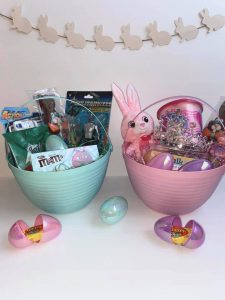 April 1: 5 p.m. – 7 p.m.
Olympia Stadium little league field parking lot
101 28th Street, Hoquiam (between the old Washington School and the stadium)
The City of Hoquiam is doing a drive through easter egg hunt on Thursday, April 1 for kids up to 12 years old. All must remain in their vehicles the entire time. Each child will get a bag for goodies. This is co-sponsored by the City of Hoquiam, the City of Aberdeen and Twin Star Credit Union.
Elma VFW Auxiliary #1948 Huntless Easter Egg Hunt Drive Thursday
April 3: 12 p.m. – 3 p.m. (or until all eggs are gone, whichever comes first)
Grays Harbor County Fair & Events Center
32 Elma McCleary Rd, Elma
The Elma VFW Auxiliary #1948 is planning a drive thru Easter egg "hunt" for kids 1-10 years old. Families can drive through once. Children will be given a few eggs at the start of the drive thru. Then, as they move through, they will open their eggs at prize stations looking for prize slips. They can then redeem the slip for the corresponding prize.
Annual Resurrection Easter Egg Drive Through
April 3: 11 a.m.
Beerbower Park
100 3rd Street, McCleary
The McCleary Community Church is holding their Annual Resurrection Easter Egg Hunt as a drive through this year. The event is free and open to all and is being held at Beerbower Park. There will be eggs and prizes, including the change to win a big basket! Check their Facebook event page for more details as the event approaches. You can also call 360.945.3429 for more information.
Mermaid Egg Hunt
April 4: 11 a.m. – 1 p.m.
Westport Winery Garden Resort
1 S Arbor Road, Aberdeen
Looking for something different? Check out the Mermaid Egg Hunt in the gardens at Westport Winery Garden Resort! Kids need to get their free egg bag in the museum prior to starting their hunt. This event is for children up to age 10. All eggs will be hidden in plain sight. Kids need to come back to the museum after their hunt to see if they have the special egg that gives them an extra prize.