It's pumpkin time! There is nothing better about fall then heading to the pumpkin patch to find that your perfect jack 'o' lantern. Of course, you can't leave the patch without some corn, taking a selfie with the family, or getting lost in the corn maze, it's all good fall fun! Once your house is decorated with your pumpkins and corn stalks, you are ready to head out for some Halloween events that are sure to make you shriek with fright-filled fun including the annual favorite trunk or treat! Check out these 2021 pumpkin patches and trick or treating in Grays Harbor.
Chapman Farms
October 1-October 31: 9 a.m. – 6 p.m.
239 Brady Loop Road, Brady
Chapman Farm is open for the 2021 fall season and has plenty of pumpkins ready for you! They have a range of colors, including white and red, and all sizes from teeny-tiny to extra large. Want to make a homemade pumpkin pie from scratch? They've got the baking pumpkins you want! They also have acorn, sweat meat, butternut and Hubbard squash available and several varieties of you-pick and pre-picked corn, including white, yellow and bi-color.  Don't forget to check out the sunflowers and the corn maze while your there. The Chapman Farm hay maze will be open this year as well and is free for all guests!
Chris Guenther is returning to Chapman farm this season! He will be performing on October 3, 9-10, 16-17, and the 23-24. When you finished picking your produce and listening to tunes, don't forget to check out their fall decorating items!
Does all this make you hungry? They will be selling pastries and pies from Nancy's Bakery in Hoquiam. Items will range from pumpkin logs, pies, cookies, carrot cakes and many others based on availability.
Important COVID-19 Changes: They are following state and CDC guidelines. They have multiple sanitization stations available on site and we offer curbside pick-up for those that would prefer this method.
For more information, visit the Champman Farm Facebook page.
Shaffner Farms
Permanently closed
Shaffner Farms is sadly permanently closed. "We have retired and closed our farm down so we will no longer have a Pumpkin Patch," says JoAnne Shaffner. "Will miss all our wonderful customers."
Trick or Treating Grays Harbor
Elma Downtown Trick-or-Treat
October 29: 3 p.m. – 6 p.m.
Downtown Elma
Get your costumes on and head to Elma for Trick-or-Treating at tents with local businesses. There will also be a costume contest, decorated mask contest and music with DJ Spooky. All ages are welcome and there will be game and of course, lots of candy!
Montesano Trick or Treat
October 29: 2 p.m. to 5 p.m.
Downtown Montesano
Downtown Montesano is once again having their Trick or Treat event on Friday, October 29. Kids can visit businesses with their parents in their favorite costume to get treats! All participating businesses will have someone near their entrance. The entire Montesano downtown area usually participates from the Montesano Fire Department all the way down to Gene's Stop and Go/Dennis Company.  Be sure to wear masks per COVID mandates and social distance when possible. More information to come on the Montesano Chamber website.
Hot Rodders Trunk or Treat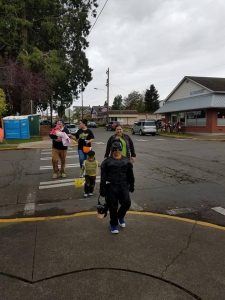 October 30: 1 p.m. – 3 p.m.
Moore Wright Group
1401 Simpson Avenue, Aberdeen
The Test of Time Car Club is bringing back their beloved Trunk or Treat again this year! It's an event the whole family will enjoy: kids get candy and dad can check out the hot rides! It's a great time for everyone, including those wanting to get in the fun by showing off their car! You can contact the club if you would like to participate by bringing your car to the Moore Wright Group in Aberdeen. Cars can show up at 11 a.m. for decorating. Some candy will be provided, but it's also a good idea to bring your own. In past years, up to 2,000 kids have come by for treats! Learn more on the Test of Time Car Club Facebook page.
Ocean Shores Lions Club Trunk or Treat
October 31: 4 p.m. – 7 p.m.
The Ocean Shores Lions Club will be doing a Trunk or Treat this year along with a Scarecrow contest. They are looking for volunteers to come out and hand out candy. If you are interested please let them know, or just show up!
Have a trick-or-treating or other Halloween event/activity you would like us to add? Email information to submit@GraysHarborTalk.com