It's that time of year again when the smell of gingerbread, peppermint mochas and pine trees fill the chilly air! It also means time to shop! Finding gifts for everyone on your list can be time consuming, but if you shop smart and locally, you can get all you need without leaving the county, and support small business owners at the same time. Shop local in Grays Harbor to find unique gifts for everyone, including our furry friends.
Breezy Beach Toys  
172 W Chance a La Mer NW, Unit 5, Ocean Shores
360.289.5008
Breezy Beach Toys is a family-owned toy store has been in business for 20 years, run by Jeff Morrill. His father, now retired, was a pharmacist and opened the Ocean Shores Pharmacy and Gift Shop. They are one of the best in Ocean Shores and would make Santa proud! Brimming with everything from skateboards, dolls, Star Wars merchandise, collectible trading cards, the latest Xbox video games and great family board games, this is a toy store worth checking out. For those who yearn for a little nostalgia, check out their collection of Rubik's Cube puzzles and other brain teasers or classic board games like Clue or Monopoly. Having a tough time figuring out what to get? Ask their friendly staff and they'll walk you through your options using their expertise. The huge variety of toys will satisfy a child of any age, young or old, inquisitive or those addicted to video games, there's something for everyone!
Ocean Shores Pharmacy & Gift Shop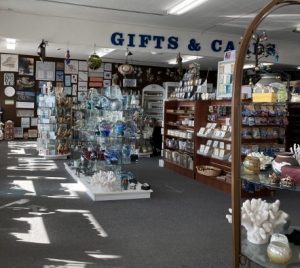 172 W Chance a La Mer NW, Unit 6, Ocean Shores
360.289.4647
The Morrill family has owned the Ocean Shores Pharmacy for 35 years. Don't let the fact it's called a pharmacy fool you. This is a great spot to find a gift for the person who has everything because there are a ton of intriguing finds, this is not your average gift shop! While they do sell the usual touristy fare like sweatshirts, t-shirts, cards and other Ocean Shores items, be sure to check out some of the handmade items from local artists. Stunning glass blown and crystal angels, crosses, mermaids, turtles, fish, as well as beach-themed home décor. In addition, there are some fun ideas for the foodie in your life, such as gourmet barbecue sauces, dips, soups and a variety of chocolates, as well as popular local saltwater taffy. Can't forget about our loyal companions! You'll also find some cool outerwear that any dog would be proud to wear, as well as quirky animal lover art pieces!
Jip & Gwenners Pet Boutique
740 Point Brown Aven NE, Suite B, Ocean Shores
360.289.0358
Jip & Gwenners Pet Boutique is independently owned by Dorothy Coserman, who also runs Give Me Paws, a doggie daycare and grooming facility across the hall. She took over the shop a year ago after the previous pet shop folded due to COVID-19. Paying tribute to her best friend who recently passed, she named the boutique after the dogs they grew up with, Jip & Gwenners. This is a fantastic shop for anyone looking to fill a stocking for their dog or cat. You'll find variety of toys that the chain pet stores don't have, as well as some of the cutest clothes! Your furry friend will have a great Christmas morning in their new cat condo or dog bed, after a few treats of course.
Know an animal lover? Local artists have made some cool signs and home décor specifically for animal lovers. One artist took old dictionary pages and made art pieces out of them, some are framed, and I've never seen anything like it before. It's such an inventive way to bring some vintage art into any home. No matter what you do, be sure to stop by and Nina will gladly assist in helping you pick out the perfect gifts for your dog, cat or their parents.
Sooz Rusty Nail
55 Main Street, Pacific Beach
253.334.3449
As someone who loves antique stores and finding something off the beaten path of your normal everyday holiday gift, you must visit Sooz Rusty Nail. Owned by Chief Picker Sue Darcy, the shop opened last year right in the heart of historic downtown Pacific Beach and has been featured in many publications in Grays Harbor. Not only is she a picker, but she has also mapped out the Hidden Coast Scenic Byway, that runs from Taholah south down State Route 109, through Moclips, Pacific Beach, Copalis Crossing, Ocean Shores, all the way into Aberdeen. Sooz Rusty Nail carries vintage items procured up from all over Washington State, such as old Coca-Cola signs, vintage toys, tools, garden items and even windows from buildings long gone. It's a picker's dream. No matter if the person on your list a master of home décor, is renovating or just obsessed with vintage fare and preserving a piece of the past, look no further than Sooz Rusty Nail.
Gaia Blends
Who doesn't love the spa or great products naturally made that not only rejuvenates your body, but also gives you the feeling you've been at a 5-star day spa right at home? Gaia Blends, independently owned and operated since 2007 from her home studio, Laura Brannon makes a variety of organic beauty products using a family recipe. Her products include lip balms, essential oils sticks, skin salves and soaps, using goat's milk, coconut, olive and rice oils. There are a variety of fragrances and ingredients including loofah from Egypt, in a proprietary blend with goat's milk that moisturizes and exfoliates the skin, giving it a luxurious softness. Each product is long lasting and has tremendous benefits for healthy skin.
Gaia Blends has grown to become a favorite among customers at local Farmer's Markets, craft fairs and can be found in Oyhut Bay Fresh Market and Organics 101 Market in Montesano.
Ani's Market
Another rare find for the spa lover on your list is the Shower Steamer made by Irena Nikolowa of Ani's Market. She has other products; however, this is the most popular. So, what is a Shower Steamer? It's literally a bath bomb. Just put it in the corner of your shower, once the water hits, it releases essential oils. Her biggest seller thus far is called Sinus Relief, which is loaded with mint, eucalyptus and tea tree oil. Having a tough time winding down at the end of a hard day? There's a Shower Steamer to help called Relax, made with Bulgarian lavender and bergamot oils.  Need a little pick me up to get going in the morning? Choose the Awake Shower Steamer, a blend of sweet orange and grapefruit oils. No matter which one you decide on, this is a gift for men and women!
Find all Irena's products, including organic soaps, online. Select products are available at the Ocean Shores IGA, Breezy Beach Clothing, as well as Byrt and Gerty's Kids Redux located in Tacoma.