The holidays are upon us and it's time to have some old-fashioned family fun, starting with a photo with Santa! Once you're in the spirit, there are some fun events coming up that are sure to get you singing to the carols, craving peppermint mochas and buying Christmas sweaters. Here is a list of places to get your photo with Santa in Grays Harbor, along with other holiday events for Christmas 2021.
Gingerbread House Class
Aberdeen Timberland Library
121 E Market Street, Aberdeen
November 20, 1 p.m. 3 p.m.
Want to up your gingerbread house game? Then head to the Aberdeen Timberland Library for a fun gingerbread house class. Cost is just $5 and includes the kit! Call Bette Worth at 360-580-0019 or Suzie Holt at 360-581-1460 to register Class is limited to 15.
42nd Annual Country Christmas Bazaar
32 Elma McCleary Road, Elma
November 20, 9 a.m. – 5 p.m. and November 21, 10 a.m. – 3 p.m.
Get your shopping list done early and halls fully decked with a fun trip to the 42nd Annual Country Christmas Bazaar. It's full of crafts, treats, décor and more. And everything is handmade or handcrafted, no commercial sales, so you are supporting small businesses with every purchase. Read more about the Country Christmas Bazaar here.
Non-bake Christmas Treat Demonstrations
December 4, 11 a.m. – 2 p.m.
The Aberdeen Timberland Library is going to have fun non-bake Christmas treat demonstrations on December 4, to get your ideas flowing! This event is taking place at the Gingerbread House Contest venue in the former Wiitamaki Jewelry Store.
Seabrook Turkey Trot
204 Market Street, Pacific Beach
November 25, 9 a.m.
Get some exercise in before you overeat on turkey and pumpkin pie with the Seabrook Turkey Trot! It's a 3k, family-friendly good time. Walk, jog, run or trot your way through the course. All participants will receive a Turkey Trot mug. Register for the Turkey Trot online.
Montesano Turkey Trot
210 S Main Street, Montesano
November 25, 9 a.m.
Montesano is also having a family-friendly Turkey Trot 2021. Theirs is a 5k and free, though cash donations to the Montesano Food Bank are greatly appreciated! Race starts at the Montesano Fitness Center. Follow the Turkey Trot 2021 Facebook page for more information.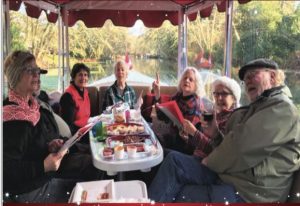 Caroling on the Waterways
952 Point Brown Ave SE Ocean Shores
November 24-December 24
If you want to do something different for your family gathering this year, go caroling on a Duffy Boat! Bring your own driver and snacks, and Ocean Shores Boat House will provide the decked-out Duffy Boat. They will also provide the songs and lyrics. Mrs. Claus is available to guide tours on the weekends for an extra free. Visit the Ocean Shores Boat House website for more details.
Winter Fanta-Sea
Ocean Shores Convention Center
120 W Chance A La Mer Avenue, Ocean Shores
November 26-28
Check out this fun event to check off your Christmas list! Over 50 vendors will be at the Ocean Shores Convention Center for Winter Fanta-Sea. For more information, visit the Ocean Shores Facebook page.
Holiday Movies at the 7

th

 Street Theatre
313 7th Street, Hoquiam
November 26, 7:30 p.m.
Kick off your Christmas with a special showing of "The Polar Express" starring Tom Hanks and Chris Coppola at the 7th Street Theatre on November 26. Then on December 4, laugh until your sides hurt with "A Christmas Story."
Santa in Seabrook
Seabrook Town Hall
204 Market Street, Pacific Beach
November 27, December 4, 11, and 18: 11 a.m. – 3 p.m.
Come see Santa in Seabrook! Tell him your Christmas list and get your photo taken! There will be a professional photographer to capture the perfect moment, whether it your little one's first Christmas or your annual family photo.
Seabrook Tree Lighting
Meriweather Square, Seabrook
November 27, 6 p.m.
Celebrate the beginning of the Christmas season with Seabrook's annual Christmas tree lighting! The quaint seaside village really goes all out for the holidays. North Beach High School choir will be performing carols—your family won't want to miss it.
WinterFest 2021
Downtown Aberdeen
December 4
WinterFest is back! Head to Downtown Aberdeen for all the fun including Breakfast with Santa at Game Day Sports on December 4. You can get your photo with Santa for free! Free photos will be taken and posted on Facebook.
Shop until you drop at the D&R Event Center where the Holiday Markey will be held on December 4 from 10 a.m. – 3 p.m. Be sure to check out the gingerbread house contest, on display starting December 3, and continuing through December 18 at the former Wiitamaki's Jewelry Store at 201 East Wishkah. Learn more at the WinterFest website.
Elma Christmas Tree Lighting
Downtown Elma,
December 4, 6 p.m.
Bundle up and have a fun evening in Elma for their annual Christmas tree lighting. They will have hot chocolate, caroling and more. Santa will also be there, so be sure to have your cameras ready if you are looking for a photo with him!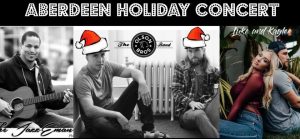 Holiday Concert
Game Day Sports Bar
212 S I Street, Aberdeen
December 10
The Olson Bros Band, Luke and Kaylee, and local talent the Jazz E-man will be at the Game Day Sports Bar to get you into the holiday spirit! Don't your Ugly Christmas sweater and get ready for a fun evening for all ages, as those under 21 are welcome to join in the fun. Learn more on the Facebook event page and save money by buying tickets in advance.
Seabrook Holiday Parade
Downtown Seabrook
December 18, 7 p.m.
Seabrook's iconic lighted parade is happening on December 18 at 7 p.m. Bundle up and enjoy a beautiful spectacle of decorated floats and lights while listening to holiday music. Learn more on the Facebook event page.