Submitted by Westport Winery
New York Times best-selling author Tessa Bailey is releasing her upcoming novel, "Hook, Line and Sinker," at Westport Winery Garden Resort on Saturday, March 5, from 2 p.m. to 4 p.m. This is Bailey's second romantic comedy set in Westport, Washington, jokingly known as a "drinking town with a fishing problem." This sequel builds on the book "It Happened One Summer," as both feature the unique interaction between local crab fishermen and out-of-town young women learning to fit into this tiny coastal community.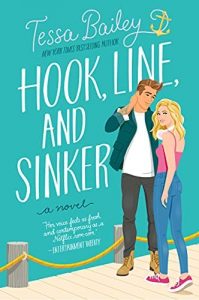 Ms. Bailey lives and writes from her home on New York's Long Island. This is her first trip to the Washington Coast. Northwest fans of her previous 58 books can sign up to attend this event by going to the Westport Winery website or they can call the winery at 360.648.2224 between 11 a.m. and 6 p.m. daily. The ticket price is $34 and includes an autographed copy of "Hook, Line and Sinker," a question-and-answer session, appetizers from the winery's award-winning Sea Glass Grill, a glass of wine, and free admission to the International Mermaid Museum, where the event will be held at the resort.
Westport Winery Garden Resort's 15-acre property is located halfway between Westport and Aberdeen at 1 South Arbor Road, Aberdeen WA. It is home to the award-winning Sea Glass Grill, the new Mermaid Lounge, Ocean's Daughter Distillery, and the International Mermaid Museum all of which are open daily 11 a.m. to 6 p.m.